Aseem Bajaj is the man who captured the snowy landscapes of Bulgaria and the many emotions of
Ajay Devgn
on camera for Shivaay.
We presented him with the SpotboyE Salaam for Best Technician for his Cinematography in Shivaay and sat down for a chat with him.
Excerpts:
Do you think technicians are given their due worth, respect and let's say pay in apna industry?

Absolutely.
Yes or no?

Yes.
So tell me how? Is this a new process? Or has it grown over the years?

I think it has always been there. As one of you have said, 'Yeh shaam humi ne chuni hai'. If you wanted to be in the limelight then you should have been in front of the camera , not behind it. Aur jo respect milti hai woh kaafi hai, us se zyada milni bhi nahi chahiye.
Kyun?

If I give you the example of a watch, there are many wheels in a watch and we are one of the wheels--- but we often get into an illusion that we are the entire machinery. The fact is that we are just a part of it.
Okay, that sounds very humble. Are you a humble man?

But that's just the reality. It's probably because of my own background, I come from theatre.
So, today you are a great technician, a frontline cinematographer who has done Shivaay... How do you look back on the film?

It was a beautiful experience. And working with Mr. Devgn was simply great, he gave me ample freedom.
Which sequence of Shivaay is your favourite?

I don't fall for technique mostly. The thing is that I always try is to find a soul connection. That again, probably, stems from where I come from, theatre.
Performances are what attract me and I always believe that my biggest tool is not my camera or lights. My biggest tool is my actor and I always feel that a human face is the biggest landscape.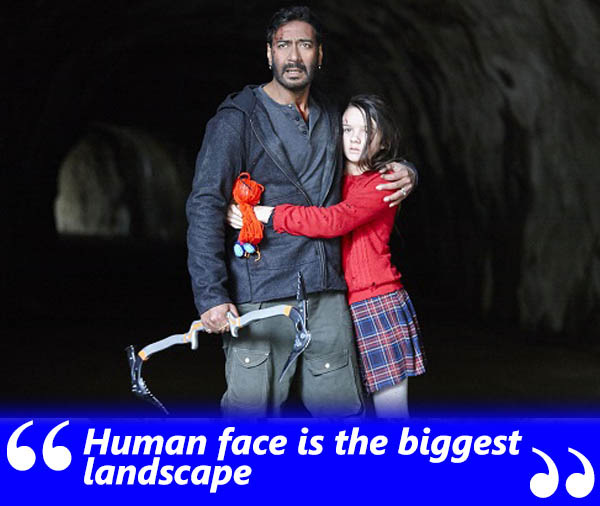 Ajay Devgn And Abigail Eames In A Still From Shivaay
But there's a lot of snowy landscape in Shivaay...

Does not really matter? What matters is what's playing on the face
Okay, so Shivaay was a beautiful experience. Have you had some experiences which were not beautiful?

Some of them were not pleasant.
Why?

Because in those, I felt, 'Why am I here? What I am doing and how am I contributing? I felt, I was not contributing anything'.
Are you in favour of natural lighting or over -lighting?
I love natural light. I hate using lights. 70-85 per cent of Shivaay was shot without lights. Out of the 67 days schedule which we consumed in Bulgaria, we had no lights on the sets.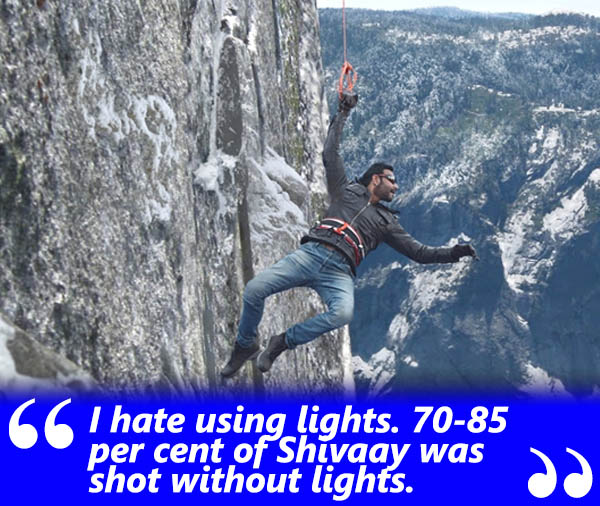 Ajay Devgn In A Still From Shivaay
Why does our film industry depend so much on lighting?

I think it's more about tuning into it. For me, it's more about shadows than it is about lights.
Okay, so do awards matter finally?
Conventional award functions like Filmfare, Screen etc, they all are just TV shows. For me, they don't really matter..
Okay, that won't be liked..

That's fine, but it does not matter?
On that nice and controversial note, thank you and wish you the best for all your feature endeavors... What do you feel about the SpotboyE Salaam awards

Salaam.
Image Source: youtube/ajaydevgn