What is the hallmark of a good director? Extracting fabulous performances from his actors, giving the film its emotional strength or exemplifying a value system that the audience can emulate? With Neerja,
Ram Madhvani
succeeded on all counts.
We presented him with the SpotboyE Salaam for the Best Director, Critics and sat down for a chat with him.
Excerpts:
Do you have anything to say about getting the critics award instead of the main award?

I suppose soon I will get the main award.
Why? Is the critics award secondary?

It seems to be such. I am quite happy with whatever award I get, but it seems like the popular award is when the numbers count I suppose (laughs). And numbers mean return of investment and return of investment means I get to make my next film faster.
So you'd rather be popular than a critic's delight?

No, I would rather be both.
Is it possible?

It is possible. With Neerja, we have actually got more than our share of commerce. It's very rare to get 4 different kinds of successes. Commercial success -- till Dangal, Neerja was the highest return of investment last year. We also got critical and personal success -- I liked the film (laughs).
Modest…

And I think we also have what I call as popular success. Sometimes a film can be a commercial success but people may not like it – which is not the case with Neerja. It's very rare in your career to get all these four successes.
Sonam told me that she found the scene when she has to deal with the letter, as the most demanding one. But you had told me about the scene where she had to sit and eat the biscuit...

It's the same scene; it's a chocolate biscuit.
Sonam
is incredibly good in it, there is no question. When I am doing a close-up, I am doing it with 250 people in the plane and I am shooting with four cameras. I shoot very long takes because I am interested in life before action and life after cut. I am not just interested in the life between action and cut, which is what I call the industrial process of film-making. It is sort of…roll camera... where is my look, thermocol hai, OK, action. This way of shooting where you are setting different sides just ruins everything.
So were you a friend to Sonam Kapoor during the filming or more like a father figure or an uncle?

My age means that I am actually just a friend (laughs).
You are 18. Yes. OK..

I think you wear different hats at different times, so a lot of it depends on what is required.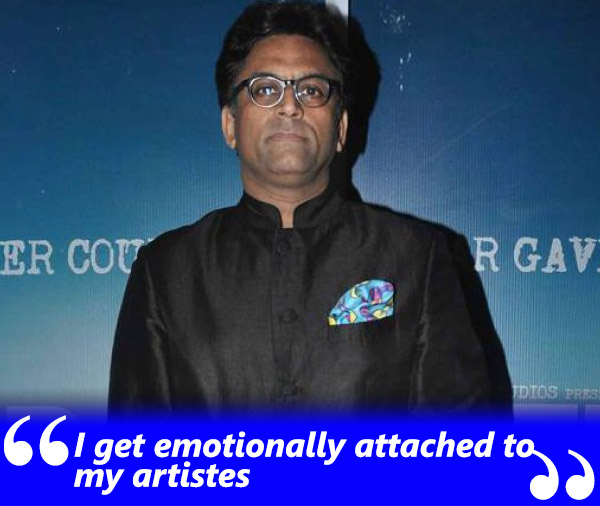 Image Source: aolcdn
Do you get emotionally attached to your artistes?
Yes, for instance I did get emotionally attached to Boman who was there in my first film Let's Talk, he is one of my closest friends. I do go across to Shabana's house, I do go across to Sonam's house and not that I know everything about their lives--- but there is a certain fondness and a certain attachment.
We asked Shabana whether she would have won the awards if the last scene (where she gives an emotional speech) wasn't there. What's your take?

I think there is an arc that she has in the film and you can see that arc, from non-acceptance to a certain madness, to a resignation and then overcoming it.
The reason the film was made, the reason I directed the script towards a mother – daughter story is because I thought, how do you get over the loss of your child? As a parent, I am awake at 4'o clock in the morning when my son is not home. When I met Rama Bhanot, I understood that she has a certain spirit. How did she recover from what happened?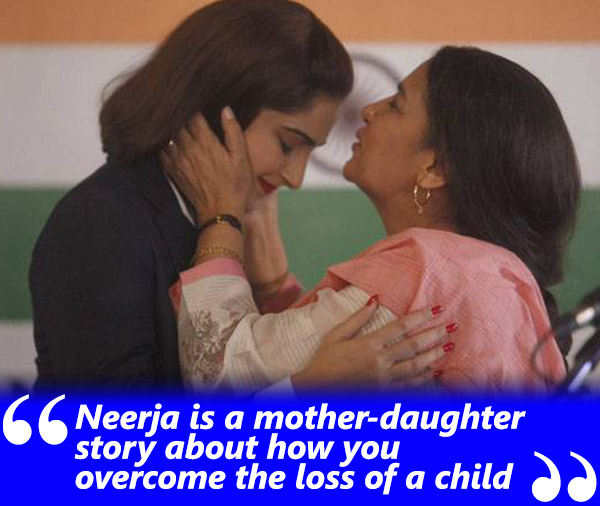 Image Source: youtube/FoxStarHindi
Whether Shabana got the award because of the last speech I don't know--- but I do know that I would not have made that film without that last speech. Because I knew from the very beginning that this is not a hijack film, this is a mother-daughter story about how you overcome the loss of a child.
Does that last scene recall Mother India and Deewar in any way?

To even talk about that in the same breath is something that which I would rather not do because Mother India and Deewar are great films--- and it was not consciously done to be compared or to even draw from them.
I used to know Mr. Harish Bhanot. He has a brief role in the film and it was not really the way he was...

Is that so?
Yes, he was a livelier person, who won't sit in one place.

You knew him after Neerja's episode?
Yes, and he came to work soon after the tragedy and was just his normal self...

The first time we see him in the film is when he receives the news and then we see him dealing with the news. We see him within a period of 16 hours, so the character that you perhaps knew after, was not the character that I was looking at. You are seeing a father under crisis; you are seeing a family under crisis. And then the next time that you see him is in the memoriam of his daughter. So, you are seeing it happening to him.
At some level I have found the male characters to be a bit shadowy whether it was Sonam's beau played by Shekhar, or her brothers. They weren't really fleshed out, were they?

Well, I suppose that's a good accusation because I would rather be accused of having male characters who are sketchy than female characters who are sketchy (laughs).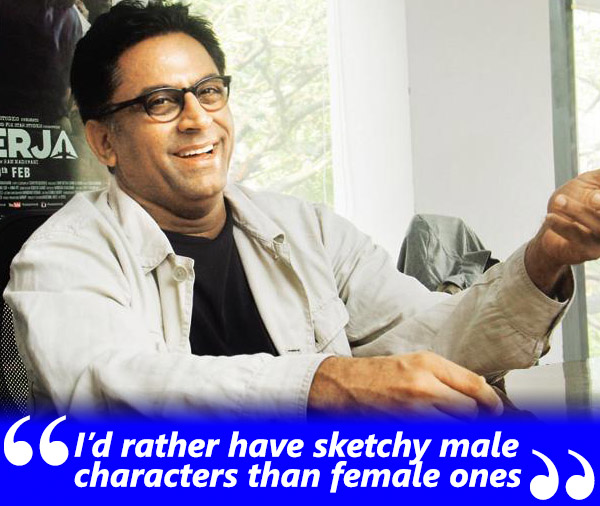 Image Source: latestmark
Some directors get very involved in the film-making process. Did you start crying while filming Neerja?
No. I am very objective when I am filming, but the first time I saw the rough cut, which was about 2 hrs 45 minutes long, I did cry. And then I said, 'Okay, I am fine'. One of my jobs is to be the audience. The director's job is to capture feelings, as if you are capturing them with a butterfly net. So, I go around capturing feelings and energy. The system that I have, I call them the 10 rules to get to the truth. I know this sounds extremely arrogant of me to even think about these 10 rules but I sort of articulate them, put it down and then pass it on. So, if I have to define the director's job, it is to have a vision and pass it on. That means I have to constantly be at the receiving end of those feelings. If I don't get that feeling, then I am not going to get it across to the audience.
So, Sonam Kapoor hates tears -- glycerine tears...

She doesn't use glycerine.
Isn't it very emotionally draining for an actor to call for her emotional memory and get into the character's skin?

Which is why, I am very concerned about not having the actor do more than one take. As far as I am concerned, there is no Take 2 in life and so I do everything that I can in the first take. And I don't rehearse. I do 15-20 days of workshop and within the workshop you begin to understand what your character is. I have an associate director, Vinod Rawat, who is also the acting coach and he is incredibly good. How do I get to interiority? That is different from our school of acting, which comes from 'To show'. I have to make sure that my actors are not coming from a school that says 'To Show' but they come from a school that says 'To Be'. That means they are in that feeling, in that moment. You know when Sonam is crying, she is not acting, she seems like as if she is there, it's happening.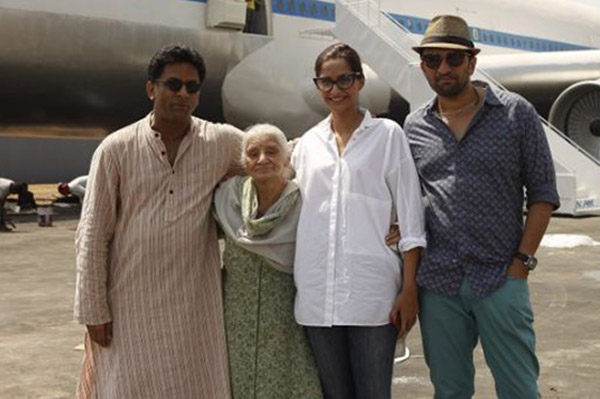 Image Source: catchnews
Now this was a great subject, you could not possibly go wrong with it...
I don't know about that. I could have gone very wrong with it.
It's such a powerful subject but do you have more biopics in mind because it is the flavour of the season...

Yeah, last year seem to have been full of biopics. It almost felt like six-eight filmmakers got together in the year 2012 and said in the year 2016 we will all make sure that these biopics come out. There was a secret society of filmmakers who had this conversation. I have nothing against or for biopics; I think it depends on what it is. Whatever works for me, and not what works for the audience. I think eventually it depends on whether it grabs me and if I can live with it. Like Neerja took us about two-and-half years to script. The other films that I have been working on, the one that I am doing right now, Bodhi Dharma, has taken six years. So it has to be a subject that allows you to be occupied for that long. So that you don't feel bored at the end of three months and say now this subject is out of me.
So Neerja gave you a lot of creative satisfaction undoubtedly, but what about financial satisfaction?

Well, I didn't do Neerja for the financial satisfaction. What happens is that they call it an entry fee for being part of a club...
Which means Mr Kasbekar (producer Atul Kasbekar) didn't pay you enough?

It's not that. I don't think that's fair. I think what happened was that the film's budget was a certain amount and therefore whatever the film's budget could afford, is what needed to be done. The fact that it became a success is a different thing altogether. I am here to make sure I am within the film's budget.
Any last words?

What hassles me now is not the success or failure of my next film. I want to try and see if I can put some value system into the society. I think what people reacted to was the value system whether its Mausa Ji or Mausi Ji or whether it's my family in Rajkot/Lucknow/Indore, whether it's the youth. What happened was that they reacted to the value system that Neerja stood for and that's really important for me to put out.