Sonam Kapoor: If You Dress Up, That Doesn't Make You Shallow
Sonam Kapoor's performance in Neerja proved to be a turning point in her career. In a freewheeling chat with film critic & author Khalid Mohamed, the actress talks about the film, her SpotboyE Salaam award, being termed a 'fashionista', and lots more...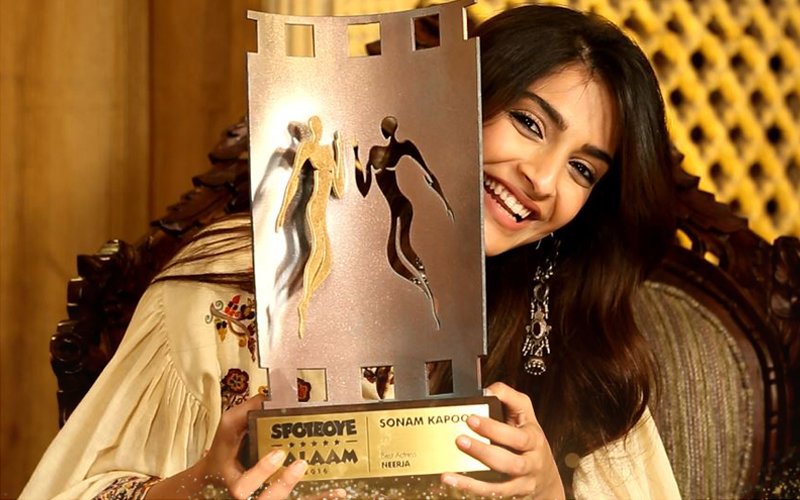 2016 proved to be a memorable year for Sonam Kapoor. Her performance in Neerja (directed by Ram Madhvani)--- a biographical drama on braveheart Neerja Bhanot who helped save 359 of the 379 passengers on board Pan Am Flight 73--- was not only applauded by critics and audiences alike, but also got her a National Award.

We presented her with SpotboyE Salaam, Best Actor (Female) and sat down for a chat with her.

Excerpts:

KM: I was talking to Ram Madhvani and he said that one of his favourite scenes in Neerja is the one where you sit and eat a biscuit in the plane. Would you rate it as your favourite in the film?
SK: My favourite scene in the film is the one where I read out a letter to my parents, written by my husband in the film. He is destroying everything that this girl is and is saying that she is worthless and nothing. I think as a girl you go through that in life. You get your validation from other people especially if you are an Indian girl. Your value and your worth is whom you marry, who you are and who your parents are--- and that was a heart-breaking letter to read out. To read that out to your parents was especially difficult. I have gone through a lot of that as well.



KM: Why?
SK: Because at the end of the day no matter whatever self-worth you think you have, a society conditions you to think in a certain way. No matter how much of a feminist I may think I am, there are certain pre-conceived notions and certain conditioning that makes you feel like my values come from being the perfect wife, being the perfect girlfriend, being the perfect daughter. When someone completely destroys your self-worth and says that she is worthless and brings nothing to my life or anybody's life, it's heartbreaking. It takes a lot of courage to get out of that and I think Neerja had a lot of courage to say that I am worth more than this.

KM: Before Neerja, were you very low on self-esteem?
SK: I don't think I still have it. I can't look at myself in the mirror. When I was 19 or 20 and came into this industry, I had a hard time. I refused to look into the monitor because I had such low self-esteem. I thought it was better for other people to take care of me.

KM: But you know you look good...
SK: (Laughs) Not everybody knows that. You know my parents don't criticize me or say anything to me because they know that no one is harder on me than myself.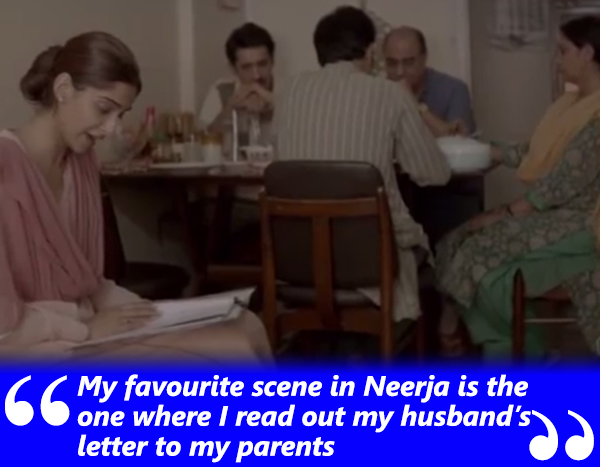 Image Source: movieshd
KM: Do you think this image of being a fashionista or a fashion diva, being on the cover of practically every magazine in the world if not India, comes in the way of being taken seriously?
SK: Every artiste and every woman that I have ever looked up to whether it was Frida Kahlo, Amrita Sher-gil, Katharine Hepburn, Audrey Hepburn or Diane Keaton--- they were all iconic in fashion because as artistes you express yourself. Even if you look at any female painter, they have a certain style and they have a way of expressing themselves. If you have an aesthetic sense and like to dress up and look beautiful, it does not make you a shallow person. A person thinking you are shallow is the one who is judgemental and shallow.

KM: So why does Mr Madhvani like the biscuit scene, you think?
SK: I don't know. I think it was one take. He made me do it twice because the first time the cinematographer did not capture it in a close frame.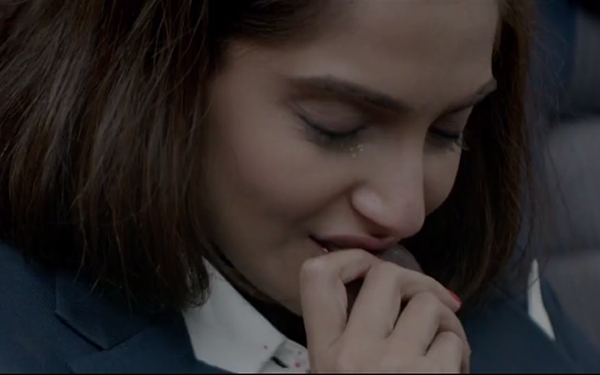 Image Source: movieort


KM: Throughout the film you have moist eyes. Most actors cannot cry without glycerin. Can you?
SK: Yes, I can.

KM: Show me.
SK: How can I just show you like that?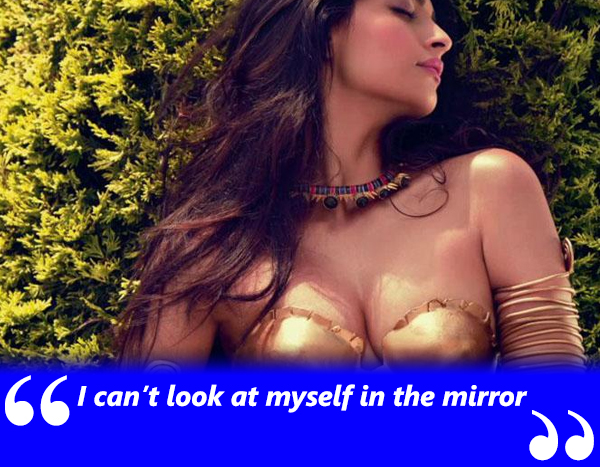 Image Source: boxofficehits


KM: Think of all the difficult things, emotional memories…
SK:
Once I start crying I can't stop.

KM: Go for it.
(SONAM CRIES)



KM: When you go on a flight, can you stop thinking about Neerja when you see an air hostess?


SK:
No, that doesn't happen. For me Neerja was not about a plane, she was, for me, triumph over fear.
KM: How much study went into the role?
SK:
A lot. I study before every film. If you see any of my films and compare them, I don't think there is any character similar to what I have done previously. At the risk of sounding immodest I try to keep a very distinct flavour in terms of body language, voice, the look and the inherent spirit in the person. It depends upon the gravitas of the film, right? For me, Khoobsurat was a girl saying that I don't care if you are Prince Charming, I want to be loved for who I am and that's a strong statement for a Disney Princess to make to young girls- and hence Khoobsurat was an important film.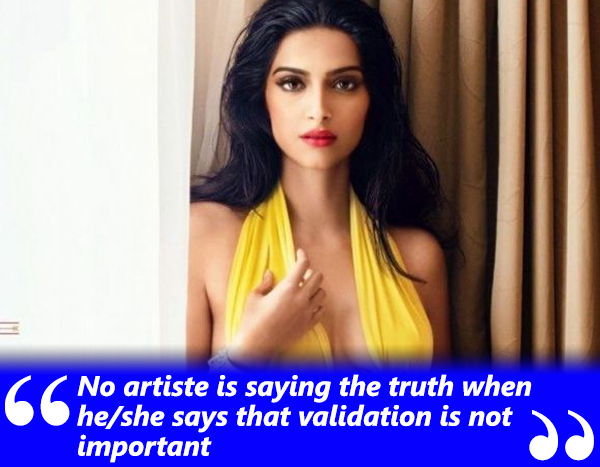 Image Source: latestnews360


KM: You played a young woman in the Rajesh Khanna era in Neerja. You even hum a Rajesh Khanna song…
SK:
Yeah. Mere Sapno Ki Rani…
KM: This is our first effort at an award and we are trying to do it right. Does the SpotboyE Salaam award mean anything to you?
SK:
It does because it's coming from all of you. At the end of the day, why do you work? So that people can see, appreciate and understand it. I don't think any artiste is saying the truth when he/she says that validation is not important. If it's not important, then why would a painter paint or an actor act? Wouldn't you do it only in your room then? Why would you put it out there? It's for people to see, read, smell, enjoy and experience, isn't it?