'Ashey Maa Durga Shey' Song: Teaser Starring Nusrat Jahan, Mimi Chakraborty And Subhashree Ganguly Released
The Pujo song is directed by director Raj Chakraborty, composed by Indraadip Das Gupta and choreographed by Babbachi. This year, Durga Puja 2019 begins on October 4 and will go on till October 8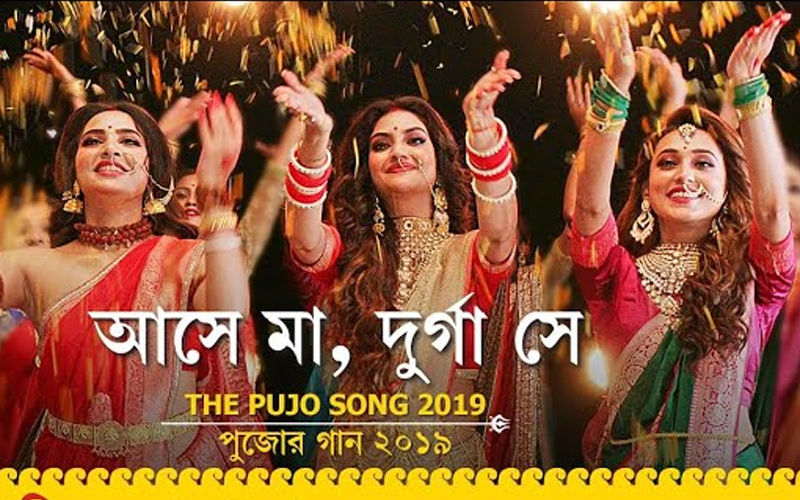 Its only a few days are left for the Durga puja and whole Kolkata is already in the festive mood. Many songs and performances are being prepared for the Puja. Durga Puja is one of the most famous festivals celebrated in West Bengal and particularly in Kolkata

Nusrat Jahan, Mimi Chakraborty And Subhashree Ganguly have come together for a puja song titled as 'Ashey Maa Durga Shey'. The teaser of the song has been released. The three actresses are looking beautiful as they are seen wearing traditional Bengali saree and performing for the Goddess Durga.

The Pujo song is directed by director Raj Chakraborty, composed by Indraadip Das Gupta and choreographed by Babbachi.

Listen to the track here:
And if you are away from your family because of your studies, job, or any other reason, about of nostalgia must have already gripped you.

This song on Durga Puja will definitely resonate with everyone who is away from home this festive season. It will make you miss your home, your near and dear ones, and you will be more than tempted to fly home right away.

Durga Puja is celebrated in honour of Goddess Durga during the period of Navaratri. It is celebrated for 10 days, however starting from the sixth day until the ninth day, the Pandals with grand idols of Goddess Durga are open for visitors. The tenth day, also known as Dashami marks the Visarjan (immersion in water) of the idol with grand celebrations and processions. This year, Durga Puja 2019 begins on October 4 and will go on till October 8.


Image Source:- youtube/captainTMTsteel