Guldasta: Arjun Dutta's Next Film Release Date Delayed Due To Coronavirus
In the film, Arpita Chatterjee, Swastika Mukherjee and Debjani Chatterjee will be seen in the lead roles. Arpita Chatterjee, Swastika Mukherjee will be sharing the screen space for the first time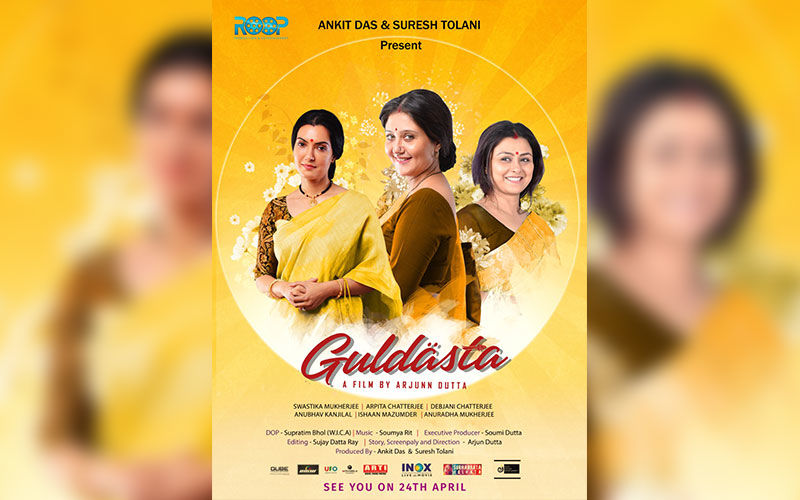 Director Arjunn Dutta's next film Guldasta release has been postponed owing to the outbreak of Coronavirus. The filmmakers had announced the release date of the film on April 24 but now it has been delayed. In the film, Arpita Chatterjee, Swastika Mukherjee and Debjani Chatterjee will be seen in the lead roles. Arpita Chatterjee, Swastika Mukherjee will be sharing the screen space for the first time.
Roop Production and Entertainment shared the news on Twitter. "Keep faith. This time will come to an end soon and we will be back with the warmth of Guldasta!" it tweeted. Recently, the filmmakers have shared the official poster of the film.
Arpita Chatterjee took to her official Twitter handle and wrote, "জীবনের আনাচে কানাচে অনেক অনেক মুহূর্ত জমে থাকে....সঞ্চিত থাকে একাধিক গল্পও। তিন নারীর জীবনের অধ্যায় নিয়ে আসছে গুলদস্তা... আলাপ হবে আপনাদের শ্রীরূপার সাথে শীঘ্রই। @duttaarjun86 @swastika24. Here presenting the official poster of my upcoming release #Guldasta."
The film is a women-centric film which will feature three female characters in the central role. The third woman character will be played by Debjani Chatterjee. The story will be about the crisis in the life of the three protagonists and how they are dealing with their hardship.
Swastika Mukherjee had shared the motion poster and revealed that the film will be releasing in the Summer. "Extremely happy to announce that my next film #Guldasta is #ReleasingThisSummer. Here presenting the 1st look motion poster of #Guldasta directed by Arjun Dutta."
But after a certain point, the three stories will be interlinked with each other. Other than these three, the film will also feature Anubhav Kanjilal and Anuradha Mukherjee in supporting characters.
Meanwhile, Arjunn Dutta has announced his third film starring Swastika Mukherjee and Soham Chakraborty in the lead role.


Image Source:- Twitter/ArpitaCP