Kaushik Ganguly's Nagarkirtan Wins Best Feature Film At SAARC Film Festival
Surinder Films took to Twitter to make the announcement and bagged four prestigious awards. Nagarkirtan is a love story of a transwoman and flutist which stars Riddhi Sen and Ritwik Chakraborty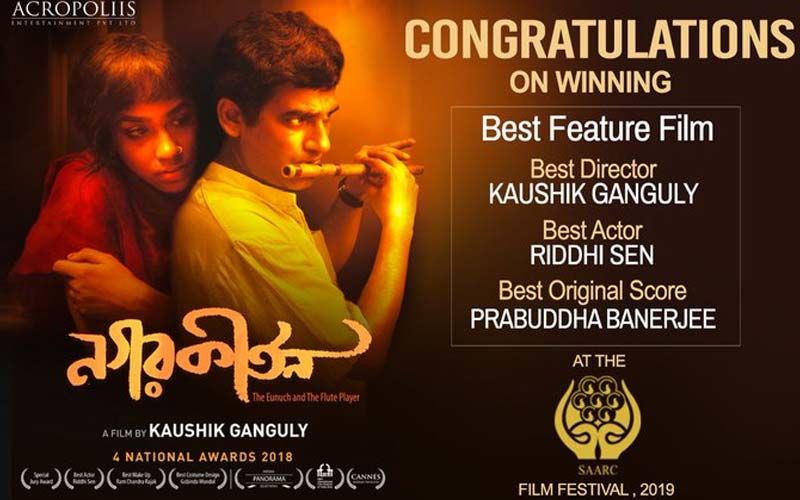 Director Kaushik Ganguly's Nagarkirtan has won four big prestigious awards including best feature film at SAARC (South Asian Association for Regional Cooperation) film festival.
Surinder Films made an announcement at its official Twitter account. "It is a great honour for team #Nagarkirtan on winning 4 prestigious awards at the #SAARC Film Festival, 2019 and making #India stand out amongst the 8 countries participating in the festival," it tweeted.
Nagarkirtan is a love story of a transwoman and flutist which stars Riddhi Sen and Ritwik Chakraborty. It is a critically acclaimed movie that swept many national awards.
The film stars Riddhi Sen as Parimal, a trans woman from rural Bengal, and Ritwick Chakraborty as Madhu, a flute player from the Kirtaniya town of Nabadwip. Porimal runs away from home and joins a ghetto of eunuchs as Puti and sings at traffic signals to earn money. There she falls in love with Madhu. Their love blossoms while they dream of raising the money required for the sex reassigned surgery after meeting the first transgender person in India who has completed Doctor of Philosophy, Manabi Bandyopadhyay. But transphobic society does not support their dreams. Puti is arrested and commits suicide by hanging herself with her towel inside the lock-up at a police station. Eventually, Madhu joins the same ghetto of eunuchs.
Meanwhile, two other Indian films have won awards at the fest. 'Na Bole Wo Haram', a 20-minute film by debutant director Nitish Patankar, bagged the 'Best Short Film' award, while 'Walking With the Wind' by Praveen Morchhale received the Special Jury award for direction and story.
Image Source: Twitter/SurinderFilms