Know Why Tnusree Chakraborty Is Happy To Meet Bengal West Bengal Governor Jagdeep Dhankhar
Tnusree Chakraborty will be next seen in director Abhirup Ghosh's Zombiesthaan. Rudranil Ghosh and Rajatava Dutta in the lead roles. This will be the first Bengali movie which will show Zombies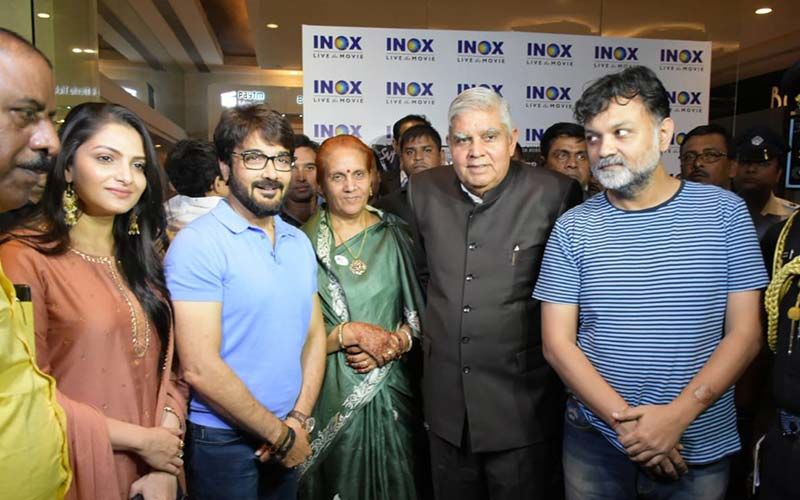 Tnusree Chakraborty is very happy after the huge success of Gumnaami. Gumnaami is appreciated by everyone and it has also now released in Hindi too. The film which deals with mystery shrouded upon the death of national freedom fighter Netaji Subhash Chandra Bose.
We will surely share the reason behind Tnusree Chakraborty's happiness. The actress has recently shared the photo with West Bengal Governor Jagdeep Dhankhar. He had came to watch Gumnaami film along with his wife and children.
Tnusree Chakraborty will be next seen in director Abhirup Ghosh's Zombiesthaan. She took to her official Twitter handle, wrote, "Maa Durga being the epitome of Woman Empowerment,every woman has huge potentiality to destroy the evils.Presenting the first poster of #Zombiesthaan in this auspiscious occasion.... directed by @ABHIRUP8"
The poster shows Tanusree, Rudranil and Rajatava fighting with zombies. The film will be set in the future in 2030 when most of the human population has turned into zombies or has been killed by zombies. In such a situation there is a lone survivor in Bengal named Akira. She believes there is a safe place for the VIPs and she will survive if she can reach that place. The film will focus on her journey for survival. During her journey she will meet the various type of persons and will gather different experiences.

Image Source:-Twitter/tnusreec