Mitin Mashi: 'Barsat Sawan' Song Is Beautiful Presentation Of Anxious Minds
In the song, each every character of the film is shown and what are they thinking. Ustad Rashid Khan's breathtaking voice and Pt. Bickram Ghosh's soul-stirring music in Barsat Sawan will etch a place in your heart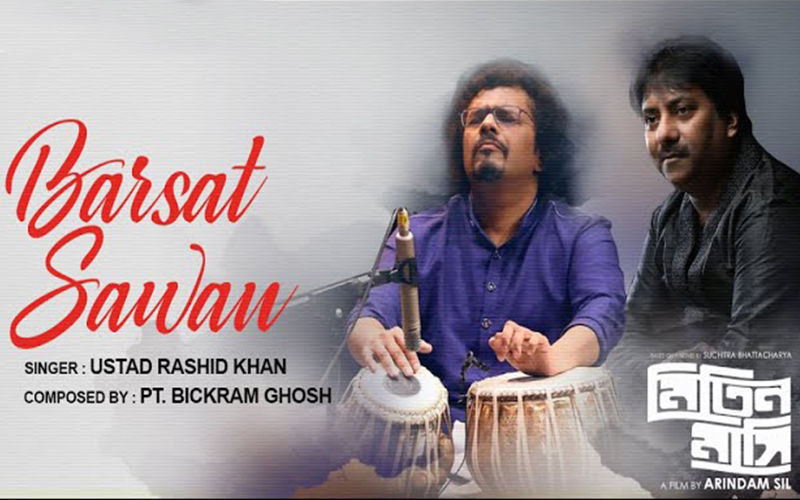 Mitin Mashi filmmakers have released first song 'Barsat Sawan'. The song which is sung by Ustad Rshid Khan is not in Bengali but in Hindi. The film Mitin Mashi stars Koel Mallick in the lead role.

Camellia Productions tweeted, "UstadRashidKhan's majestic voice creates an unparallel symphony which resonates with the intensity of an anxious mind."
Listen to the track here:
The song beautifully displays the emotions of the human mind which is undergoing many things and how it reacts. In the song, each character of the film is shown and what are they thinking. Ustad Rashid Khan's breathtaking voice and Pt. Bickram Ghosh's soul-stirring music in Barsat Sawan will etch a place in your heart.
Actor Vinay Pathak, who is debuting in the Bengali filmindustry, plays a Parsi Businessman, Subhrajit Dutta will be seen as Koel's husband Partha and Riya Banik will play Koel's niece Tuya. The thriller is bankrolled by Camellia Films.
Padma Shri awardee singer has many popular songs in his kitty. He is the singer of 'Aaoge Jab Tum Sajna' from Jab We Met.
The trailer gives us a glimpse of the movie being around kidnapping of a school kid. Later we are introduced with parents of the kid played by Vinay Pathak and June Malya who hire Mitin Mashi for investigating the crime. Koel Mallick is Mitin Masi aka Pragyaparamita Mukherjee who is a homemaker cum detective. Her look and body language is looking very different from most of her mainstream movies. In the trailer we can see her doing action also.
Directed by Arindam Sil, the film is based on the story Hate Matro Tinte Din.
Image Source:- Youtube/
CamelliaFilms Production