Mitin Mashi: Koel has done all her stunts herself, reveals director Arindam Sil
Arindam's Pujo release is a film on female detective Mitin Mashi, based on the creation of author Suchitra Bhattacharya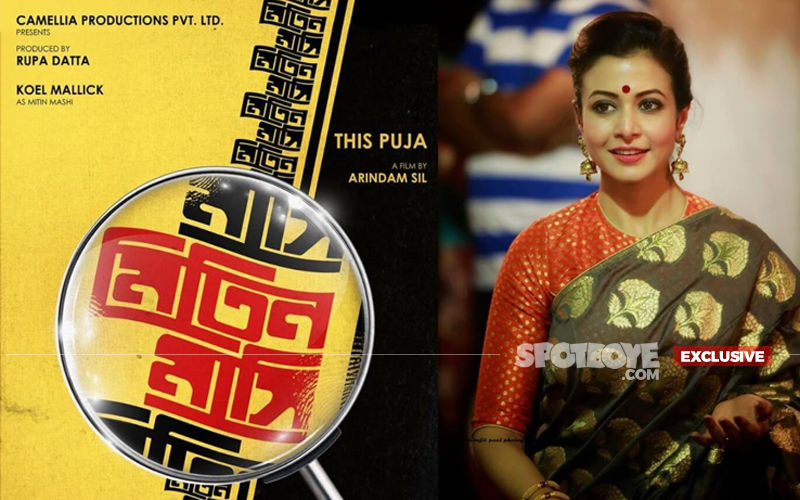 The trailer of Mitin Mashi, the Durga Puja release of director Arindam Sil, has crossed two lakh views just a couple of days after it's release on YouTube. The Koel Mallick starrer has grabbed eyeballs for its stunning action sequences, perhaps more so because it is indeed a rare sight in Bengali films for a woman to perform heavy-duty stunts. The beautiful heroines of Tollywood are usually seen standing by as their men beat goons to a pulp or perform thrilling stunts.
Not so in Mitin Mashi. The film is based on the adventures of the female detective created by late author Suchitra Bhattacharya. The titular character Mitin runs her own detective agency. "I chose Koel for the main role because I needed someone very fit and athletic, who would be believable in the action sequences. She also needed to carry off a feminine look with equal elan," says director Arindam Sil, sitting in his Kasba office. Check out the teaser of Mitin Mashi:
He goes on to reveal that Koel had done all the stunts herself. "We had got a stunt double for her. But Koel insisted on doing all the action sequences herself. She has trained very hard for the role," says Arindam and adds, "In the end, the stunt double's only job was to control the crowd!" Check out the trailer of Mitin Mashi here:
Another reason for casting Koel Mallick as Mitin Mashi was his long-standing desire to work with the Tolly beauty. "I had always wanted to work with her. I believe she is an extremely talented actress. But her talents had not been used to their full extent," explains Arindam Sil.
The cast of Mitin Mashi includes Vinay Pathak, the well-known Bolly actor. What was the reason behind this unusual choice? Arindam says, "I have been friends with Vinay for a long time. We had always talked about working in a film together. This is that film. He has done a great job."
Mitin Mashi hits theatres on 2nd October.



Image Source:- youtube/cammiliafilmsproduction/banglanews