Purbo Poschim Dokkhin Second Teaser Out: Raajhorshee Dey's Spine-chilling Horror Flick Starring Gaurav Chakrabarty Is Sure To Leave You Spooked
The film is based on the first three stories from Avik Sarkar's book "Ebong Inquisition". The star cast includes Kamaleshwar Mukherjee, Arpita Chatterjee, Gaurav Chakrabarty and others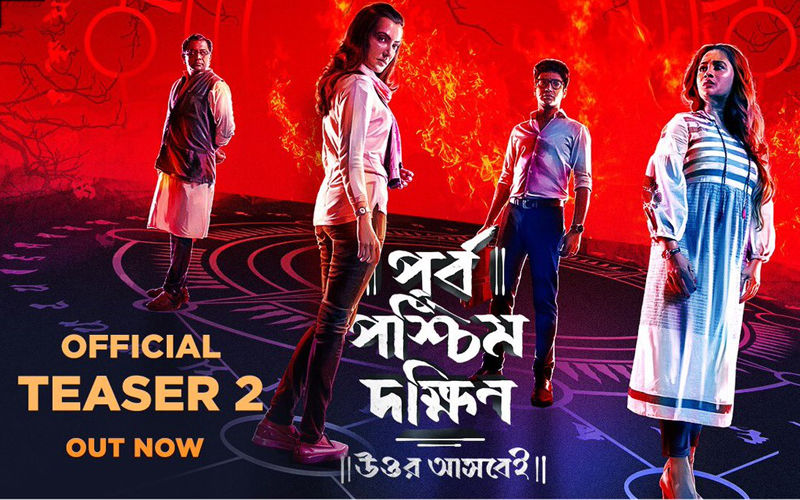 Director Raajhorshee Dey is all set to spook the audience with next titled 'Purbo Poschim Dokkhin Uttor Ashbei.' The makers have released the second teaser of the film and it will surely leave you spooked. The movie talks about black magic and witchcraft.

Raajhorshee Dey took to his official Twitter handle to release the teaser, "Purbo Poschim Dokkhin Uttor Ashbei Teaser 2 | Arpita | Suchandra | Benga..."
Watch the second teaser here:
The second teaser is scary compared to the first teaser. It is full of spine chilling moments taken from all the three stories. On top of that the eerie background score and sound design have helped to add a spooky feeling.

In the first, the teaser introduces two co-passengers during a train journey played by Kamaleshwar Mukherjee and Arpita Chatterjee. Kamaleshwar is telling stories to Arpita. Other than them it gives random glimpses of other key characters also. From the teaser, it looks like cinematographer Ranjan Palit has wonderfully created the required mysterious ambiance to the film. The film will also feature India's first transgender college principal Manabi Bandopadhyay and renowned theater artist Rudraprasad Sengupta.

The film is based on the first three stories from Avik Sarkar's book "Ebong Inquisition". The star cast includes Kamaleshwar Mukherjee, Arpita Chatterjee, Gaurav Chakrabarty, Aryann Bhowmik, Rajesh Sharma, Paran Bandopadhyay, Bidipta Chakraborty, Daminee Basu, Padmanabha Dasgupta among others.


Image Source:- twitter/RaajhorsheeDe/status/youtube/juststudio