Purbo Poschim Dokkhin Teaser Starring Crosses 126K Views On Youtube, Raajhorshee Dey Shares On Twitter
The movie is about the world of paranormal and supernatural and Gaurav Chakrabarty will find answers about the mysterious questions that have haunted humankind for a long time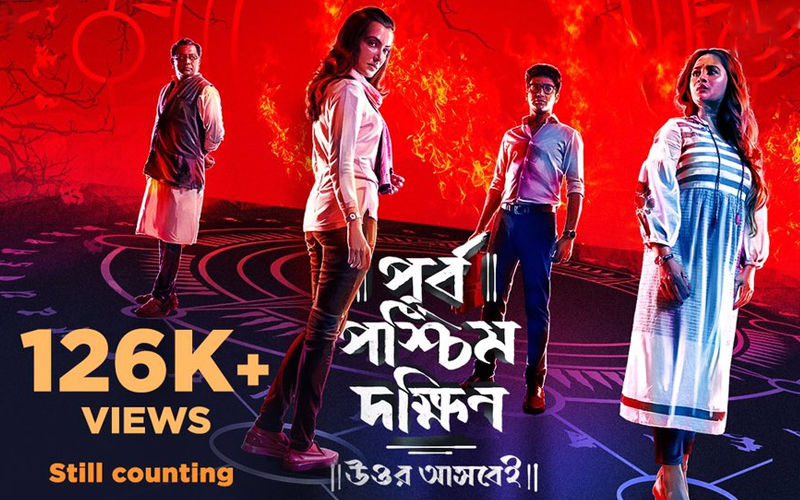 Raajhorshee Dey directorial Purbo Poshchim Dokkhin has received a good response from the audience. The teaser starring Rudraprasad Sengupta, Arpita Chatterjee, Kamaleshwar Mukherjee, Gaurav Chakrabarty, Rajesh Sharma, Padmanava Dasgupta, Bidipta Chakroborty and Anyann Bhowmick have crossed 126K+ views on Youtube.

The director announced on the Twitter, "Immensely grateful to all of you, my sincerest regards and thanks to all the viewers who made it possible ..Purbo Poschim Dokkhin Uttor Ashbei teaser crosses 126K + views in 4 days."
These days Bengali director is either into making detective movies or horror flick. The audiences love such genre movies and Purbo Poshchim Dokkhin also deals with supernatural power.

The teaser starts with some people sitting in the jungle and suddenly they are killed. The whole scene is in the night. Then two people are sitting in the train and discussing supernatural powers. The teaser shows three stories of three periods.

The movie is about the world of paranormal and supernatural and Gaurav will find answers about the mysterious questions that have haunted humankind for a long time.

Meanwhile, Gaurav was last seen in Haranath Chakraborty's directed Bhootchakra Pvt. Ltd. Apart from him, the horror-comedy movie stars Soham Chakraborty, Bonny Sengupta, Rittika Sen and Srabanti Chatterjee in the lead.
Image Source:- twitter/RaajhorsheeDe/status