Purbo Poshchim Dokkhin Teaser Out: Raajhorshee Dey's Thriller Is A Saga Of Three Periods
The movie is about the world of paranormal and supernatural and Gaurav will find answers about the mysterious questions that have haunted humankind for a long time. The teaser shows stories of three periods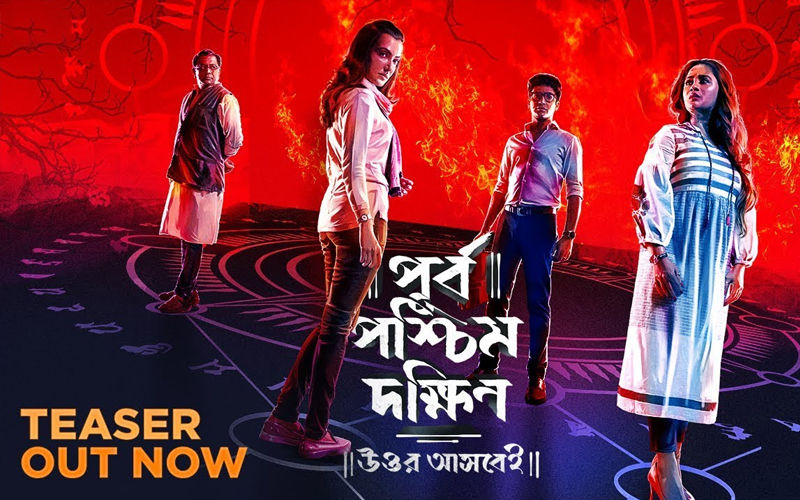 Raajhorshee Dey directorial Purbo Poshchim Dokkhin official teaser has been released and the thriller flick is very impressive. Rudraprasad Sengupa, Arpita Chatterjee, Kamaleshwar Mukherjee, Gaurav Chakrabarty, Rajesh Sharma, Padmanava Dasgupta, Bidipta Chakroborty and Anyann Bhowmick are in the lead roles.

Arpita Chatterjee took to her official Twitter handle and shared the teaser. "And the much waited teaser of #PurboPoschimDokhimUttorAsbei is out now! @RaajhorsheeDe @vaaniyasuchandr @C_Gaurav @DamineeB @Bidiptachakrab2 @pssent," she tweeted.
Watch the teaser here:
The teaser starts with some people sitting in the jungle and suddenly they are killed. The whole scene is in the night. Then two people are sitting in the train and discussing about supernatural powers. The teaser shows three stories of three periods.

The movie is about the world of paranormal and supernatural and Gaurav will find answers about the mysterious questions that have haunted humankind for a long time.

Meanwhile, Gaurav's Parineeta is releasing today. He was last seen in Haranath Chakraborty's directed Bhootchakra Pvt. Ltd. Apart from him, the horror comedy movie stars Soham Chakraborty, Bonny Sengupta, Rittika Sen and Srabanti Chatterjee in the lead.

The movie revolves around three friends who plan to start a business of capturing ghosts using a strange instrument. The instrument has been received by one of the friends as the legacy of his grandfather. After getting the instrument they decide to turn as ghost hunters and earn money. But things changed when most of their lies turn out to be true and both the living and the dead chase them for answers. And from here series of the comedy of errors begin to change their lives forever.


Image Source:- twitter/ArpitaCP/status/youtube/juststudio