20 Years Of Gadar: 'I Wanted Sunny Deol To Uproot A Building, But That Wasn't Possible, So We Settled With A Hand Pump,' Reveals Director Anil Sharma- EXCLUSIVE VIDEO
As Sunny Deol and Ameesha Patel's Gadar completes 20 years today, director Anil Sharma reveals the inspiration behind the iconic hand pump scene and more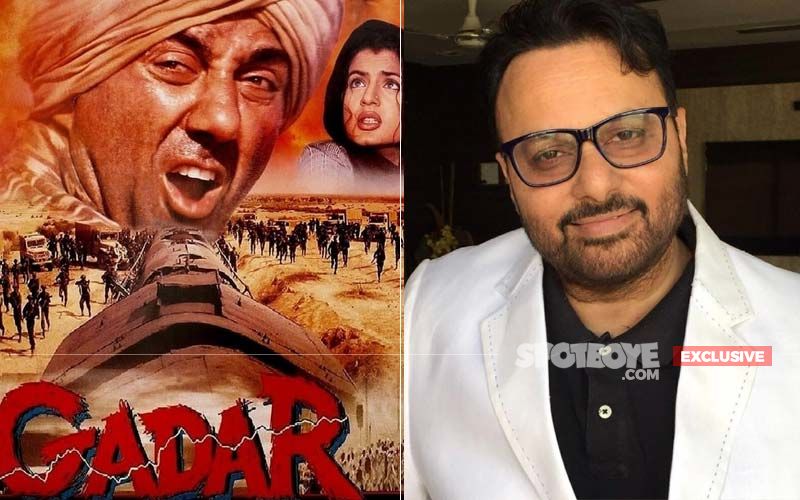 Today, Sunny Deol and Ameesha Patel's cult classic, Gadar: Ek Prem Katha, completes 20 years. The Anil Sharma directorial, which spoke of a cross-border love story set in the time of the 1947 partition of India and Pakistan, broke several box-office records on its release and is still considered one of the finest films in Hindi cinema till date.
The film had an amazing cast consisting of Sunny, Ameesha, Amrish Puri, Lillete Dubey, Vivek Shauq and Anil's son Utkarsh Sharma, as Sunny and Ameesha's son. In an exclusive conversation with Spotboye.com, the director gets candid about the film that revolutionised Hindi cinema coming in the new millennium, some amazing incidents from the film and more. Read excerpts from the interview:
Gadar is still seen as an example for great Hindi cinema. 20 years down the line, people still watch it and it still instils patriotism in every Indian heart. So, how special is this achievement of Gadar completing 20 years for you?
I am feeling that it is June 15, 2001 and the film is releasing today. I am going to watch the film in Shaan cinemas, which I did 20 years ago. It's a very nostalgic moment for me and I am reliving it because since the last two days, there have been a lot of interviews and interactions. I don't know from where, but suddenly there is an excitement about 20 years of Gadar. This film is no longer just mine; it has become the people's film. So, I congratulate everybody today and thank them for giving me this success. There are several makers out there who are better than me but I am grateful for the love and affection the audience has shown to me and their film.
Do you still get messages from people who are seeing it for the first time?
Whoever watches the film, messages or calls me. The film fills them with enthusiasm. Even youngsters of today are telling me that they have watched Gadar about 50 or even 200 times. There is a lot of relatability in the film as a husband going to get his wife back has a Ramayana feel to it, so that connects to the audience.

When you were making this film, Sunny was already a superstar, so why did you cast Ameesha opposite him, who was still a newbie?
I chose Ameesha after taking her screen test. None of her films had been released till the time I had already signed her. I saw about 400 photographs and shortlisted 40 girls for audition and Ameesha was one of them. She was the new girl then and was already doing Kaho Naa Pyaar Hai at the time, but it wasn't like today that a debutante couldn't do other films. There was a lot of brotherhood, and it was more about relationships than the business.

Gadar recorded one of the biggest footfalls in Indian cinema. No film has ever come close to it yet. But do you see any film doing that today?
No other film has reached that yet. Gadar had a footfall of 17.5 crores, and no other Indian film has crossed the 4-5 crore footfall mark till date. But every record is meant to be broken. It hasn't happened in 20 years yet, but it might happen in the next 10. There are better upcoming directors and storytellers than me, and there were better makers before too, so why can't they do that? There was Mughal-e-Azam, Sholay and Mother India, but Gadar came to break their records. So, there will be a new film that will come to break our records as well.

Gadar had some iconic and memorable scenes. One of them was the handpump scene where Sunny uproots it from the ground. What was the Inspiration behind that?
Sunny Deol's Tara Singh agreed to everything Amrish Puri's Ahsraf Ali asked from him, but he was still not ready to leave his siyasat behind. So, the anger was natural at that point. The outburst of emotions was so much in that scene, that I felt like I wanted Sunny's Tara to uproot a building but that wasn't possible so, we settled with a hand pump there.

Is there any anecdote from the Gadar set that you will always remember?
There were a lot of memories from the set that the making of Gadar can make another full feature length film. When we were shooting for the stone pelting sequence, we had about 5000 people on each side throwing stones at each other. We had made and taken 15000-20000 dummy stones so that no one would get hurt. But they got over in just two minutes, so there was a sea bed on the side, so people picked up real stones from there and started throwing them. We were shooting in 48 degrees centigrade temperature in the middle of big crowds, there was no VFX and everything was real. It was challenging but real fun as well. Gadar's making was a festival in itself.

Gadar's release clashed with Aamir Khan's Lagaan, and even though both films went on to become blockbusters and cult classics, at that time did you have any reservations about the clash considering the superstardom of Aamir at that point?
I never had any fear. The scenario wasn't like today then, that people would be scared to clash at the box office. Lagaan was an amazing film too and Ashutosh Gowariker and Aamir Khan brought a lot of glory and respect to our country. During that time, if someone would watch Gadar at 12, they would watch Lagaan at 3. It became like a film festival in India. I would like to congratulate Aamir and Ashutosh also for their achievement.

I want that even today; two big films should release together every year as it makes it like a film festival in the country. There is a huge audience out there. If you show them 8 films in a day, they will see that too. The problem is that we are stuck in the weekend culture. We ourselves don't want our films to run for a long time.
Since partition was such a sensitive subject, did you speak with people who had lived through the partition for inspiration, before the making of Gadar?
We did and we spoke to people aged between 60-90 years. We would even cry listening to their stories. Almost 90 per cent of Gadar was based on real incidents. Whatever we heard from those people, they inspired scenes in our film. Incidents like the opening scene of the mother giving the vial of poison to daughter or eating poison in the train while people were coming to cut you, were all inspired from real events. We met a station master from that time and we used him as inspiration for the film as well.

We live in an era of remakes and Gadar is a classic. So, do you get offers for remaking it?
Where would I bring another Tara Singh for remaking Gadar? So, no point in remaking it but people do ask me about Gadar 2. The day I get the right emotions, drama and story in me, I'll think about it but nothing for now.




Image Source: Instagram/anilsharma_dir , Communique PR, joblo