Nawazuddin Siddiqui's Wife Aaliya BLASTS Actor In First VIDEO Interview: 'He Stopped Supporting Us Financially, Had To Sell My Car To Meet Children's Needs'- EXCLUSIVE
We spoke to Nawazuddin Siddiqui's estranged wife, Aaliya Siddiqui about the current status of things between the couple. Here's what she revealed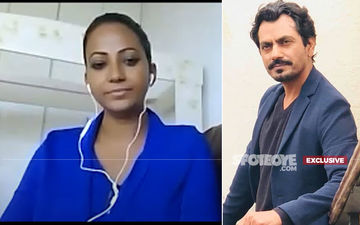 Nawazuddin Siddiqui's personal life has been making headlines ever since his wife Aaliya Siddiqui sent him a legal notice demanding divorce and accused him of mental abuse. Later, his niece filed a police complaint against his younger brother, Minazuddin Siddiqui for sexual harassment. And now his other brother Shamas has filed a complaint of fraud against Aaliya for borrowing 2.16 crore for a film from him and not returning it.
We spoke to Aaliya and in an exclusive video interview, she revealed that Nawazuddin has stopped financial support to her because of which her kids are also suffering. Excerpts from the conversation:
Have you received a response yet to your legal notice?

No, he hasn't replied to my legal notice yet.
You have been very frank in discussing your troubled marriage and relationship with his family in the media. Does Nawazuddin or any of his family members object to this?
No, they haven't said anything to me directly. But indirectly they are definitely trying to harass me and create a pressure on me. Like his brother Shamas has tried to defame me by filing a police case against me. Shamas is the real culprit in their family. It is because of him that my marriage hit a rocky patch. People will soon come to know how ugly that person is. When it comes to Nawaz, well, he has always supported wrong things. He is a self-centered man who just wants to focus on his work and himself. He doesn't care how a person around him is being tortured by his own family members and damaging their life. The way he is posting a video on social media that he is working in his field to show ye zameen se juda hua aadmi hai, he is not like that at all. He is just trying to show the world a different picture. The reality is that he has stopped supporting me and the kids financially. He is not even bothered that in this lockdown how we are managing things.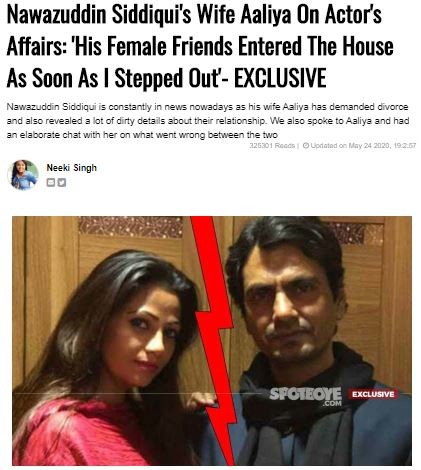 Are you going through a financial crisis?
Yes, I am facing a financial crunch as I have no mode of earning right now. The monthly allowance which he used to give for his kids, he has stopped giving me. We are facing a lot of problems. My kids go to an expensive school and I am unable to fill their fees. Nawazuddin and I have received mails from the school but he hasn't responded to that also. I feel he is giving me financial problems so that I get weak and stop fighting for myself. But let me tell you, whatever he does I am not going to bow down, main mere bacchon ke saath bheekh maang lungi but uske paas waapas nahi jaungi. My willpower is strong enough to tackle all this. I want to show the world how bad this person is who is mentally harassing me and is okay with his own children being in such condition.
Go on...
This is being filled in his mind by few of his family members that "Aurat hai usko financially torture karo theek ho jaayegi." I am producing a film now which also his brother is creating a problem in by saying that I have borrowed money from him, so that no one buys that film, considering there is a dispute going on. They are trying their level best to malign my image. And about the case done by Shamas, I can produce the papers which state that I am myself a partner in that company and I have taken my own money. I feel disgusted that I gave 9 years of my life to be with him.
How are you tackling your financial crunch?
I had to sell my car 15 days back as I had to pay my lawyer his fees and maintenance of the house. That car was also on loan so I hardly got anything.
You haven't borrowed money from Shamas ever?

No, I used to get money from Nawaz to run the house and that too monthly. And that amount used to be so less that people will be shocked to hear the amount. Whenever I needed some extra funds for kids or some personal work, I used to message Nawazuddin and in reply he used to tell me that Shamas will transfer. And I have enough proof for that. While I started my film I took some money from the company in which Nawazuddin and I are partners of 25% each. I have all the details of it from my CA and let me tell you there are chances that he has to give me more money as I don't even know how much profit the company has made until now.
You have alleged Shamas of stalking you?
Shamas never had a married life. The girl he married left him within a week when she came to stay with him. So, he has always been frustrated. He knew that things are also not fine between Nawazuddin and I. So, he thought why not impress her. I had called Nawaz and told him everything. I also have a recording of that conversation, where I told him, "please handle your brother as he is trying to get involved with me. Why am I being tortured like this? My call details have been taken out. He is sending dirty messages on Facebook via other accounts." And Nawaz agreed to everything and said, "I know Shamas is not a right person. You don't worry, I will take care of it." By the way I had reported this to the Cyber cell also.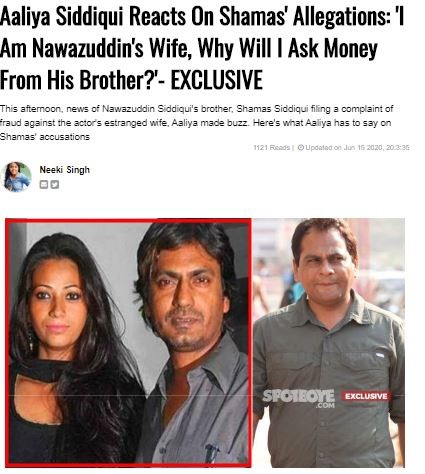 So, did Nawazuddin help you in any way at that time?
No, in fact in spite of knowing how disturbed I am with Shamas' behaviour, vo mujhe uske saamne lakar khada kar dete the. And that used to hurt me a lot. Nawaz always used to be travelling for his work and he had no idea what all I had to go through. I couldn't stand Shamas' presence. I used to feel suffocated when he used to come down to my house and I used to just wait kab jaaye ye ghar se. There was so much negativity.
You are saying Shamas is the reason for your broken relationship but as per him, he introduced you to Nawazuddin....
I was never on very good terms with him. We had worked in a film where I was the lead and he was an assistant. We crossed paths being in the same industry and then one day he made me meet Nawaz. That time they used to stay in Ekta Nagar and their condition was really bad. He was just a struggler that time and his health was also not very good. He was extremely weak. And the first feeling I got for him was pitty. But somewhere I knew he is a creative person and I started liking him. I used to take care of him, his clothes, food and everything. We started living in and Shamas could not digest this. Many times he also told me that what do you see in my brother? He is just a struggler and has nothing to give to you. But I always told him no, I like him and I want to be with him. But his behaviour started changing with him when he saw his brother become a star and he gave him the post of his manager, which helped him to earn money.
Were you aware about the sexual harassment his niece was facing in your family?
I was aware and I had discussed this with Nawazuddin that today she has to go through all this. In the coming time, my daughter will also face this. The girl who had filed the case had informed me about it on a call in 2018 and I had advised her to come out openly on it. This family is known to support all the wrong things. It has become like a trend to do 2-3 marriages, hit women in their families and they are still physically abused. No female gets respect in their family. I have stayed with them for almost 5 years in a flat in Mumbai and it was an extremely difficult time for me. Later his sister, who was suffering from Cancer, shifted to Pune as her treatment was happening there and after that I started living my own life. I had told Shamas also to not stay with us.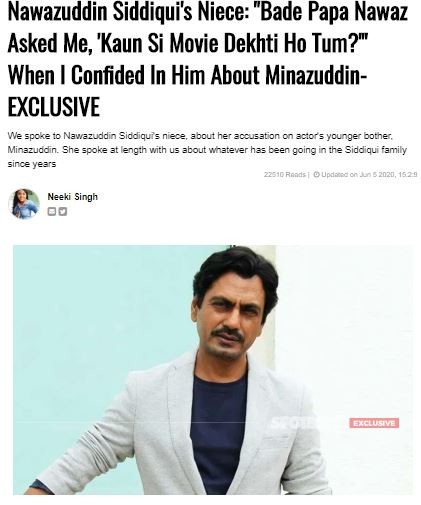 You have demanded a flat also?
The flat where I am staying currently with my kids is on loan. I have asked him to give me a loan free house. He has his bunglow, office in Yari Road, flat in Dubai and property in Delhi and Dehradun but I didn't ask for any share in that. I have no demands except a house and security for my kids.
Image Source:instagram/nawazuddin._siddiqui
They say the best things in life are free! India's favourite music channels 9XM, 9X Jalwa, 9X Jhakaas & 9X Tashan are available Free-To-Air. Make a request for these channels from your Cable, DTH or HITS operator.