Aamir Khan, Hrithik Roshan, Abhishek Bachchan, Sonam Kapoor, Waheeda Rahman, R Madhavan: Toofaan Director Rakeysh Omprakash Mehra's Autobiography Is A Star-Studded Affair
Director Rakeysh Omprakash Mehra talks about his journey through the magical world of cinema and advertising in his debut book, The Stranger In The Mirror, which he completed during the lockdown.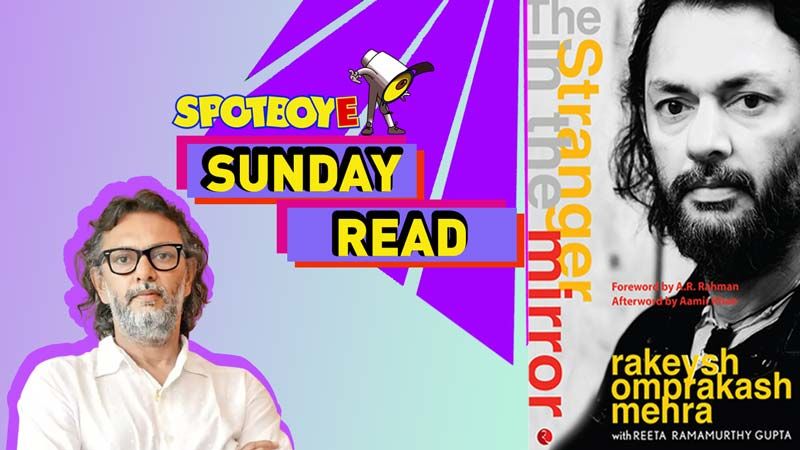 Not all lives are worthy of movies or books, but anyone who reads director Rakeysh Omprakash Mehra's autobiography, The Stranger In The Mirror, co-authored with Reeta Ramamurthy Gupta, would agree that his journey deserves chronicling. Whether it is from his childhood days of hiding below a table and watching Cabaret performances at Claridges Hotel in Delhi, or the fact that the likes of showman Raj Kapoor would drop in at his parents' home for some mutton curry and rice cooked by his mother, or reminiscing about his carefree days in Purani Dilli or chronicling his struggles as an ad filmmaker in Mumbai, there is enough and more in Mehra's book and its lucid telling to keep you hooked.
When I ask him what inspired him to write The Stranger In The Mirror, he says, "Wherever in the world I was travelling, I would go and spend hours in book shops and in the film section. I would pick up whatever I could and those books are still my best friends. For inspiration, I used to go back to them. It all started from there. I felt that each film, if it deserves, should have a conversation about it and it started from that point."
Among the many books that he devoured, and was inspired by, Mehra mentions Something Like An Autobiography by renowned Japanese maestro Akira Kurosawa that he particularly enjoyed, and the book Hitchcock, by Francois Truffaut. "Truffaut's ode to Alfred Hitchcock has been a bestseller for like over five decades and as a student of cinema, it's been a must-read for me," reveals Mehra giving us an inkling into how the germ of an idea to chronicle his cinematic work and life may have come about.
Quite like his movies, Mehra's book goes off in unpredictable directions with a narrative that includes not just his own voice but also weaves in accounts from co-travellers who joined his journey through the world of ad film-making and eventually, films. "Right after making my first film I understood that filmmaking is a collaborative work. Yes, it is the director's vision and you are the captain of the ship but having said that, there are such great artistes that conspire to make that one film. People from different fields, whether it is the field of acting, camera work, production design, art direction or fashion (in terms of wardrobe of the film) come together. Then, there is poetry, there is music and you are taking everybody along towards that one vision as such. So, naturally what came to me was that my movies are not just about me, they're about everybody who has contributed to them. So to my co-author Reeta, I said, 'listen, rather than hearing me out, why don't we speak to the people themselves and see what they feel about it.' "
The people, who have contributed to Mehra's vision, speak in their own voice in the form of fond notes. Collaborators such as Sonam Kapoor, Waheeda Rahman, R Madhavan, Ronnie Screwvala, A R Rahman, Aamir Khan, Farhan Akhtar and Abhishek Bachchan, each add a touch of mirth while walking down memory lanes of Mehra's journey. However, Mehra's favourite co-conspirator, remains wife Bharathi, whose contribution to his odyssey is his favourite chapter in the book.
The work on The Stranger In The Mirror started almost four years ago and the working title then, he tells me, was, Interval. "Which meant I have reached maybe an interval in my filmmaking career and there is more to come. But as it developed organically it became much more than the movies. It became more about the why of it, the why of me, the growing up years and friendships and ups and downs. Then again, the mirror motif has always kind of enchanted me. It's kind of appeared in all my films consciously and subconsciously. Some of the key scenes in which the protagonist faces himself are in front of the mirror -- whether it is Bhaag Milkha Bhaag, or my first film Aks, where there is a cathartic scene between Amit ji and Manoj Bajpayee. In Delhi 6, it is there mostly when Abhishek shows the mirror to his neighbourhood and says 'ki basically bhagwan bhi isme hai aur allah bhi isme hai'. Basically the mirror is inside you… So I thought it is time to face myself and hence, the title."
In the book too, the proverbial mirror is turned towards himself, the key protagonist. Besides tons of trivia related to his films -- like the fact that Daniel Craig met him for a part in Rang De Basanti, or that Aamir Khan went to convince Hrithik Roshan for a role in the same film -- there's a lot more from Mehra's eventful life that connects the dots in this book. Choice anecdotes and deep learnings from his early years in Delhi -- his journey into advertising and eventually, films -- are the threads that join the events punctuating his films.
It wasn't a conscious decision to include the advertising days from his life but as the book expanded into areas beyond movies, it was a natural addition. "My earlier phase of advertising was also a very exciting phase [to include] not just because ads were my stepping stones into the film world but that was also the time I shifted from Delhi to Mumbai. To leave a secure job and come back on the roads was a major shift in life. When I came to Mumbai, then Bombay, for seven-eight years, there was almost no work. I would do one ad in six months, at times even in a year. Basically, I was sustained by Bharathi and her salary. That was the time I sneaked into Gulzar bhai's office one day. It also gave me a lot of time to read and go back to the poetry I liked. So these were extremely important formative years which we call our struggle years. But sometimes, I don't think so. I think it was a blessing that I didn't have work for seven years because I could invest in myself," explains Mehra.
A particularly insightful anecdote in the book marks a moment in time when celebrityhood in India was metamorphosing and being leveraged into a tactile brand virtue. At that time, Mehra had his first meeting with superstar Amitabh Bachchan for an ad campaign of BPL Sanyo. He tried his best to convince Bachchan to refrain from reducing his superstar status by doing a commercial that would run on small screens. To quote from the book what Mehra told Bachchan, "All our lives, in cinema halls, we have seen you 60 feet tall… but on television, you will be 6 inches tall. I could insult you by merely changing the channel. How can I shoot these TV commercials?"
Mehra had indeed posed a million dollar question, and one that celebrities began to ask themselves soon after. How do they best translate a larger-than-life image onto TV screens?
Episodes like these -- an intriguing combination of the personal accounts, interspersed with the journey of a changing nation and its people -- are what make this book an absorbing read, and an important one at that.
Image source: instagram/rakeyshommehra/SpotboyE Team