Adivi Sesh On His Bollywood Debut Major: 'I Have Lived With The Dream Of Playing Major Sandeep Unnikrishnan For 11 Years'- EXCLUSIVE
Here's an exclusive conversation with Telugu superstar, Adivi Sesh where he talks about playing Major Sandeep Unnikrishnan in his Bollywood debut, Major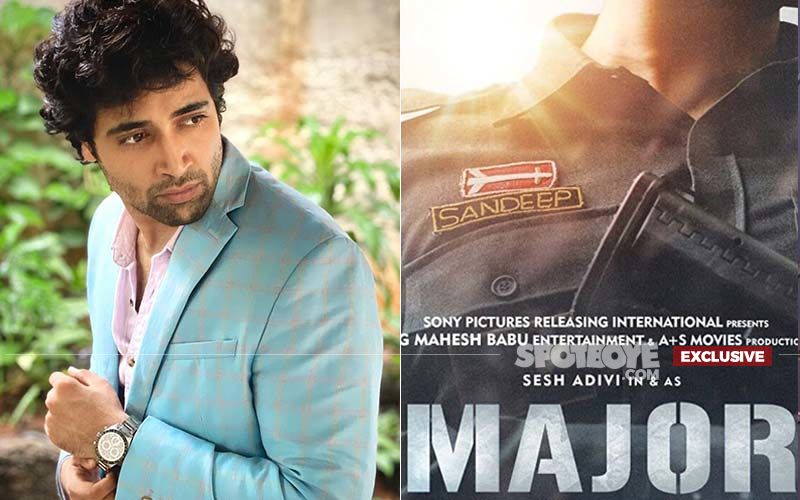 Telugu Superstar Adivi Sesh, who is all set to make his Bollywood debut with the Mahesh Babu-produced war biopic, Major, talks about the process of playing a soldier. Excerpts from the conversation:
The first poster for Major was released on your birthday?
Yes! I couldn't believe it. It was such an honour. I mean, this is no ordinary film. It celebrates the life of a soldier who gave his life for our country. It is an honour enough having to play him. Then to have the first look released on my birthday was a dream come true. Also, my parents were with me on my birthday for the first time after a long long time.
Did you know about this beforehand?
No. They kept it a surprise for my birthday. Of course, I had an inkling that something was cooking. But when the poster came out on my special day, I felt very emotional and grateful. God has been great. We could shoot this film in spite of the pandemic. We shot almost 40 days during the pandemic observing all the Covid guidelines with a minimal crew. It was tough. But we did it. We had Sandeep Unnikrishnan's blessings.
How did you bring in your birthday?
The entire cast and crew of Major showed up at my house at midnight to bring in my birthday. We had an impromptu party. They had made all the arrangements. It felt like the most special day of my life.
How did this dream role come your way?
Yes, the dream role is right. You'll find this hard to believe but I lived with the dream of playing Major Sandeep Unnikrishnan for eleven years. Even when I was living in San Francisco, I was completely taken up by his grit. I felt he was my brother. That's how close I feel to him.
So playing him on screen is just a logical culmination of your dream?
You could say that. When Mahesh Babu, who is a co-producer on this project, and his wife Namrata Shirodkar approached me with this offer, it felt unreal. How could I be offered a chance to play a character that I have lived with for so many years?
Do you feel a special affiliation to Major Sandeep Unnikrishnan because he was a South Indian like you?
Well, I can't deny the fact that we both belong to the same region, and that does heighten the sense of kinship. But I'd be just as happy and comfortable playing a war hero from Punjab. I think playing a hero of this stature goes beyond cultural considerations. How Gujarati was Ben Kingsley who played Mahatma Gandhi?
How much research was done for the film and your character?
I have been interacting with Major Sandeep Unnikrishnan's parents for quite a while now. And I won't be wrong in saying that I am very close to Uncle and Aunty. I wouldn't like to dwell on my closeness to them, as this would seem like a ploy to attract attention to our film.
But surely you did reach out to them because of this film?
Yes, of course. There's no denying my selfish motive for getting to know them. Having known them closely for some time now, I can confidently say our relationship has gone beyond the film. Uncle and Aunty have enriched my life. I would've been poorer had I not known them.
So many biopics, many of them about army heroes are being made. Does playing a real-life character mean an added responsibility for the actor?
Of course! It does for me. I can't speak for others. This is the first time I'm playing a real-life character, and that too one someone who is taught as a subject in numerous textbooks in Karnataka, Andhra and Telangana. It is a responsibility and one that I am taking very seriously. I am writing the film myself.
Why aren't you directing it?
It would have not been possible for me to play the Major, write the film, and also direct it. I trust the director Shashikiran Tikka completely. He directed me in Goodachari. I like working with a closely-knit team. The process of creativity becomes so much easier when you are working with the people you trust.
Of late, films on the theme of national heroes and patriotism have almost become a formula. Isn't that a dangerous development?
Cinema is a reflection of society at large. I am a proud Indian and happy to see a surge of patriotism in our country. Movies on true national heroes are most welcome for the actor as much as the audience. The important thing is to stay on the right side of the line dividing patriotism from jingoism.



Image Source: Instagram/adivisesh, IMDb