Akshay Kumar: 'Maine Kareena Ko Bachpan Mein Godh Mein Uthaya Hai', 'Laxmmi Bomb Clash With Radhe Is Okay', 'Big Producers Still Don't Direct Me'
Akshay Kumar in a BOLD CHAT SESSION with the media talks about almost everything that you want to ask him- Kareena, Bhumi, KJo, Katrina, Salman and Good Newwz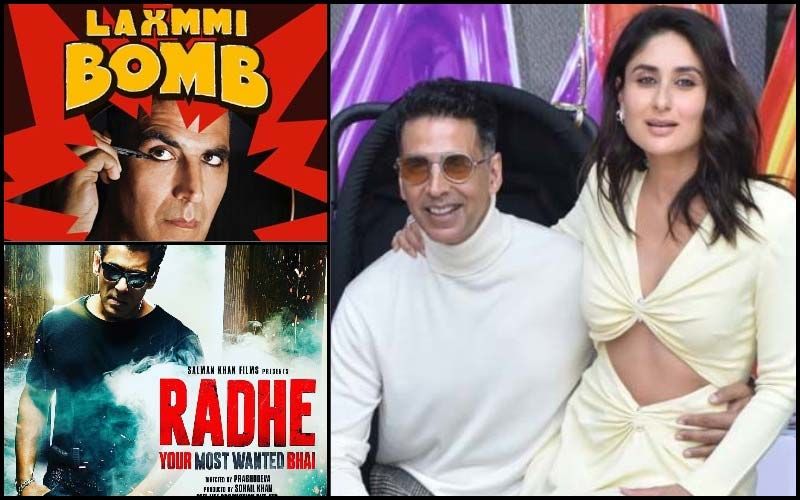 Akshay Kumar is in a mood to talk. And it's a delight to meet him. We were at Karan Johar's office for a media interaction with him; his co-production with Dharma, Good Newwwz is round the corner.
This is what transpired:
Tell us about Good Newwz...
Well, as you know from the trailer it's a about sperm mix-up. It's an important subject especially for women. I hope it helps the 'baanjh' word to go from our society. Many couples are opting for IVF, success rate is 92 per cent...what else can you ask for?
Karan Johar said in the Good Newwz press conference that you are the actor who has worked the most with newcomer directors...
But didn't he tell you why? Because he never takes them, that's the truth. Mujhe sapne mein nahin aata that I've to work with such-and-such new director. By the way, Raj of Good Newwz is my 21st. The newcomers, mind you, are very greedy for good output, more than the old ones. Inke liye do or die hota hai, yeh nahi chali toh main toh gaya.
Do you think the established directors tended to go more to the Khans?
That I don't know where they went, but yes they didn't come to me.
I guess, they went to the people who deserved. Maybe I didn't deserve it. And I got it my way.
But now big producers are coming to you...
I still don't have big directors, the producers you referring to are only producing my films and not directing them.
You guide the newcomer directors?
Nope. Maine school nahin khol rakha hai (smiles).
More than them I trust the script and screenplay. I think to the tune of 60 per cent that takes care of it. The remaining 40 per cent is handled by the directors.
How did it feel that Kareena has been cast opposite you after such a long time?
I came in later. I think you should ask her how she felt when I was cast opposite her (smiles).
We go back a long way. When I was working with her sister Karisma, main usko godh mein uthaya tha.
You doing diverse roles, nowadays...
I was bored with action. I didn't want the tag of action hero.
Can the sperm mix-up concept of Good Newwz make some couples skeptical of going in for IVF?
It doesn't happen on daily basis, it happens once in a blue moon, the blue moon case is the film Good Newwz.
Do you think comedy has to be always justified with sense?
There are different aspects to comedy, one of them being like in Housefull series, where you make people laugh at your own expense. And there's an audience for that. Sadly, actors are not recognized for comedy.
Yes, one gets the award Best actor In A Comic Role...
Why not give one also for Best Actor In A Romantic Role? Somebody needs to ask the award organisers.
Have you lost faith in awards?
Nahin yaar, milta hai toh chala jaata hoon (smiles).
How do you slip into your next film in such quick time?
I take half a day to do that. Everyone has his own style. I can't do all that- main kisise baat nahin karunga, chup chaap baitha rahunga, intensely sochta rahunga.
How did you think of Bhumi in Durgavati?
I wanted a girl-next-door, a simple girl. She fits the role. I requested her and she's on board.
Actors are blamed for certain roles they play, it is said they should be more responsible...
Sometimes if I play a negative character, that does not mean I am trying to teach you to something wrong. As long as the film is passed by the Censors, let's respect that. Else why have the Censor Board?
Older heroes romance younger heroines on screen in Bollywood. Why don't we see a Madhuri Dixit romancing Tiger Shroff?
When I came in the film industry, I acted with Sridevi, Rekha and Madhuri.
Sooryavanshi brings Katrina and you together after a long time...
Yes, even I am excited to see how it has shaped out.
Go on...
I have learnt a lot in my journey. I was criticised for my acting. Someone wrote my acting is like furniture. He was kind to me; it was like showroom.
I didn't know camera angles when I entered. I gave 14 flops in close succession then again after some time, another 8.
Are Good Newwwz and Dabangg 3 too close to each other for comfort?
I don't tyhink so. Prabhudheva is a good, commercial filmmaker who has worked with me in Rowdy rathore. He won't make a bad film. Moreover, Dabangg is a huge franchise.
The clash between your Laxmmi Bomb and Salman's Radhe in Eid 2020?
I had announced it first. And, why can't two films come on Eid?
What surprises you the most in terms of change in recent times?
The zeroes on my cheque (smiles).
Parting shot?
Let us stop running down each other on social media. Let us help each other. Give your maximum in your relationship; don't count what the person at the other end is giving you. My Dad taught me if I help people God will take care of me. That's how I always sleep well. Let us come forward in times of each other's distress rather than just writing on social media and complaining left, right and centre.


Image Source:- insta4you/pinterest, instagram/akshaykumar/ karanjohar