Akshay Kumar's Life In A Quiz: Taapsee Pannu, Kirti Kulhari And Nithya Menen Fight To Win
It's a nail-biting encounter. How well do Taapsee Pannu, Kirti Kulhari and Nithya Menen- Mission Mangal girls- know Akshay Kumar?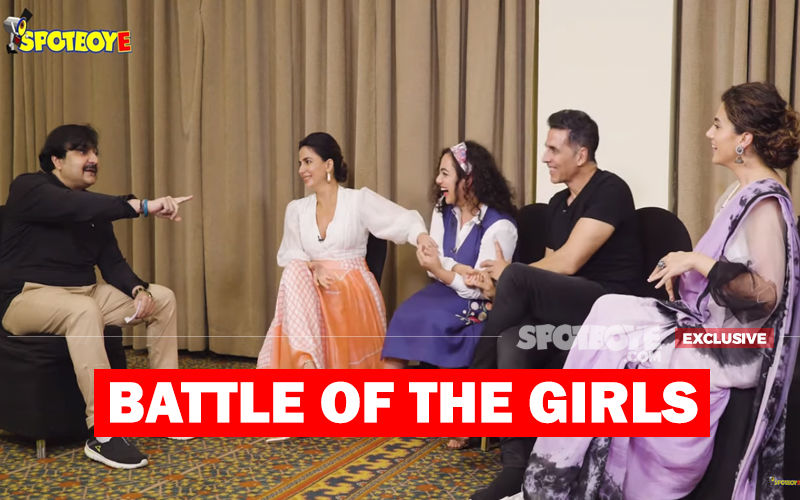 HOW WELL DO MISSION MANGAL GIRLS KNOW AKSHAY KUMAR?
WHO WINS THE NAIL BITING ENCOUNTER?
Contestants: Taapsee Pannu, Kirti Kulhari, Nithya Menon
Conducted By: Vickey Lalwani

We give them 4 options to get the Sahi Jawab. They are in a great mood and they play with zeal. But who wins in the end?
Mind you, the winner will receive a special gift from SpotboyE delivered at her doorstep.
Here we go:
Which year did Akshay marry Twinkle in?

A. 2000
B. 2001
C. 2002
D. 2003
Besides Ajnabee, Akshay won a Filmfare Award for which film?

A. Special 26
B. PadMan
C. Garam Masala

D. Dhadkan
Which leading lady in one of his films shot Akshay Kumar dead?
A. Aishwarya Rai

B. Sushmita Sen

C. Priyanka Chopra

D. Karisma Kapoor
Which spot has Akshay secured in Forbes List 2019?
A. 30

B. 31

C. 32

D. 33
Which is Akshay's Kabaddi League team?
A. Maratha Warriors

B. Khalsa Warriors

C. Punjab Warriors

D. Punjabi Warriors
Which year did Akshay Kumar win a Padmashri in?
A. 2009

B. 2010

C. 2011

D. 2012
Where was Akshay born?
A. Chandigarh

B. Amritsar

C. Delhi

D. Jaipur
What's the age-gap between Aarav and Nitara?
A. 8
B. 9
C. 10

D. 11
Which date is Akshay's birthday?
A. September 6

B. September 7

C. September 8

D. September 9
Which school did Akshay Kumar study in?
A. Don Bosco

B. Jamnabai

C. G D Somani

D. Hill Grange


Image Source:- Spotboye Team/instagram/aslisona/akshaykumar/taapsee/balanvidya/nithyamenen/iamkirtikulhari/sharmanjoshi