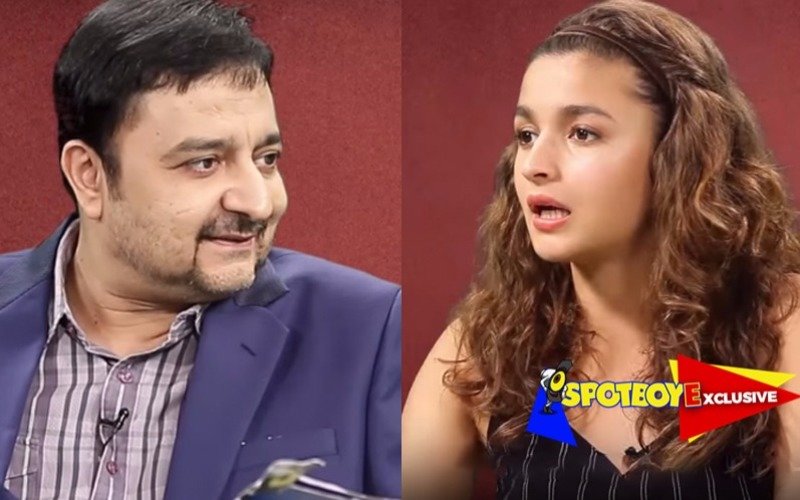 Your browser does not support the video tag.
Alia Bhatt stars opposite Sidharth Malhotra and Fawad Khan in Shakun Batra's Kapoor & Sons, which hits theatres on Friday. SpotboyE caught up with her for an interview. Excerpts:

What are you doing in Kapoor & Sons?

I am the 'and' in Kapoor & Sons. I bridge the gap. Everybody needs the link that takes them a little bit away from their family. I am a stranger who becomes a friend. It's also my perspective, along with the audience's perspective, into the Kapoor family. It's such a rich and big family – there is so much drama, there is so much love and so much happening. It's almost like I am looking at their world along with the audience.
Image Source:
Do you find yourself sandwiched between the two Kapoor brothers?
It'll be really nice to be sandwiched between Fawad and Sidharth (laughs). But Kapoor & Sons is definitely not a love triangle. There is love and there is romance, but it focuses more on relationships in general – even if it's my relationship with my own family or their relationship with each other.
Image Source: infobuzzmedia
How was it working with Sidharth (her boyfriend) and Fawad?
It's been long that people saw Sid and I in Student Of The Year. With time, we have changed. This time, we were far more comfortable with each other. I think we started enjoying doing our scenes much more, without having to stress on things like- whether we are saying Hindi correctly or not, yeh dialogue miss toh nahi ho raha...
That's what had happened in Student Of The Year; we were barely listening to each other. It was so mechanical then, we were so nervous. This time, we have got into the skin of our characters and enjoyed it. It's always nice to be around Sid because he is like family.
As for Fawad, I had heard so much about him before I started working with him. My mother and her friends are crazy about him. He has a massive fan following. I had seen Khoobsurat but hadn't seen his TV shows. So I was intrigued to know more about him as an actor. When I started working with him, I was completely blown away.
Image Source: kyaboss
Did you find it tough to do romantic scenes with the much married Fawad?
When we are acting, we are not really romancing the other person, we are romancing the character. So whether your co-star is married or not, it doesn't really matter. And it wasn't like Fawad and I had too many romantic scenes to carry out.
Why have you decided to live separately from your parents?
I need more space. I am living out of boxes. There is no space; my clothes and shoes are lying all over, I can't find 90 per cent of my things. I can't do meetings in my house because I have to respect my parents' timings, my sister's (Shaheen) timings.
At the same time, I didn't want to live too far away from my parents. I am still very very young and I want to be close to them. My new house is just 10 steps away from my existing house. I am taking Shaheen along because I can't live alone. I am very scared of darkness.
Trust me, it will be fun. It's a big dream come true for Shaheen and I to have a house of our own.
Image Source: rajnikantvscidjokes
So when are you moving in?
The plan was to move in by March 15, my birthday, but the house is not yet ready. I think we'll be shifting in the next couple of months.
Are you moving out because you need more privacy?
(Pauses) It's not really because of privacy. My parents are very liberal and cool. So they don't have an issue with my friends dropping by. But I'm assuming that even that will be more comfortable if I have my own place.
Image Source: mulpix
You're Karan Johar's favourite, aren't you?
Karan is like my father. If I had to say who I consider my family in the industry, I would definitely say Karan. I don't look at him as anything lesser than a father.
Image Source: voylla
He has said that you will inherit all his money that he's left with...
(Laughs) I think he said that in jest. I don't think it will actually happen (pauses). I just want his presence in my life.
Priyanka Chopra has been asking you tips on how to get a bikini body...
I don't need to give her any tips. If there's anybody who nailed the swimsuit body first, it was her. She is very sweet. I have always been very fond of her. At this moment, it's not just me but everyone who is extremely proud of her.
Image Source: badsentinel & bakarbaaz
Do you too, like Deepika Padukone and Priyanka, want to work in Hollywood?
Yes, I want to do Hollywood films. But that will happen when the time is right. I have just started out. I want to establish myself here, then I will head there. That will happen on its own.
Were you disappointed by Shaandaar?
Of course, I was disappointed. But I am happy that such a thing happened to me; it changed me a lot.
How did it change you?
I was very hyper about my films before Shaandaar. Now I have become much calmer- the failure of Shaandaar has made me a stronger person. All my films before Shaandar were successful.
So you were overconfident about your earlier films...
I wouldn't call it 'overconfidence'. Let's say I had been very lucky till Shaandaar.
What went wrong with Shaandaar?
I wouldn't blame one particular person. Every day is not Sunday. There are some days that go wrong. Somehow, the film didn't come together.
Image Source: infobuzzmedia
The interview will be incomplete without talking about Shah Rukh Khan, your co-star in Gauri Shinde's next...
For me, it is a phenomenal experience. First, I had to let the feeling sink in that I was working with Shah Rukh Khan. He is fantastic. He is the most helpful co-star. I have learnt a lot from him.