ARJUN KAPOOR GETS CANDID: About Rushing To His Dad Post Sridevi's Demise, Mending Equations With Janhvi-Khushi, Career Graph And More!
Arjun Kapoor bares his heart to SpotboyE.com in his MOST CANDID INTERVIEW which dwells on his childhood, movies, heroic act of flying out to Dubai to be with his dad Boney Kapoor when Sridevi passed away, and mending of equations with Janhvi and Khushi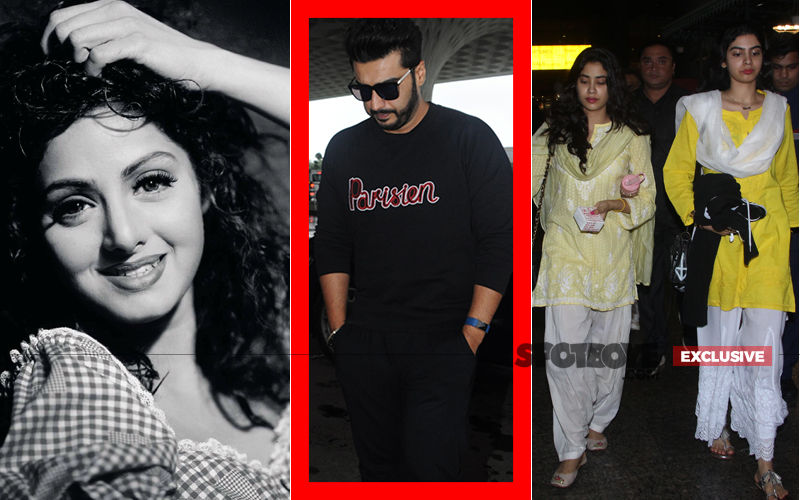 We had caught up with Arjun Kapoor sometime back and had a very long, engaging conversation about him to understand him as an actor and person. Here's what transpired:
Did you want to be an actor just because you came from a film family?
I have to confess that I have been an ardent consumer of cinema, right from childhood, I used to often wake up until late and watch movies, movies and movies. You can say that I was infatuated with films. There was nothing more exciting to me than films. Films made me intrinsically happy- then and even now- and if any work gladdens your heart, I think you have found the basis of joining a particular profession. So yeah, I wanted to join Bollywood.
As an actor?
Nope, as a director.
Director? Why?
I wish I had an answer to that. Let me put it this way: I was tremendously excited to learn how films are made. Acting ka keeda mujhmein tab nahin tha, unlike say in my cousin Sonam (Kapoor) who was passionate to become an actor from almost the word 'Go'.
I think Janhvi too must have decided pretty emphatically since the longest time that she wants to be an actor.
FYI, Ranveer Singh was enamoured of being in front of camera and entertaining people since childhood.
But not you...
Yeah, in fact, I am not one of those who ever wants to be the centre of attention. I am quite comfortable in a party standing in a corner (pauses).
Go on...
Acting just happened. I had joined Barry John Classes (Varun Dhawan was with me). I used to perform and I got my share of criticism, but I never minded that. It might sound easy to say that nobody knew us then- but the truth is that nobody really knew us at all.
At Barry John's, I realised that I was quite comfortable being someone else and I told myself that I was enjoying acting.
And you told your parents (Boney and Mona Kapoor) too?
I told them, but I don't think I was taken seriously. They thought that either I had gone mad about this, and they could do nothing about it. So I knew that I will have to convince them to pursue my new-found interest. You see, I had lost 25 kg from my otherwise 150 kg before I broke the news to them (smiles). Guess I had quietly started to take the baby steps that were needed to become an actor.
I won't deny that I was overweight. My overweight issue, I guess, stemmed from the fact that I was obsessed with eating.
And then?
I went on to assist in Kal Ho Na Ho and Salaam-E-Ishq. My parents didn't want to be someone who would feel later that they didn't allow their child to follow his conviction. But it needs courage to do that, and both of them had it. After Barry John, I enrolled with Kishore Namit Kapoor.
Correct me if I am wrong, but you were shy of girls...
You are right, I was. I didn't know how they would take to my obesity.
Did they?
No, nobody bullied me. And I was growing up as a confident and happy child.
Were you a loner then?
I had limited friends yes, but I wouldn't term myself as a loner. I was a very normal child.
How did Ishaqzaade happen?
I had gone to meet Shanoo Sharma (Chief Casting Director at YRF). Let me also tell you that I had met many filmmakers before going to Shanoo but hadn't got any response. As for Adi (Aditya Chopra), he saw my pictures and rejected them.
What!?
Yes, and those were tough times. Shanoo made me lose more weight and started working with me on the scenes, even talking to me about how to go through the auditions. But it wasn't easy. At one point, Adi even told me that he doesn't see me as a mainstream hero.
Did he know whose son you are?
Yeah, but that didn't matter to him. If you are launching a newcomer, you are going to tap into his talent- not into whose son he is. If you look at Parineeti, Bhumi, Anushka or Ranveer, it is clear that Adi has welcomed talent and nothing else. Warna agar unko koi naam hi uthana tha toh mere se jyaada, aur bade logon ke bete aur betiyaan baithe the. Adi doesn't select actors looking at their surnames.
Think of it, there was no social media or paparazzi culture when I signed my first film Ishaqzaade. Today, star kids are known to people when they are extremely young. You might not have heard my name until YRF signed me up. I was not looked at as somebody's son. i am proud to be Boney Kapoor's son but that didn't help me to get my first break. It was largely due to Shanoo's efforts that I made the cut.
Okay, so now let me tell you that I was earlier supposed to do a Y Films flick, but later they felt that I should rather do a YRF one. Today, Yash Raj is home to me. And you know what! They made me go inside a girl's bathroom when they were testing me. There was a scene of that sort if you recall Ishaqzaade. It was tough.
Were you happy with Aurangzeb?
Yes, it was just that it was slightly ahead of times. I got pretty good reactions for it. Every film can't amass humongous number na?
Gunday?
All my pleasure. Not a line was changed after Ranveer and I read the script. I was very happy that it went off to collect 16 cr on Day 1. KI and Ka went on to make 52 cr, it had a higher Day 1 opening than Kapoor And Sons.
You did very well in Finding Fanny. I think the period after Ki and Ka and Tevar was a bit...
(Cuts in) As I said Ki and Ka did very well. It is very important for actors to get numbers. Critical acclaim does not necessarily get converted into box-office.
Do you read reviews of your films?
If my film, say Tevar didn't do well, I try to learn from them. But many times, the audience outweighs the critics; To be honest, 2 States wasn't reviewed as well but it turned out to be a universally loved film. Reviews only hurt when they go on tangents other than the movie per se.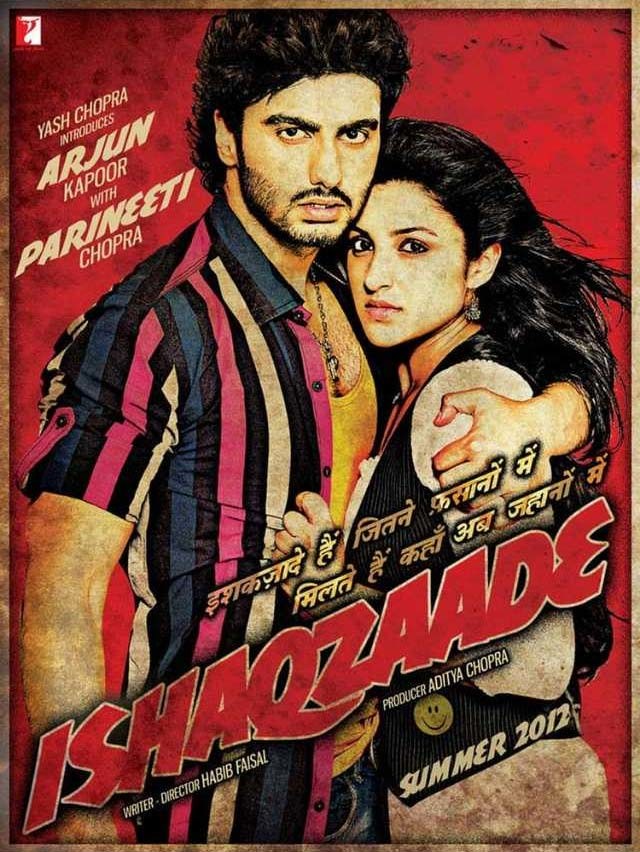 Ishaqzaade Poster
But you keep an eye on the numbers...
Of course, I have to look at the business. i am a producer's son. I want to do films which the public watches, you can remain here but only if the audience stays connected with you. I think Finding Fanny was the only experiment I did. I don't want producers to lose their money when I do their films. So far, my films haven't lost money. Like, let me tell you I didn't charge as much in Finding Fanny as I would have otherwise, when it didn't rocket.
So you aren't tough on getting your acting fee as much as you quote?
I am not that kind of a person. Paisa toh aata rahega, we actors have other avenues to earn. Sometimes you have to do films without thinking about money
I must say that you were a real hero when you flew off to be with your dad when Sridevi passed away in Dubai...
You are using a very big word- hero.
Expect nahin kiya tha...
I understand what you are saying. But I couldn't keep thinking what people would think of me. I did what I felt was right. If I had collected too much opinion, it would have been just manipulative and without any emotions.
The only person i called was my mausi.
And?
She supported me. She said: Do what you think is right.
It was a very unfortunate circumstance that brought people together to figure out how can they can support and help each other, to form and maintain an equilibrium in each other's lives.
Anshula and I will always be there for Janhvi and Khushi whenever needed. It has been very tough on them. Until then, they had led a nurtured and sheltered life. I want to be a supportive brother to them (pauses).
Please continue...
I am happy that I followed my instinct. I have no regrets. But I would never wish such a thing to happen to even my worst enemy. I wish it hadn't come to that thing for us to react towards each other.
Even my mom would have wanted it this way, and not that I was doing a heroic act.. My mom loved my father; she would have wanted me to be around my father in that moment of crisis, she would have wanted his near and dear ones to be near him.
I know how it feels. I have seen it myself. It's not easy, my back is already broken. There is a sense of vacuum in me that only Anshula fills.
Anshula has sacrificed a lot in her life to be around you and take care of you...
Absolutely. It's a big sacrifice to not follow one's own dreams.
Do you discuss films with Anshula before you sign them?
Yes, but not in detail. Lekin haan, she reads and gives her opinion. She loved 2 States when she read it and she knew Finding Fanny won't work. She is honest and my harshest critic.
Your opinion on Janhvi's acting skills?

She is the quintessential heroine. She imitates people. I loved her in Dhadak, especially in the second half.
Janhvi has innocence on her face...
I know what you are saying. I would term that as sincerity. There is some saadgi about her. She is not putting up a facade.
I am still discovering her and Khushi both, it's a process. I crack some jokes, they laugh on some and they don't laugh on some.
Hmmm...
It all might not have happened so seamlessly. Kya pata, then maybe we might not have interacted at all apart from just being cordial. It's a very hypothetical scenario to imagine agar aisa nahin hota toh kya hota. The reality is that we now have to be there for each other - and we will be.
Image Source:- Viral Bhayani/aph images/pinterest/imdb/instagram/
arjunkapoor/khushi.kapoorr/janhvikapoor/anshulakapoor