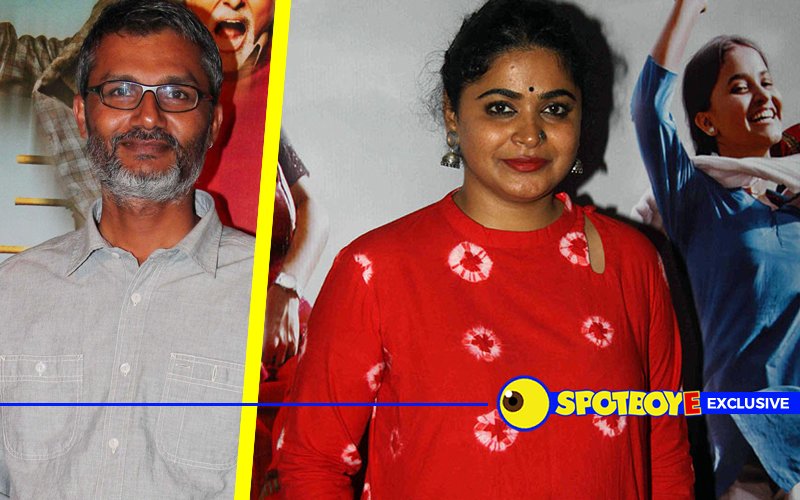 Ashwini Iyer Tiwari is on a high after her film Nil Battey Sannata opened to rave reviews yesterday. She also has Ayushmann Khurrana-Bhumi Pednekar's Manmarziyan in her kitty after its original director Sameer Sharma was replaced by producer Aanand L Rai (Director of Ayushmann-Bhumi Pednekar's Manmarziyan shown the door, mid-shoot, March 21). In an exclusive interview with SpotboyE, the filmmaker, who is married to Dangal director Nitesh Tiwari, talks about her latest release and the road ahead. Read on:

As a mother (Ashwini has 6-year-old twins -- a boy and a girl), was it tough leaving your children behind while working?
My heart was at home even when I was shooting. But after a point, you have to follow your passion and teach your kids to be independent. There was a lot of discussion between Nitesh and me regarding this. We both want to do what we are passionate about, but again, these decisions cannot be taken individually. Fortunately, I had my mother and Nitesh around to look after the kids when I was away.




Go on...
No woman should stop being herself. Be real. You are not a God mommy. A lot of young working women face the dilemma I faced. My mother taught me that it's important to have a life before and after kids.

Nitesh and you are creative people. How does the equation play out at home?
We are friends and each other's critics. As parents and a couple, we leave work outside when we enter our home. Both of us are simple -- we like our little space, away from Bollywood's hustle-bustle. Nitesh is a damn good writer, I am not. So, he helps me with my scripts and stories. I am an art director essentially, so I help him with the artwork and costumes in his films. When we're on the same set, we don't interfere in each other's work, but when we're on our respective sets, we exchange pictures and thoughts.

No clash of egos there?
No, there are clear demarcations. In fact, he was very caught up, so he couldn't be on Nil Battey Sannata's sets. He decided to stay away and I was okay with his decision. But I've been on all his sets so far.




How did you guys manage time for your kids between Dangal and Nil Battey...?
The last one year has been tough. But this phase, like all others, will pass. We love spending time with our children and in a few months, we'll be back with them, helping out with their school projects and homework.

There are huge expectations from Dangal. Does the pressure affect your family life?
No, when we both started out, we knew the nature of our work. And from that time on, we've been clear that it should not bother us to a point where there's no peace.

Who did you model Swara Bhaskar's character in Nil Battey on?
The numerous mothers I've met so far -- 70% Indians can relate to the story in this film. It's about an unusual step a mother takes to support her daughter.




It is unusual --- a mother returns to school to motivate her daughter...
I get upset about gender discrimination. While working on Kaun Banega Crorepati's commercials, there was this one ad where Mr (Amitabh) Bachchan asks a girl, 'Toh aap kya kehna chahengi desh ko?' And she says, 'Mubarak ho, beti hui hai.' It worked well with the audience. That triggered the thought which translated into this film -- one morning, Nitesh came up with a brainwave that eventually turned into Nil Battey Sanatta.

Did you think Nil Battey will work, since it doesn't have an A-lister?
I have never been pretentious about my stories. I have always, even during my advertising days, told stories that I have wanted to say. I didn't choose to say this story for anything else, except that it came from my heart. And I knew that if something comes from the heart, it will go far.




Doesn't the wait for an appropriate theatrical release kill hope?
Luckily, we didn't have to wait all that long. When we were in our post-production stages, Mr Aanand L Rai came on board and then came Eros. A film has its own life, and people become part of the journey.

Aanand has now offered Manmarziyan to you. How did that happen?
It just happened, there is no backstory. I haven't even thought about that movie. After I return from a break with my kids, I'll get back to work and take it from wherever Mr Rai wants me to.




As an advertising professional, you have made 40-second movies. Now, when you are making 2-hour films, do you get greedy about content?
We are taught not to lose our focus. People can go overboard when they suddenly have so much to say. But if you remember your ad principles correctly, you won't forget to observe restrain.

Lot of ad professionals are entering filmmaking. What is driving the change?
As ad professionals, we have an advantage: we belong to a place where we know our consumer insights. So, the next logical step is filmmaking.

Image Source: ebharat, youtube/Eros & Manav Manglani