Chehre Debutante Krystle D'souza: 'I Couldn't Even Soak In The Fact That I Had Signed A Film With Amitabh Bachchan And Emraan Hashmi, And The Flight Tickets Were In My Hand'-EXCLUSIVE VIDEO
Krystle D'souza, who is making her big-screen debut tomorrow with Amitabh Bachchan and Emraan Hashmi-starrer Chehre, talks about getting no time to prep, her excitement for a theatrical debut, working with Big B, romancing Emraan, her anxiousness on the film getting pushed and more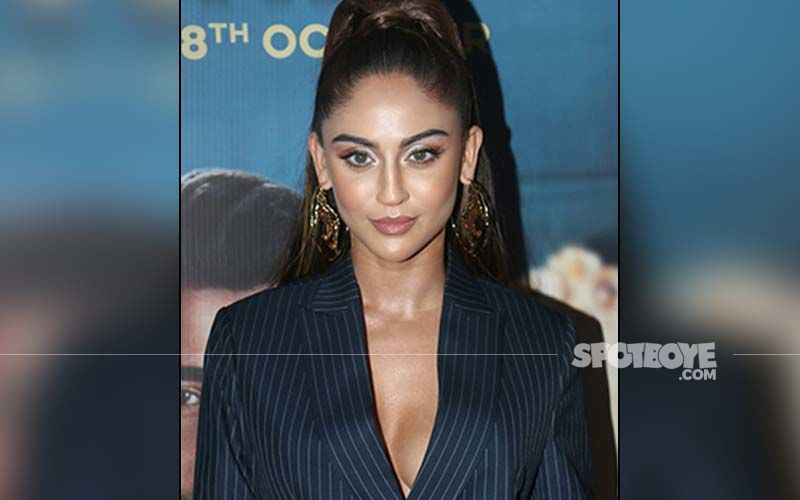 Krystle D'souza is all set to make her transition from small-screen to big-screen tomorrow with the Amitabh Bachchan and Emraan Hashmi-starrer Chehre. Apart from these three, the film also features Annu Kapoor, Siddhant Chaturvedi, Rhea Chakraborty and Raghubir Yadav. After getting pushed for over a year, Chehre is finally releasing in theatres tomorrow, becoming the second film to get a theatrical release after the second wave of pandemic.
In an exclusive conversation with SpotboyE.com, the actress talks about her excitement for a theatrical debut, working with Big B, romancing Emraan, her anxiousness on the film getting pushed and more. Read excerpts from the interview:
Krystle, after a lot of delay, you are finally getting your big theatrical debut tomorrow. What are the emotions you're going through right now?
I am extremely excited as firsts are always special. I have dreamt about this day forever. When the pandemic hit, there were obviously other reasons to be upset, but this was one of them too. I didn't want the film to come on OTT, I wanted it to arrive in theatres as theatres ki baat hi alag hoti hai. The film is also so grand and releasing it on OTT wouldn't have done justice to how grand and well it has been shot. To come on the big screen was always a dream and it just feels that my dreams are coming true.

Is Chehre the perfect film debut you were looking for?
No, it's more than perfect. I don't think I could have imagined a more power-packed debut, sharing screen space with Amitabh Bachchan ji and Emraan Hashmi along with Annu Kapoor, Rhea, Raghubir Yadav and Siddhant. Everyone is so good in their craft and have such good and impactful roles that I don't think I have ever imagined a debut of this scale. Who even dreams of debuting with Amitabh Bachchan ji? I just feel blessed that a guardian angel is watching over me.

How was it getting to work with the Big B and the first shot that you gave with him?
I was so scared but he didn't make me feel like that at all. When I reached to the set, he introduced himself as 'Hello Krystle, I am Amitabh Bachchan' and I was like, of course I know that. But the fact that he introduced himself says a lot about him and how humble he is, no matter how big of a man he is. That's something I was really in awe of. He was so dedicated and did rehearsals with me. He didn't make me feel that it was my first film and it wasn't the industry I was from. He made me feel at home immediately.

And how was it romancing Emraan?
I actually realised that he has a lot of fun shooting these romantic songs. He enjoys songs so much that it comes naturally to him. I was bemused by how organic it was to him. During the song, we weren't wearing mic, so we were talking anything rubbish and the whole song got done amongst jokes and laughter. But throughout, he wasn't tensed at all and that's something I want to learn from him.

Emraan is the romantic hero king in Bollywood songs. His songs can never go wrong and all his songs have been my favourite. So, to be in one with him was something I had never even imagined.
What can you tell us about your role in the film?
My character's name is Natasha. She is a girl who really wants to come into her own, someone who really loves romance. Saying anything more will spoil the film, so I'll just say that har chehre ke peeche ek chehra chupa hai.

This is your first film and you always want your firsts to be extra special. So, how did you prep for your role?
I actually didn't have any time for prep. The day I was cast, the very next day I went to the shoot. I couldn't even soak in the fact that I had signed a film with Amitabh Bachchan and Emraan Hashmi, and the flight tickets were in my hand. But as soon as I reached Delhi, my director came to my room and back-to-back we rehearsed for two days constantly before we went on floors. But it was good as it did not look over-rehearsed as well.

Were you scared or anxious when the release of the film was constantly getting pushed and it was marred in so many controversies?
I can't tell you the amount of anxiety attacks I have had every time. You have high hopes with your first film and it's not easy when your release date comes and gets cancelled and then it comes next year and gets cancelled again. Your heart sinks and you do feel low. I also didn't take up any other project in between as I really wanted people to see it and not take up anything in between. Obviously, I was going through a lot of anxiety, but der aaye durust aaye. I really didn't want the film to come on OTT as it was my dream to see my face on the 70 mm screen in theatres. It's worth the wait.

Also, in these two years, it's not like a lot of work has happened amidst the pandemic. I am glad that when things are getting a little bit better, at least in India, we are opening up. People are also getting double vaccinated, so it's safer too and you also don't feel guilty promoting. Earlier I thought how to ask people to go to theatres but now that people are vaccinated, it doesn't feel wrong to ask them to come to theatres.
So, any future projects in pipeline that you can tell us about?
I am in talks for a feature film but I can't talk about it as nothing is finalised yet. But it is going to be big.



Image Source: Instagram/krystledsouza, spotboye archives