Dabboo Ratnani Calendar 2021: 'Akshay Kumar Is The Most Fun While Kartik Aaryan Is Most Photogenic,' Reveals The Photographer-EXCLUSIVE VIDEO
As he gears up to unveil the entire calendar for 2021, ace photographer Dabboo Ratnani shares stories behind his annual tradition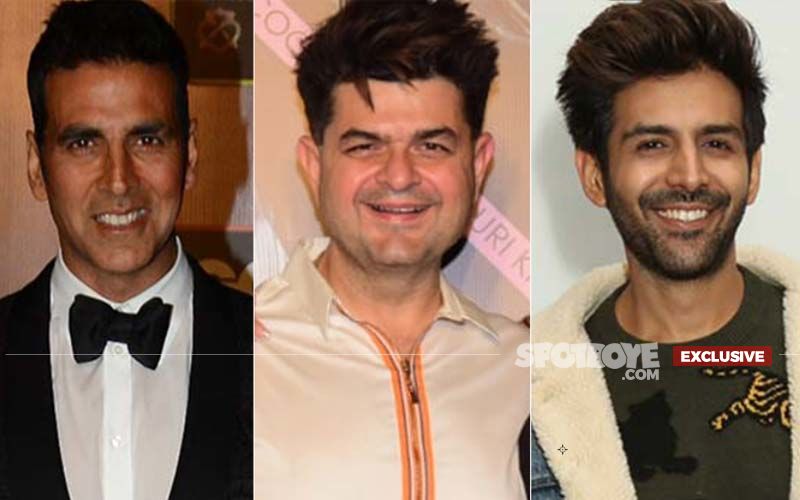 Dabboo Ratnani is an ace photographer in showbiz, whose annual calendars are one of the most anticipated collections every year. This year, he had to wait a little bit more due to Covid, but finally this year's calendar is all set to roll, and we already have seen some breath-taking stills from the shoots of Vicky Kaushal, Vidya Balan, Abhishek Bachchan, Sunny Leone, Tara Sutaria, Vijay Deverakonda, Saif Ali Khan, Ananya Panday, Kiara Advani ad Alia Bhatt.
In an exclusive conversation with Spotboye.com, Dabboo gets candid about this year's calendar, working with the stalwarts vs Gen-z actors, some fun behind the scenes stories and more. Read excerpts from the interview:
Every year you unveil your calendar with a big launch party, this year you couldn't do that due to Covid. Does it feel a little weird with everything going virtual?
It's very weird for me because the calendars' impact on seeing the blow up at the launch party, amidst the media and celebrities, has a very different energy. I was waiting for the longest time to follow through that as the edition was completed two months ago. But it never seemed like the right time, as it looked like a risk and we didn't want anyone to feel sick. Plus, the whole situation was so grim and sad that having a party didn't seem right. Having said that, I also didn't want to break my tradition of this annual calendar, so three days before our first picture was released, we decided to have a virtual launch. Then we had the idea of having actors with us on Insta live to talk about their shots. So, we are doing the work earlier done by the media.
Will the Covid effect be reflected in any of this year's pics?
Only behind the scenes, as we were all in masks. Honestly, we never thought it would go on for so long. We shot at the start of this year, and I felt that mask pictures will become outdated soon. We discussed it with a couple of actors, but we didn't want to glamourise Covid and wanted it to go away quickly.
Which stars are featuring in this year's calendar?
Tara and Vijay are making their debut this year. Apart from them, we have Tiger Shroff, Akshay Kumar, Shah Rukh Khan, Saif Ali Khan, Abhishek Bachchan, Hrithik Roshan, Alia Bhatt, Ananya Panday, Kriti Sanon, Parineeti Chopra; all the people that I have worked with a lot before.
You have been doing this calendar for over two decades now. Does it become more fun each year or more difficult with the pressure of expectations?
I feel pressure is more in my head as I want to outdo my work and not disappoint anybody. I feel creativity should reflect your evolution. Sometimes, it becomes a pressure on the actor as sometimes they feel they already had their best shot the previous year and how to outdo that. It's the fire to outdo myself that keeps me alive and going for the last 22 years. It's my 26th year in the industry but it doesn't feel so long. The fire, energy and enthusiasm are still there to do something new. To even get all these actors together for a live session for a virtual launch is not everyone's cup of tea. I am grateful for their trust as it is completely non-commercial and no one makes money out of it.
So, is there a theme to this year's calendar?
I don't do thematic calendars. I just like the actors to shine in my work and show some variety. The calendar will stay on a person's desk for a year, so if I do a theme, it might become outdated. And even if I convince the actors to fit into a theme, the theme then becomes the hero. It also restricts my creativity to fit into that space.
I did a thematic calendar once in 2007, and the theme was water that time. But I felt that it did not restrict me as water, for me, was Hrithik falling into the pool, Kajol throwing coffee in swimming pool, Mr Bachchan giving water to a dog, a tear in John's eye, an underwater shot with Biapasha Basu or Priety Zinta washing my motorcycle. There are so many ideas with water that I can make one more calendar with that theme.
How do you find inspiration for each actor's shot?
Since it's a non-commercial project, everybody is ready to experiment, be it Alia, Sunny Leone, Mr Bachchan or Akshay Kumar. They are all experimental actors, but since it's non-commercial, you can't force anyone to do anything. Everyone is doing it for the bond we have and to be a part of something creative. This is my form of art and everybody does it for the passion of the project.
Did you do Vidya's shot outdoors because of Sherni?
The mental space of the actor matters and when I think of ideas, I take that into account to bring out something that excites them. And a lot happens at the shoot too. For Vidya, we had thought of doing the shot with her sitting by the tree, but on location we found the low angle to be better. The ambience on the set plays a lot but as a photographer, you have to go planned and not blank.
Even after 26 years, do you still get stressed about shooting someone new?
I am nervous at every shoot. People think that why would I be nervous after having worked for so many years in the industry, but it is a good nervousness as you want to keep proving yourself. Even if I am shooting for the 1000th time today with Shah Rukh Khan or Akshay Kumar, I go with the enthusiasm of doing something new. For me they are all friends, I am never star struck.
Even if I am doing a steamy photoshoot and the person isn't comfortable with it, I never use them. It's about building that trust. It's not about just getting that one picture but to keep pushing the game and getting better.
You are now shooting with a lot of Gen-z actors like Alia, Ananya, Vicky or Tara. Are they more fun and comfortable to shoot as they kind of grew up with a camera attached to their hand?
They are definitely fun, professional and experimental, but it doesn't affect me much. My rapport with them, be it a stalwart or a fresher, is the same and I put in the same effort. The vibe that you give actually decides what you get out of the actor. It's like being a director on a film set. With the newcomers, it's exciting that way as they bring a lot of new things to the table.
But be it anyone, you have to be technically sound when you are working with celebrities. You cannot be unsure and waste their time. We need to always prepare before the shoot and be clear in our head. For my calendar shoots, the longest one lasts 15 minutes. I am always ready and that is why the actors like it. If they would stop enjoying the process, they wouldn't shoot with me again. The fact that they have been doing it for years, it means that even they get a kick or a high out of it.
So, amongst all the actors, whose photos are the most difficult to choose from as they are all so good?
It happens with all my shoots. When we are in the zone having a great time, I just keep clicking, so we are always spoilt for choices. Same thing happened with Vidya, Vijay and Vicky. Till the last minute with Vicky, we were contemplating which shot to use. But with social media, we have the option to release those other outtakes as well.
Who is your favourite person to shoot?
I can't choose a favourite as it's like choosing between my kids. My effort with everyone is 100 percent. When I shot with Ranbir Kapoor and Sonam Kapoor for the first time before Saawariya's release, I put in as much effort as I would have with any superstar, and they loved it.
Who is the most fun person behind the scenes?
It would be Akshay. He is very fast, crazy and can do any kind of fun thing. He, Hrithik and Abhishek are big pranksters. Varun Dhawan is very spontaneous and so is Vicky, when he gets into the zone. Kartik Aaryan is so photogenic and he makes for great pictures. He really dedicates his time to photoshoots. Most of my actors give me more time than I need.
Are there any memorable incidents from this year's photoshoot?
When I was doing an Insta live with Abhishek, we spoke about each and every shoot we had done together. There is always something candid and memorable from each that stays with us. He told me that in his first photoshoot, I styled his hair, and he remembered that. He said I touch his hair more than he does. With Hrithik, in one of my photo shoots I told him that I will get him a tattoo artist and a hairdresser and I called Aalim Hakim. And Hrithik was just shocked that even men can use hair dressers. Earlier actors used to have only a makeup person and the hairdresser trend came much later.
Hrithik has been a part of my calendar for 21 years, just leaving the first one as it was all-women. Him, Akshay, Shah Rukh, Aishwarya Rai Bachchan and Mr Bachchan have been a constant in my calendars. Kajol and Kareena Kapoor Khan also have been a part of a lot of my editions.
This year, John was shooting in Lucknow when I was planning the calendar. I just messaged him to plan something interesting. In a few minutes he messaged me that he was in Lucknow and had some time and called me there. I went there a day and a half later and we completed it. Sometimes it's just meant to be. We were planning to shoot his portrait black and white, but when we saw it in colour, we couldn't not use it. It was actually the first shot we did for this year's calendar.
How would you describe this year's calendar?
My best work. I feel the same every year and then I plan how to outdo it for the next edition.



Image source: SpotboyE archives