Gauahar Khan: I Got To Wear My Own Wedding Mehendi In The Shoot Of 14 Phere- EXCLUSIVE VIDEO
Gauahar Khan speaks to us about her upcoming film 14 Phere. The actress accepts it to be the most challenging role of her life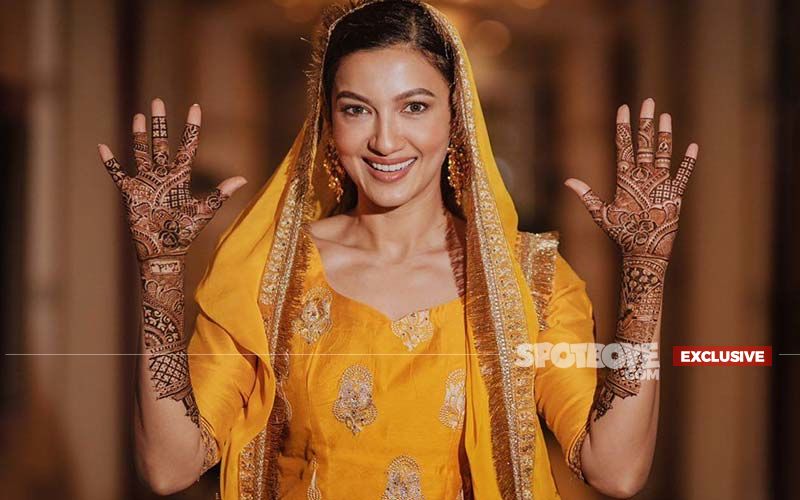 The newly married Gauahar Khan is quite excited about her forthcoming film, 14 Phere. She speaks to us about her journey and how was her experience doing the film starring Vikrant Massey.
Excerpts from our conversation:
What do you have to say about your character in 14 Phere?
This has been the most challenging role of my life because it's my first attempt at comedy and I am playing three characters in the very same film. So, I am playing the character of Zubina and two other roles which I get into to take the storyline further. Vikrant Massey is playing Sanjay in the film who is my friend and for him, I take the challenge to play a 65-year-old lady as I feel that I am an amazing actress and can do any character gracefully. Because I am Delhi ki, Meryl Streep. So, that's the character.
How relevant is the film for the audience according to you?
The film is about two Shaadis but there is a lot of entertainment to it. Also, it is a very responsible film because it is going to give out a very good message to the audience. I think it's one of the most relevant films right now which we really needed.
What struggle did you face to play three characters in the very same film?
Honestly, the experience was such that any actor will love to do something like this onscreen. A role that is challenging you as an actor and taking you out of your own comfort zone and not necessarily that it has to make you look pretty or whatever actors want to be. As Zubina, I believe she is very pretty and desirable like anyone else. She has the confidence and brashness of Delhi. And with that, she also has that hunger to do something really big in the acting space. Of course, it was very difficult to wear prosthetics and shoot 12-hours a day. It used to take two hours to put that makeup and then an hour to remove that. My skin used to have rashes because of the glue. The struggle was there but as an actor it also makes you feel good when you see the outcome.
Who came to you with this opportunity?
I had got a call from ZEE Studios and I had given a long test. But let me tell you that Devanshu sir was so involved in that character that he actually made me give the test really well. I want to thank him for giving me this opportunity because that's how I got the role.
In the film you have a hunger as an actor to do something big, in real life also you have the same hunger for acting?
I definitely have to do a lot of things in the acting space. In fact, I would say now I am finally being offered the kind of roles where I can act in variety. So whether it is 14 Phere, that is something I am so excited about as no one going to ever imagine Gauahar Khan as that. So, yes there is a hunger that I want to do big roles. Perhaps a title role that would be completely based on me. I want all of that, I want to dance around the trees and everything which happens in the film. But I don't regret anything about my journey also so far that this didn't happen and that didn't happen. Because being somebody who is a complete outsider in this industry, I am fortunate and blessed to get opportunities to work with such big banners, directors, and amazing actors.
Do you feel that people's perception of you as an actor has changed after Tandav?
I feel Tandav was one of the great opportunities for me. Especially because of the makers and the platform, it was coming on. And the fact that Maithili Sharan was an underplayed character, it actually stood out to a lot of people. So, yes I feel like after Tandav it has added more commercial value to my career. But the kind of love I get for Rocket Singh, Ishqzaade, and Begum Jaan. I don't compare one film to the other. Because as an actor if I would have not got those opportunities then these opportunities too would have not come to me.
Gauahar you went shooting for 14 Phere the very next day of your marriage. How did you manage that?
The very next day of my marriage I was at the onset of 14 Phere in Lucknow. Playing a 60-year-old with prosthetics on my face. And after three days it was a new year. So, my husband Zaid was kind enough to join me for the shoot because we just got married and I was a new bride. In fact, in 14 Phere I was wearing my own wedding Mehendi. I don't know how it was so beautifully done by Allah, but all the scenes I shot post my wedding for the film were all marriage scenes. But I was a 60-year-old woman with prosthetics not looking the best like a Dulhan should look after her marriage. But I was not complaining because my husband was right next to me. And on new year's night imagine my husband who is already, of course, younger than me and is looking 60-year-old. We still had that love and wishing each other onset. We were onset when we wished each other new years and it was best night ever.
But it seems you made up for everything with your recent holiday in Moscow?
Yaa, finally we got to spend some time together holidaying. And it was a great experience. Because 14 Phere happened right after my Shaadi and we didn't get any time. Then I went to shoot my Amazon show and then a lot of things happened with me in my personal space. But this was good. I am grateful.
Image source: Planetmedia PR, Instagram/gauaharkhan