Irrfan Khan Passes Away: Here's My LAST INTERVIEW With The Piku Actor- EXCLUSIVE
This morning has made me very uneasy. I cannot forget my last interview with Irrfan Khan and I bring it to you, today, again, as the sad news of the actor's death hits us in the gut.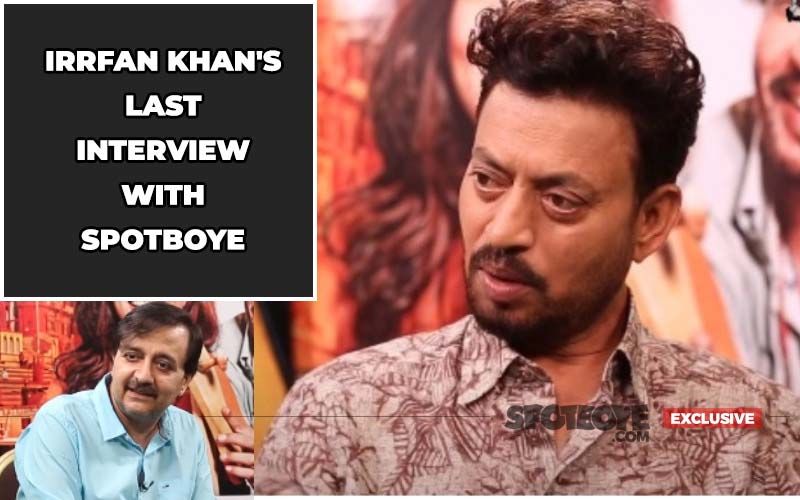 Never thought that this would be my last interview with Irrfan Khan when I met him for Qarib Qarib Singlle at Novotel (Juhu) in November 2017. It was always a treat talking to him. He had a very dry sense of humour but never held back things. If he was comfortable with you, he could talk to you no end.
I had a very comfortable interview with him at the Novotel. I reproduce it for you but with a very heavy heart. It's my loss as a journalist that I won't interview him again. It's my loss as an audience member that I won't have new movies from him on my plate. It's your loss too. It's a global loss. India's international star is gone.
Here's the INTERVIEW AND DON'T MISS THE VIDEO BELOW:
Irrfan, you wanted to quit acting in the 90s, Thank God you didn't...
I'm glad. They say patience is a virtue. I had to keep up with my patience.
At what point did you want to give up? What kept you going?
It was repetition that bored me, even though the TV show that I started with was very popular. What happens in TV is that when the audience likes a certain dimension to a character, the writers play up on it. So as an actor, you end up playing the same emotion, again and again.


There's nothing for you to explore. I came out of drama school imagining that I would be a cinema actor. Television bored me to death. It felt like I was doing a Radio play for a visual medium. You have to verbalise everything for the TV audience. So, for instance, if a woman is working in the kitchen, she can put the volume on high and listen to what's happening, even though she can't physically see the TV set.
And you become predictable; she almost knows what you're going to say next...
(Laughs) Everyday. So, that made me really bored and I was thinking of quitting (acting)... but you know, life has its own designs, you should trust it.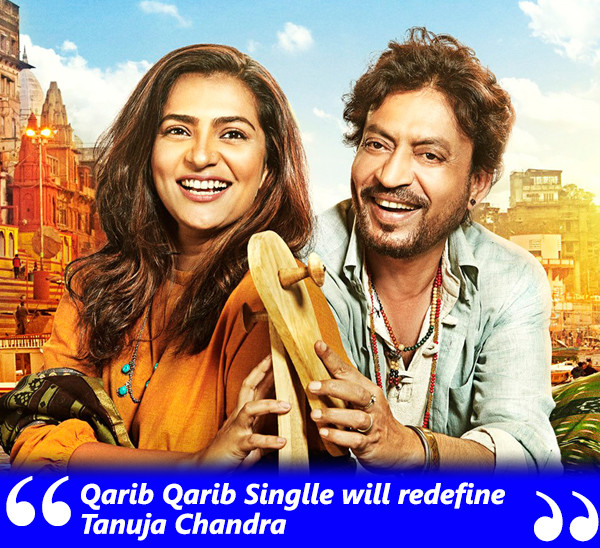 What was that plane which took off?
I think it was the casting of Warrior (2001). I had no idea what kind of film it would be. When I met the director and he gave me an insight to the story, something happened to me (clicks). My instincts told me, this is special. I didn't have any experience in films up till that point, but the world that he created in the narration, had an element of magic realisation. It was hypnotic.
On one hand I'm doing television that bores me, and on the other I meet this director who's telling me a story. I can't wait to know what happens next in the story. I'm like phir kya hua...kya hua...
I didn't hear back from them for sometime after the narration, and started becaming insecure. I didn't know if I had been selected or not. Then, I got the news that changed my life.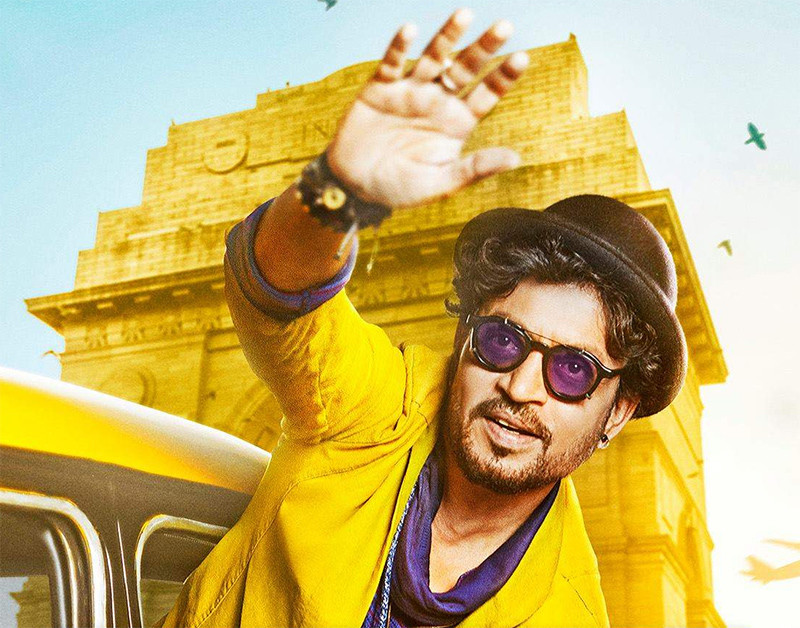 There was so much at stake at that point. Whatever I had earned till then, I had put in a series that I was producing, because I wanted to engage myself. Acting was not engaging me enough. I put all my kamaai in that series, I thought approve ho jaega. I think I must have done something good in life that it didn't get approved. I swear! I sometimes think, if that would have clicked, I would have become a producer; it would have been a curse. You need an expertise, a different mental make-up to become a producer; it doesn't come to me naturally.
You are enjoying your acting so much now. Cutting straight to the present, what's Tanuja Chandra's Qarib Qarib Singlle about?
The film will redefine and rediscover Tanuja Chandra. I'm so happy that she came up with the story. It's a departure from the kind of films Tanuja has made in the past. The script is beautifully written by her mother. There's a kind of sweetness to this story. It's a very interesting stage in two people's lives when they come together. It's like when you are interested in somebody and magic starts happening inside of you. You are so fascinated by the person that the journey becomes more important than the destination, you don't want to name the relationship.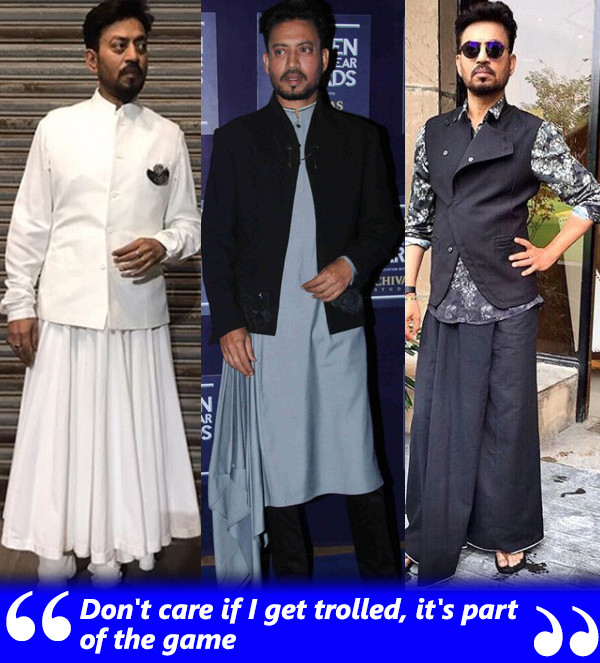 Did you immediately say yes to Tanuja? She's coming back to direction after a long break...
No, I took my time because it's not a formula based movie. When there's no formula, there's a certain kind of risk involved. Sutapa (wife/writer & producer) and Shailja (writer & producer) read the script and they said that it's a happy film. They revealed to me a certain aspect which I didn't see when I was reading the script. For me, a man woman coming together and what they do to each other, is very fresh.
The film is about two people meeting online, on a dating site. Do you believe in dating sites?
It's a very welcome facility which people should avail to know each other. When two genders are not familiar with each other, there's a kind of misunderstanding. It should become easier for people to meet each other; there shouldn't be any mystery, taboo or dogma around it.
Anything in particular that you did to prepare for this role? In terms of physicality etc...
The character I play is that of a desi banda but there's something interesting about him. For instance, the way he dresses, that took time for me to know what kind of clothes he would wear. He's a strange guy but there's an endearing quality to his strangeness. Though, he can also make other people exasperated at times (laughs).
You also often make fashion statements; you are photographed in quirky outfits. Is it a conscious effort or you do it just for fun?
What I have discovered about myself is that I hate definitions and in-box thinking. I'm not afraid of experimenting. Some days I look at myself and go, "What is it I'm wearing?" But then I let it go. It's all part of experimentation. Sometimes, something works, sometimes it doesn't. It keeps you alive.
How do you react when your wardrobe makes statements?
It keeps you comfortable. If people are liking what you're wearing, it's nice. You know fashion comes from abroad. For instance spikey hair – go to our villages...log tel laga ke ghoomte hain, usko abroad main cool bana diya hai. Yahan logon ke kapdo ke rang utar jaate hain, usko bhi unhone fashion bana diya hai. Torn jeans have become a fad. (laughs)
You're enjoying it. What if you get trolled for it?
If you get trolled, so be it. It's part of the game. Trolls are not going to change me. You need to see what is it that is affecting people; do I need to give value to it? If there's a concern that I need to address, I will do that, otherwise I'll let it go...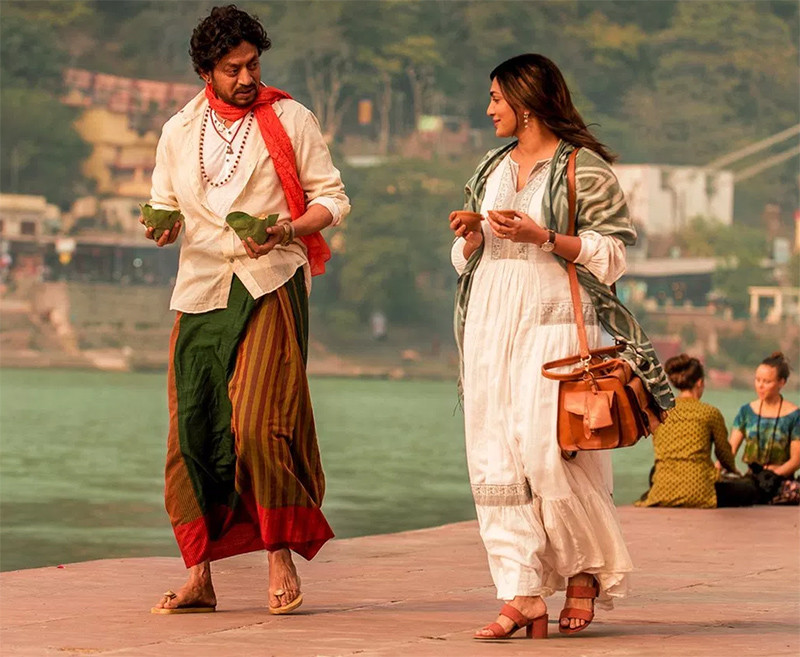 Irrfan Khan And Parvathy Menon In Qarib Qarib Singlle
We see that you are active on social media. Ours being a digital platform, I have to ask you – Do you address your social media on your own? Do you think about it deeply before posting a comment or is it just impulsive?
You don't always think deeply. Sometimes it's just for fun. Sometimes when you need to say something, then you weigh your words but 90% of the time, I'm not thinking too much.
You said you are very particular about choosing your films. Right from the word go, you didn't want to get typecast...
Every actor is choosy. Tell me one actor who's not choosy? They have their own way of weighing and understanding the potential of the subject, and accordingly they choose.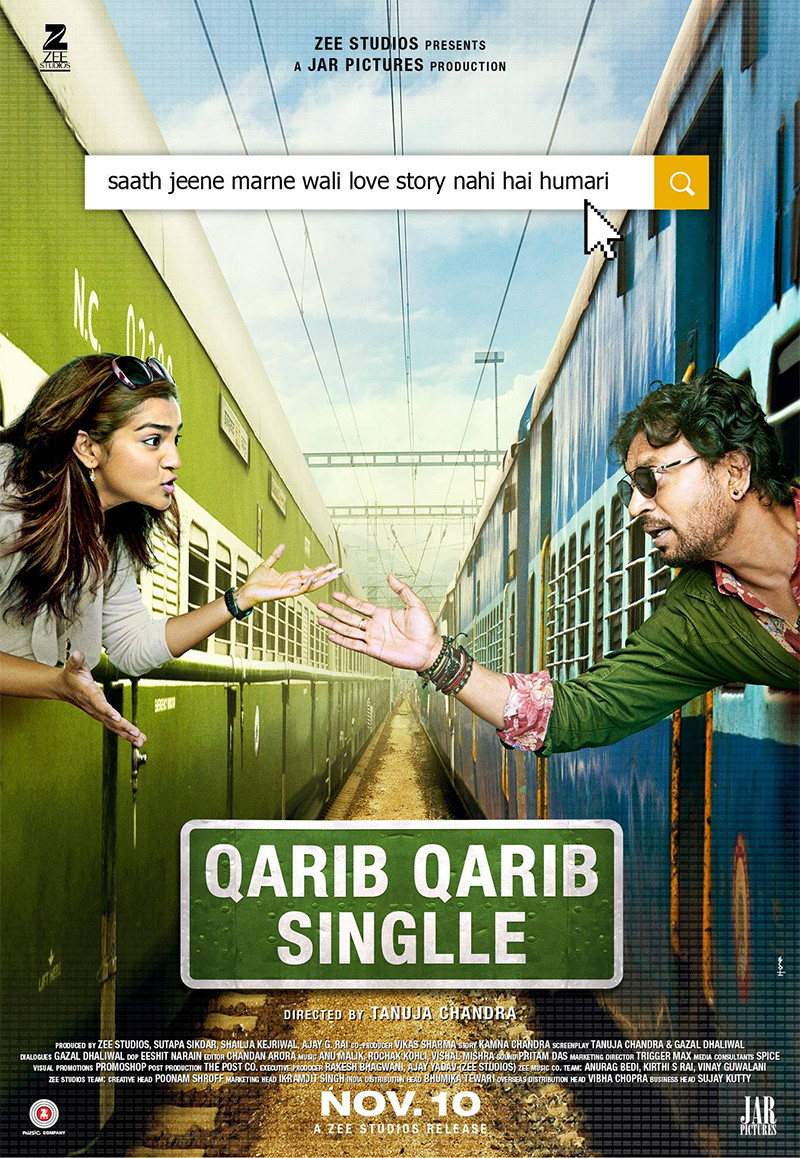 How important is money? When you filter... you know you sometimes filter the commercial, heavy and expensive cinema. Like I remember reading that you refused the Aankhen sequel. How much does it count in the end?
It does, because we are living in a society where money has become important, but you ask, "How do I want to acquire this money?" In the bargain what are you giving and losing. For me money has to be a by product, that has been my instinct from my teenage days.
But when you pursue a career in acting, there's insecurity. Though I have done movies just for money, and I know the kind of experience I was left with. Now, I'm much more happy, that's why I do movies for less money. Like I did a Bangladeshi movie... small producer, unknown director, but I just loved the person(director). I told him that I wanted to be in his film. "I'm not excited about the character but I like the set-up and I want to do the movie," I told him.
So, I'm not governed by money but I will earn it on my own terms. I know it's importance but I will not be controlled by it. I don't want to do a single movie, just for money. I have to do so one day; it would mean I'm going through an unfortunate time.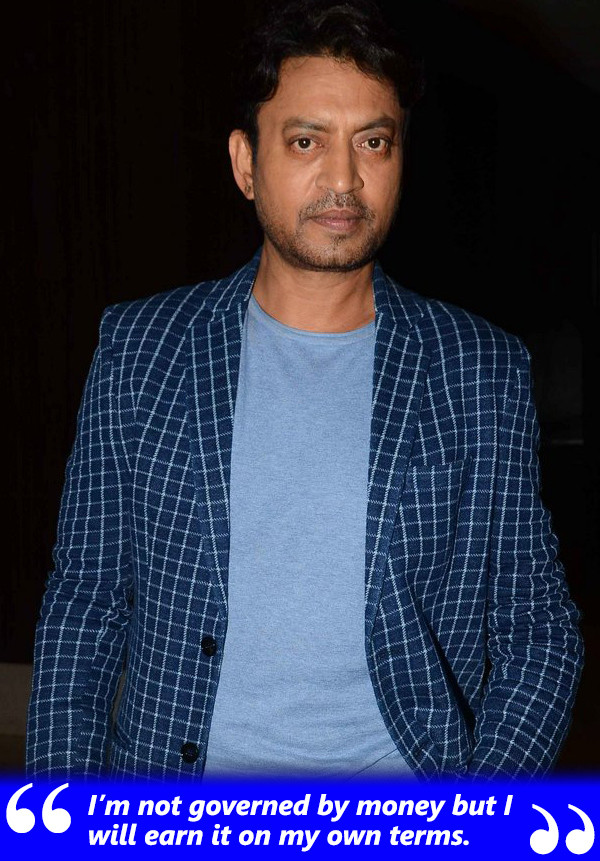 I'm not asking you a fair question but what's the one scene in the movie that you found difficult to do? Though, knowing your calibre nothing would have been difficult for you...
It was the first scene. We shot in chronological order, so when the character enters the scene, he does it with a bang. He's flamboyant. He's not hiding anything. To keep up the rhythm and be easy with it, made me test myself. I didn't like the scene myself, people loved it, but I didn't. I felt I was a little restricted, I wish I would have done that scene later.
But sometimes you are not the right judge about your own performance. I tried to add that missing element to the scene while dubbing for it. And the director, Sutapa (wife/producer) and Chandan (editor) saw the dubbing after 20 days and said, "Yaar tumne scene bigaad diya." (Laughs) They said I was sounding too confident, and it wasn't working. "You have lost your vulnerability," they said. Then they showed me two scenes, so I could compare for myself. I got the point.
Hindi Medium was another classic example where you held it so well...
Hindi Medium was a special film, yaar. Plot was so incredible. We were thinking ki aisa to nahi hoga that people will think, kya ho raha hai, yahan se wahan chale jaa rahe hain, kabhi aamir, kabhi gareeb. But the interesting thing about our cinema is that you can pull off this incredible plot. You take Golmaal for instance; cinema makes you believe in something which is not real.
Sometimes incredible things are pulled off by the conviction and emotion and people like it. But there is not formula or guarantee that it will work.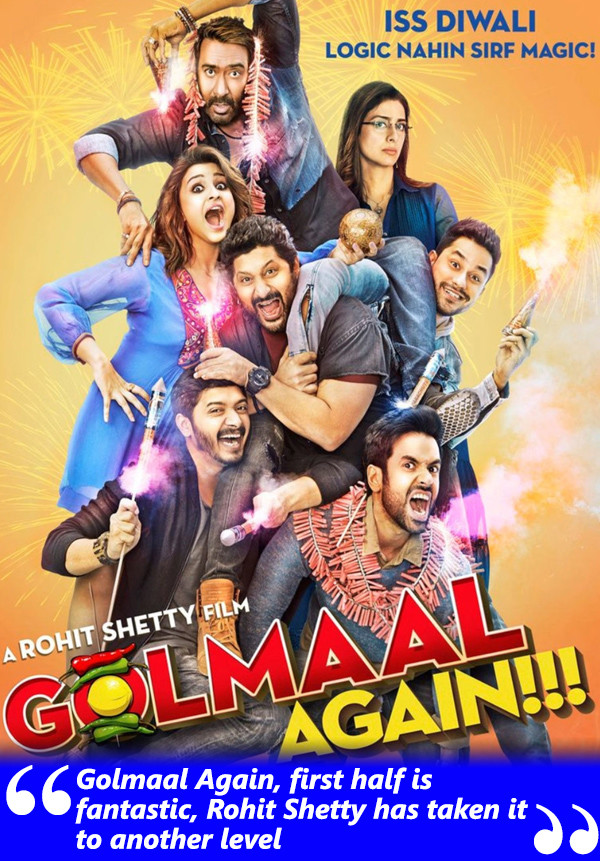 So you also like movies like Golmaal... because you don't act in movies like that...
First half of Golmaal is fantastic. Rohit Shetty has taken it to some other level. It's total time pass. Audience is becoming demanding, they need diversity in entertainment. You just cannot keep on giving the same material to them.
You need to have something different...
Even if you're making a formula film, give it to them in a fresh way. People do want to watch a formula movie, that's why Hollywood films work. Hollywood studio movies are just formula movies, they just package them differently.
The interview will be incomplete if we don't ask you about your Hollywood and International projects...
In Hollywood I completed a movie called The Puzzle with Kelly Macdonald. It's in post-production; I hope it will go to some festivals. I'm really looking forward to it, it's a dear film. I'm in love with the writer and the team. Annie Baker has written the film, she's a young girl and a fantastic writer. I wish I could act in more of her films. Then there's my Bangladeshi film Doob: No Bed Of Roses. Another international film is The Song Of Scorpions.


Image Source:-instagram/irrfan