Mala Sinha Birth Anniversary: When The Veteran Actress Said, 'I Never Attended Parties Or Went On Holidays Like Kareena Kapoor Khan'
Mala Sinha worked with some biggest stars in the film industry including Raj Kapoor, Guru Dutt, Kishore Kumar, Amitabh Bachchan. The former actress once talked about her journey in the film industry, and her long-distance marriage. Read on!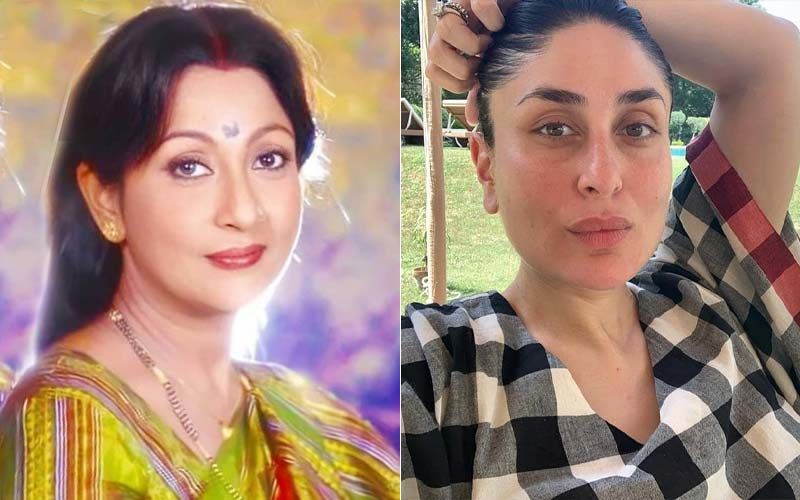 Mala Sinha had an illustrious career during which she worked with some of the biggest stars and directors including Raj Kapoor, Guru Dutt, Kishore Kumar, Rajendra Kumar, Manoj Kumar , Dev Anand, Raj Kumar, Shammi Kapoor, Dharmendra, Sanjeev Kumar, Rajesh Khanna and Amitabh Bachchan. She wanted to be a singr, not an actress, and would copy Lata Mangeshkar's songs. Having lived in Bhawanipur in Kolkata as a child, she was known as 'Baby Lata' there.
So how did 'Baby Lata' become Mala Sinha?
(Sighs) Hum sochte kuch hai, aur Ishwar kuch are chahte hain.My life and my aspirations changed during my school's annual day in Kolkata. A Bengali filmmaker Ardhendu Bose spotted me . He made inquiries about who I was and contacted Baba. That's how I was cast as a child artiste , the heroine's kid-sister in Jog Biyog.I started getting other Bengali offers and continued my studies. My school principal was very progressive. She generously allowed me to take time from school to act in films. School notes of the brightest student in my class were kept aside for me so I could catch up with my studies. My name was changed to Baby Mala. My real name was Alda.We are Catholics...Friends in school would tease me and call me 'Dalda' instead of 'Alda'. Dalda used to be the favourite cooking medium.I saw a Dalda ad for oil recently—can you imagine the ghee has now become a health-conscious oil! Uss zamanein mein hum toh Dalda mein puriyan banaate they aur log mujhe Dalda kehte tthey. I told Baba to change my name. I was christened 'Nazma' for my movie career in Bengali films.
When did Nazma become Mala Sinha?
When I came to Mumbai after getting a break with the filmmaker Amiya Chakravarty I became 'Mala Sinha'. I had got my first photo-shoot done at Orient Studios in Kolkata . Amiya Chakravarty was searching for a heroine. My picture was displayed in the Orient Studios and Filmfare decided to print it. One morning while Amiya Saab was having his tea, his wife showed him my picture in Filmfare. Amiya Saab had come to release his film Patita in Kolkata. He got my phone number and addresss. That's how I got to play the supporting role as a princess opposite Pradeep Kumar in AmiyaChakravarty's Badshah.That's how my career in Hindi cinema began in 1954.
Were you an instant success in Mumbai after Badshah?
No. Badshah was a big flop(laughs). Baba said we should go back to Kolkata. But his friend Janki Das told him not give up home. 'Bitiya mein bahotdum hai,' he said. After that I got Kidar Sharmaji's Rangeen Raatein. It was the film's heroine Geeta Bali who recommended me for the role. The character actor Janki Das who was a dear friend of my father also recommended me to Kishore Sahu for another film Hamlet. Sahu Saab took my audition and signed me. It was during the shooting of Hamlet that Geeta Bali introduced me to her mentor Kidar Sharma. He was amazed how a girl who spoke Bengali at home spoke such fluent Hindi and Urdu.When Hamlet was released the actor David hugged me at the premiere and screamed, 'A star is born!'. Hamlet flopped but I was a hit. I was signed for a lot of Muslim Socials.Among them , Jahanara is closest to my heart. Every song in that film composed by Madan Mohan Saab and sung by Lataji is embedded in my heart.
You were very close to your father?
Baba looked after my entire career. I never negotiated with any producers. Baba did. I met the director straight on the sets. Baba never left me alone in the studios. Even when I went to the wash-room I asked Baba to stand guard outside .After his death I became completely lost. Aisa lagaa mere paonke neeche se zameen khisak gayi. I quit acting. I felt I had forgotten how to act. Every time I'd do shot I'd automatically look towards Baba for approval.
After the first few flops in Hindi what did you do to sustain your career?
I got no offers from any filmmaker after the first few debacles. Then I suddenly got B R Chopra's Dhool Ka Phool by chance. It was to launch B .R Saab's brother Yash Chopra as a director.And it was starring Rajendra Kumar who was at that time an upcoming actor. Most importantly my role was that of an unwed mother. Someone must have recommended me to B R Chopra Saab.He saw me in Hamlet and contacted my Baba. Both father-daughter met BR Saab and I was on.I remember during the story session Sahir Ludhianvi was also there.I was told about my role of the unwed mother. And what a difference it made to my career! So many young unmarried college and school girls wrote to me saying they've learnt the pitfalls of physical intimacy before marriage.
Didn't you think playing an unwed mother so early in your career would ruin your image?
What choice did I have? I was hungry for a challenging role. I had to prove myself. I knew it was a role that many other heroines would turn down even today . But Dhool Ka Phool was not the only bold role I did. What about Gumrah where I played a married woman in an extra-marital relationship.? Which other heroine would dare to do that? That too was a film produced by B R Saab. I became like a ghar ki beti in Chopra Saab's films, just like I became like the resident heroine for Vijay Bhatt's banner and for Ramanand Sagar's banner. The Chopras even offered me Ittefaq with RajeshKhanna.That was one film I regret losing. Yash Chopra was upset with me for turning it down. He never offered me another role. He felt hurt that I had turned down a role for a banner that was like home to me. I couldn't do it because of date problems.
But didn't your father manage your dates?
Baba accepted every film that came my way. He thought I may not get that many works later. I did all kinds of films from Muslim Socials, mythologicalsto social dramas.And once I was committed to do a film I never turned it down.All producers and co-stars were of equal importance to me.I've worked with newcomers like Manoj Kumar and Sanjay Khan, just like Raj Kapoor Saab who was such a big star agreed to work with a newcomer like me.
You worked with every prominent leading man. But you did the maximum number of films with Biswajeet. How come?
That was Baba's doing. He signed many films with Biswajeet. Some of these films were sub-standard and they took up my time at the cost of good films. I lost Shakti Smanta's Aradhana. I remember Shaktida sitting right here in my residence on Turner Road telling me in Bengali, 'This would be your life's best role.' But Baba had signed other films. I never defied my father.I never wanted any unpleasantness in my home. He had money issues regarding Aradhana.I lost a chance to work with Rajesh Khanna. But I worked with him later in Maryada.
Besides your father whom would you credit for your success?
My mother. My domestic help who would stay awake till 2 am to give me warm food and warm water for my bath—there was no geezer--when I returned after shooting. But Baba was my everything.He used to give me Rs 1,000 per month from my earnings. I never needed more. I ate studio food . I wore shooting clothes. And I never attended parties. I never go on holidays like Kareena Kapoor does. My work was my holiday.
What about your husband Chidambar Prasad Lohani?
What about him? We have a long-distance marriage. We married on condition that he would never be a ghar-jamai. I said , 'Theek hai, kabhi tum aajana kabhi main aa jaaoongi.' We trust each other implicitly. He divides his time between Nepal and Mumbai. He has lots of ancestral problem in ViratNagar. How could I ask him to leave everything and join me in Mumbai? Everyone from my grandfather to my parents wanted me to marry a Nepali. My husband and I met when I was shooting of a Nepali film Maiti Ghar in Kathmandu. It was a big film. My husband was a customs officer by profession but a born artiste. Even now he sings beautifully. We'd have artistes coming home for dinner to sing and perform .
So how did the unapproachable Mala Sinha fall in love?
I didn't. We met during shooting. And Baba liked his behaviour. My husband-to-be was humble gentle and cultured, and a Brahmin to boot. His father was a royal pujari. The marriage just happened. When I saw Baba taking interest in Mr Lohani I also took a closer look at him. Baba took my proposal to Lohani Saab's mother .She had no objection to my being a Catholic. My mother-in-law taught me a lot about Hinduism.
How often do you meet your husband?
My mother's health has kept me completely busy. I am traveling from home to hospital. I spent a few months with my husband two years ago. When Baba was alive I visited my husband more often. Nowadays communication is a lot easier. We have a very comfortable relationship. And too much togetherness gets boring.
Finally which films and events are important for you?
My favourite films are Jahanara, Gumrah, Anpadh, Aasra, Baharen Phir Bhi Aayegi(which was directed by Guru Dutt's brother Aatma Ram Guru Duttpassed away after shooting one song) and Pyaasa. I also did Bahurani with Guru Dutt where I played a wife who fights for her docile husband's rights. It was like my own Ram Aur Shyam...Oh, that reminds me I also turned down Mumtaz's role in Ram Aur Shyam.I never got a chance to work with DilipKumar Saab. Never mind. Whatever I did was good enough. I have no regrets.I only hope I hurt no one in my career.
Can we hope to see you again on screen?
Agle janam mein. Iss janam mein ho gaya. Nowadays I talk directly to God. My lord Jesus Christ is closer to me than my husband, mother or daughter. Jesus has cured me of every physical and emotional crisis. Aftter Baba, Jesus is closest to me. If I've achieved anything in life it's because of Jesus.
Image source: Instagram
They say the best things in life are free! India's favourite music channels 9XM, 9X Jalwa, 9X Jhakaas & 9X Tashan are available Free-To-Air. Make a request for these channels from your Cable, DTH or HITS operator.