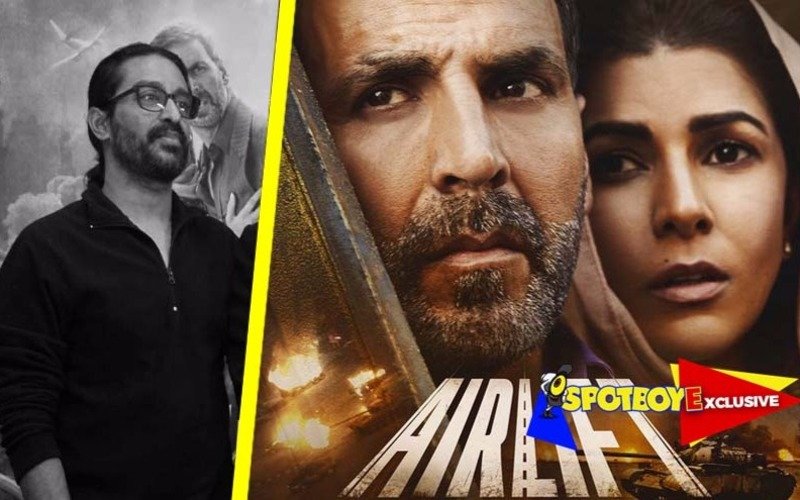 Raja Krishna Menon, the director of Airlift, is not a known entity in Bollywood despite being in the industry for over two decades (he has largely directed ad films). He has helmed 2 indie films – Bas Yun Hi and Barah Aana – both only critically-appreciated. With Airlift that deals with the operation of Indians' evacuation from Kuwait during the 1990 Iraq-Kuwait war, he hopes to set the cash registers ringing. As the film hits theatres today, Menon talks to SpotboyE about the movie. Excerpts:
With Airlift, it seems, you have made an expensive film...
I am very proud of the level of detailing we have done in this movie. Right from the cars to the decor to the rug, everything is as authentic as you can imagine. About the film's cost, I'd say it's a big film made on a very tight budget. My team was painfully diligent to ensure that the economics didn't go haywire without compromising on any detail.

Image Source: emmay

What was about the 1990 operation that appealed to you the most?
When I read about the entire operation of Indians' evacuation from Kuwait during the 1990 Iraq-Kuwait war, the sheer selflessness of it touched me. Nobody did it for any agenda. The finance ministry funded it, Air India co-operated. There was a fleet of Air Bus lying grounded which were flown specifically for this operation, which brought home 1,70,000 migrants. Today when you look at it, it almost sounds like an impossible feat!
Do you think with the current political scenario, such miracles are still possible?
Absolutely. What happened in Chennai? People came together and helped each other, didn't they? The inherent niceness in people will never die. What is it that makes us stop our car if a dog is stuck in the middle of the road? No amount of politics can take that humaneness away.
Image Source: emmay
How was it working with Akshay Kumar?
I was fearing superstar-like tantrums from Akshay but he has this beautiful ability to make you feel comfortable. He is extremely disciplined, which involves waking up even at 5 am for narrations. It inspires you. Also, Akshay is very much like Ranjit Katyal (the protagonist in the film) in the sense that he epitomizes the self-made success of the character in real life. Plus, I think no one in the current lot represents a sense of leadership like him.
Is there a real-life equivalent of Ranjit Katyal, the wealthy businessman who single-handedly made this operation possible?
There wasn't one person, but a bunch of people who made this possible. I made an amalgamation of that and built one character of a man disillusioned with India, whose Indianness is eventually awakened. You may wear an Armani suit and eat the best sushi in the world, but inherently you'll always be an Indian.

Image Source: emmay

Despite a great cast and crew, how much does a director – especially one who's still to prove himself as commercially viable – have to fight to ensure his vision isn't compromised?
You have to fight a lot. But I have realised that if you have a point of view that is valid, people will see that. You need to convince them that it is for the good of the film. Sometimes I am wrong, sometimes they are. Nikhil (Advani, producer) trusted me so much that he didn't even sit on the edit.
Did Akshay interfere in the process?
Akshay sat on the edit. Sometimes, his views conflicted with mine. There were times when I tried his inputs – some didn't work.
And then?
I clearly told him that they can't be included. Same is true for Nikhil and Vikram (Malhotra, producer).

Image Source: emmay

But Bollywood is believed to be more ego-driven than idea-driven.
I have been fortunate to work with the nicest people. Sure, there were differences but never at the cost of the film. There were times when Akshay and I had a difference of opinion and he'd later come back and say, "Sorry, we should do it your way." These are the difficulties in any creative process. Ultimately, the aim should be to reach the same goal, which is also true for Airlift.
What's your underlying intention to tell the story of Airlift?
There is a lot of cynicism and a sense of disillusionment in this country. With Airlift, I hope to dispel that.
Thumbnail Image Source: Manav Manglani & twitter/akshaykumar