Mouni Roy Gets Candid About Transformations And Her Experiences With John Abraham, Akshay Kumar, Ranbir Kapoor
Interviewing Mouni Roy is a delight. She has HAPPINESS written all over her face and no qualms in declaring her feelings. Bet many actresses must be going green with envy looking at her slate after Gold. WATCH VIDEO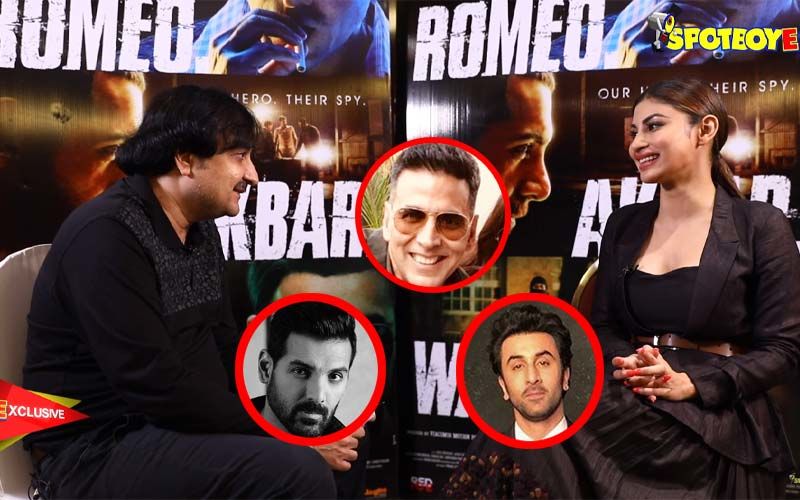 Mouni Roy
, a popular face on the small screen is slowly becoming a force to reckon with, thanks to some meaty roles in Bollywood. The actress already has four projects in hand (after debuting in Gold) which include
Romeo Akbar Walter
,
Brahmastra
,
Made In China
and
Bole Chudiyan
. Naturally, she is over-the-moon, with so much happening.
So, ahead of her film with John Abraham, Romeo Akbar Walter, Mouni in an exclusive conversation with SpotboyE.com, spoke on her transition from TV to films, web shows, which medium interests her the most and much more.
We started off by asking about her upcoming project with John Abraham, Romeo Akbar Walter aka RAW which is releasing in April. The actress was all praise for her co-star as she said, "I had never met John before so when I walked in and I met him, I had an angry young man image of him. But, when you meet him, the first thing you realize is the simplicity that this man has with that larger-than-life personality. Even on sets, he is so easy-breezy. He gives you the liberty to do the character the way you would want to."
Next we delved deeper into her equation with her first co-star,
Akshay Kumar.
Here's what she said, "I have the honour of calling him my first-ever co-star in movies. That I will always cherish but every day is a new experience, every film is a new journey, and I love my work, I love acting-dancing. So, I'm just very happy to be promoting RAW today." WATCH THE FULL INTERVIEW:
Next, she spoke of how one can never be satisfied with one's goals in life and that she always has that hunger to do different roles. As she spoke about her love for challenging roles, we were keen to know which medium out of TV and films is more difficult. Without batting an eyelid, Mouni said, "Television, most definitely. It's just the way we work, 16-18 hours, playing the same character, looking good for all those hours in every scene; that is something very challenging. Here, the challenge is the role-play. So, what happens is you go into an auto-pilot mode. But in movies, every 3 months, there is a new character that you have to quickly understand." When asked to choose one out of the two, she refused to pick one, "I'm never going to choose between TV or films. I'm a very proud TV actor and I'm really grateful that I'm getting to do all these films."
After dabbling in TV and Bollywood, we wanted to know her take on web shows. "Medium is not a problem with me at all. Yes, I can't do long-term commitments because I don't have the time and I can't take a long break like 8-10 months," said the actress. Then, she even spoke about her love for food and how she wouldn't mind putting on good amount of weight, if the character demands.
Before signing off, Mouni (excitedly) spoke of her forthcoming projects- Brahmastra, Made In China and Bole Chudiyan. We wish her all the very best!
Image Source:YouTube/SpotboyE, Instagram/akshaykumar,_ranbir_kapoor_official,thejohnabraham