Neha Dhupia: 'I Was Amidst An Edit When I Went Into Labour, Told My Team I'll Be Back In 2 Hours'- EXCLUSIVE
This time, Neha Dhupia wasn't the one throwing questions, but answering them for us. During a recent interview, the actress spoke about her podcast, No Filter Neha's Season 4 and revealed how the experience was to juggle between mommy duties and work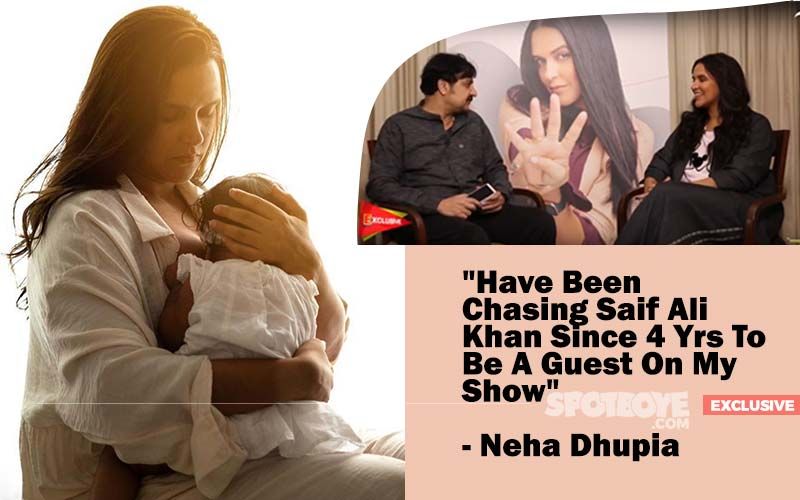 Neha Dhupia has become a renowned name in the industry with the mega success of her podcast show, #NoFilterNeha, available on the Indian music app, Saavn. The first season was a hit with B-Townies spilling the beans about their personal lives and now the show is streaming its 4th season.
Neha looked stunning with her post-pregnancy glow still intact and started the conversation with a bright smile. We asked the actress how different was it shooting for the show this time, as a lot has changed in her life since the actress shot the last season. Now, Neha is a married woman and has a beautiful baby girl too and that's why she says, the experience was rather different but she took her time to get back to work.
Interestingly, Neha revealed to us how she went into labour while she was editing an episode for Season 3. The actress was running to meet a deadline with the promo of Vicky Kaushal's episode and requested the team if she can have a 1.5 hour break. Neha was admitted to the hospital, she delivered her baby and instantly asked for her phone to resume work. In fact, Vicky Kaushal was among one of the first few visitors who had come to see Neha at the hospital.
"Vicky was in front of me, his episode's promo running on the mobile in my hand and beside me, was my daughter. At that moment I realised now this is a hustle which will go on for a while," said Neha (WATCH THE VIDEO ABOVE).
We also spoke about how difficult or easy it is to get the stars on the show and make them open-up about their lives on a public platform. And that's when Neha confessed that she has been chasing Saif Ali Khan since 4 years to come as a guest on #NoFilterNeha. "I will not give up. I will chase Saif till the time he comes on my show," an optimistic Neha quipped.
A few days back, we had brought to you a fashion segment, Fashion Vashion And All That with Neha, where the lovely lady spoke about her style manta and also revealed what she likes and dislikes on hubby, Angad Bedi.
So, what are you waiting for? Click the videos above to see what all Neha Dhupia has to say about her life and more.


Image Source:- instagram/nehadhupia