Rishi Kapoor's Untold Stories: Journalist Meena Iyer Remembers Her Friend Chintu In A Tell-All Interview- EXCLUSIVE
Rishi Kapoor's stories you have never heard before- hear them now from Meena Iyer, his close friend. What a fantastic actor we lost on April 30, 2020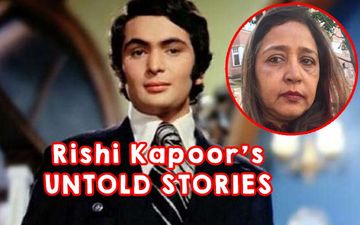 This is one interview that is for the keeps, no matter if you agree with me or not. Journalist-author Meena Iyer, who penned Khullam Khulla with Rishi Kapoor on his personal and professional life, shares unheard stories about Rishi Kapoor in this interview. Mind you, Rishi was Meena's very close friend.
Here are the excerpts from the conversation:
Tell us when and where you first met Rishi Kapoor...
I met him at Tina Munim's office in late 70s, where I worked for a brief while before becoming a journalist. I used to oversee her accounts and even play a telephone operator. Rishi had come over to offer condolences to Tina who had lost her father then. After that, we met after a very long time.
When? Where?
I had entered journalism and started working with Star & Style. One day, I was asked to interview Rishi Kapoor. I jumped. I thought it would be an extraordinarily pleasant experience. Little did I know that Star & Style had run a piece on one of his relatives, which he was not happy about.
He was really annoyed, ready to burst a blood vessel. I started squirming in my chair and was planning to leave. But he said, "No, why can't you guys take it when we tell you something while you'll can write whatever you'll want? Okay, do the interview now."
And then?
I went back and wrote the piece and it turned out exactly as he had wanted. He was not an easy person to please. Therein started an equation which developed into a very nice friendship, which lasted 40 years. I still can't believe he's gone (gets tearful).
My seniors were very respectful for what I brought back. Rishi gave very candid interviews. He never had an issue in calling spade a spade. I kept my forthright Q & A interviews going with him. But yes, there were a few instances when we were silent with each other (pauses).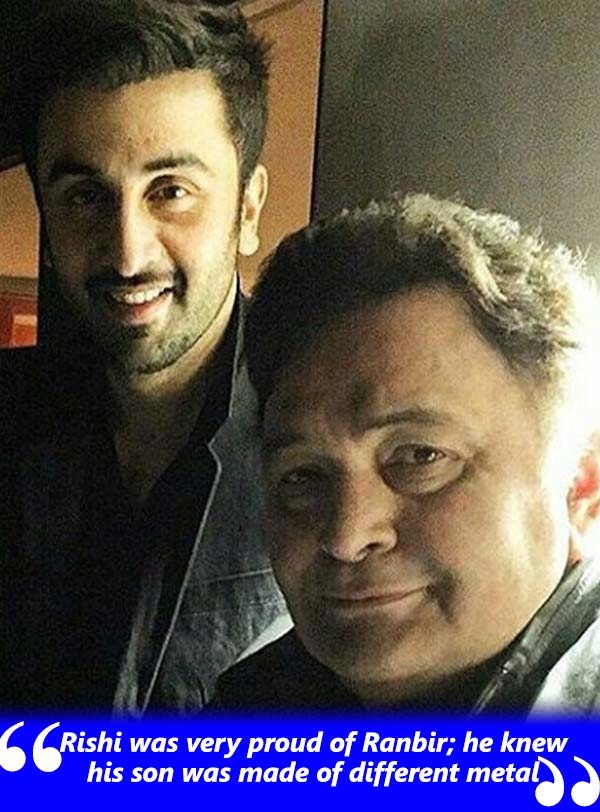 Please continue...
He was very sensitive about what was written on Ranbir. Anything disparaging about Ranbir, he never took it well- be it on Ranbir's personal or professional life. He was very proud of Ranbir- used to say that who has won 6 Filmfare Awards in the last 11. And, he was over the moon especially about his performance in Sanju.
But, he wasn't an unreasonable man. He understood the business.
Did he really differ with Ranbir's choices of films?
It was only in the initial stages that people used to tell him things but he soon came to terms with the fact that Ranbir is made of different metal. Like Raj Kapoor made movies ahead of times, Ranbir has often chosen roles ahead of times.
Or were we deducing more than it meets the eye?
Absolutely. Like he told me about Ranbir's choice of films, he may have told some other people who must have gone and spoken outside and then it was a case of Chinese whispers. Think of it, Rishi remodelled his career on Ranbir's thought process that character you play is far more important. Look at Rishi's choice of films in the recent past.
That's the problem with journalism on the entertainment beat. If we hear that one differs with the other, we'll say that A is unhappy with B...
Yeah (pauses).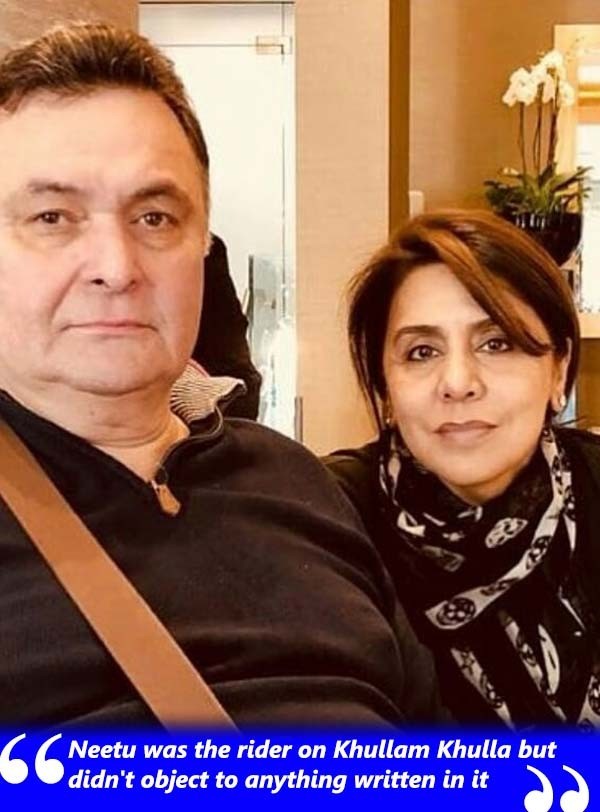 Go on...
Rishi even criticised his own cinema. Like when he did Housefull, but yet he was happy that he was getting to spend time with his brother Randhir and have a drink with him in London. Both brothers were criticised for those roles. But he applied the same logic in Besharam; he was thrilled and proud to work with Neetu and Ranbir both of whom he admired as actors.
Neetu sacrificed her career at the age of 22 and he always felt indebted to her. She stood by him like a rock and he always acknowledged that. It was he who insisted that Neetu works in Love Aajkal, Jab Tak Hai Jaan, Besharam and Do Dooni Chaar.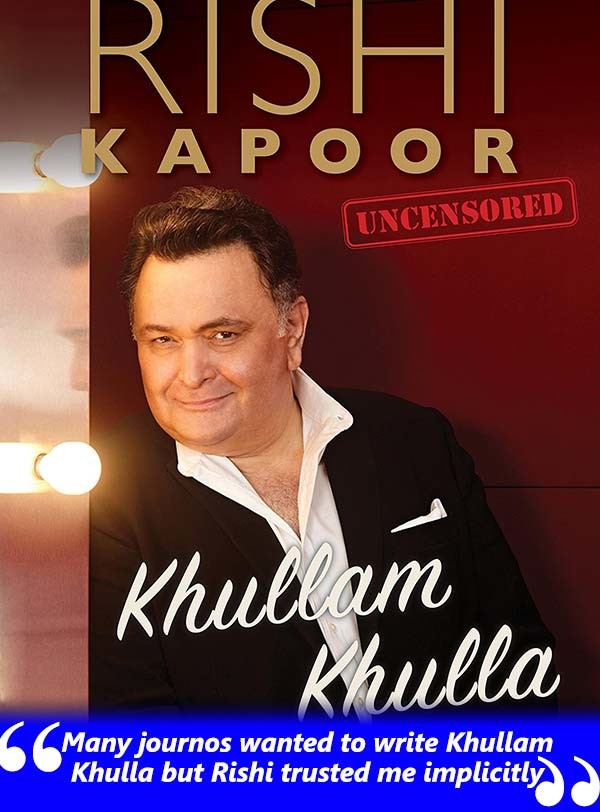 Where did the chat sessions on Khullam Khulla between Rishi and you happen?
Mostly at home. In fact, we started at Krishna Raj. We also met over chai/coffee at JW Marriott and Land's End. And, we also had discussions at his current residence Wits' End.
Over dinner?
No, he had fixed up a time- 4 30 pm. He always wanted to get it over before he started his drinks. He didn't want anything to get mixed up.
How much of it was retained after you had written it?
Everything. He addressed everything- food, fears, alcohol. But yes, Rishi wanted Neetu to be a rider on it. He had said that if she wants anything to be removed, we shall cut it out. His logic was that the book should never embarrass his family.
He trusted me implicitly. He let me write what I wanted. Of course Neetu went through it.
And did Neetu object to anything?
Nope, she did not. She had no issues. The tone of the book was breezy and light, yet it upheld so many truths.
Did Rishi choose you to write Khullam Khulla because he had a very strong bond of trust with you?
You answered your question (smiles). I know there were quite a few who told him that they wanted to write it. It's like talking to your shadow/mirror image. It was talking to someone who wouldn't twist anything that he said. That was the only way it could be done with him.
And a few of those must be journalists...
All of them were journalists, some of them more known than me.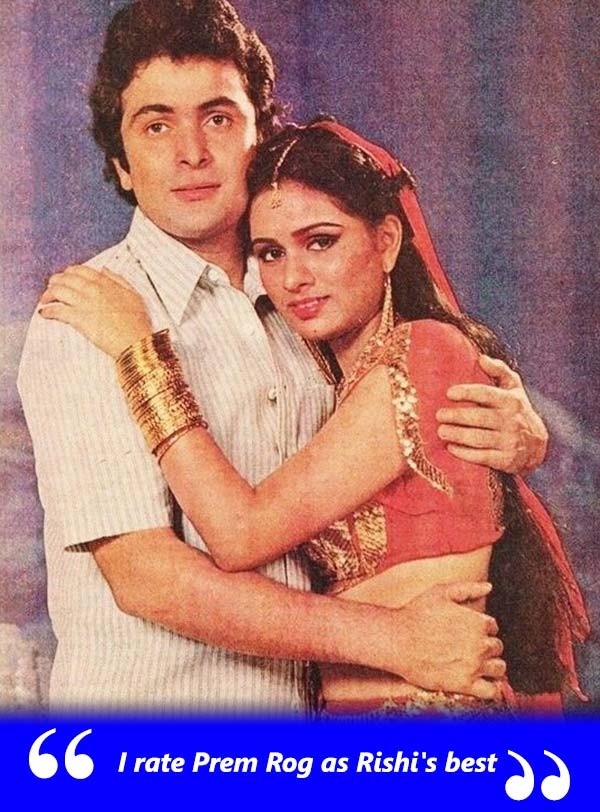 The film of Rishi Kapoor which you would rate as No.1...
Prem Rog. But allow me to say Bobby too. But still, I think for me, Prem Rog wins.
More qualities of him?
And you know, he was also particular about gifts. He gifted me books on cinema, not just pick up a bag because that would be the easiest thing to do.
Did you ever tell him to calm down when he was angry with someone? Did you at times tell him 'jaane doh'...
With Rishi, there was never a jaane doh. Either he liked you or he didn't. If he didn't get along with someone, he would stay away from that person. He was so upfront and honest, there was no place for faking it with 'jaane doh'.
Was there a talk of Khullam Khulla Part 2?
Yes, but Rishi wasn't keen. The publisher wanted it, though. Rishi felt that he had said everything in the first part, whatever he wanted to.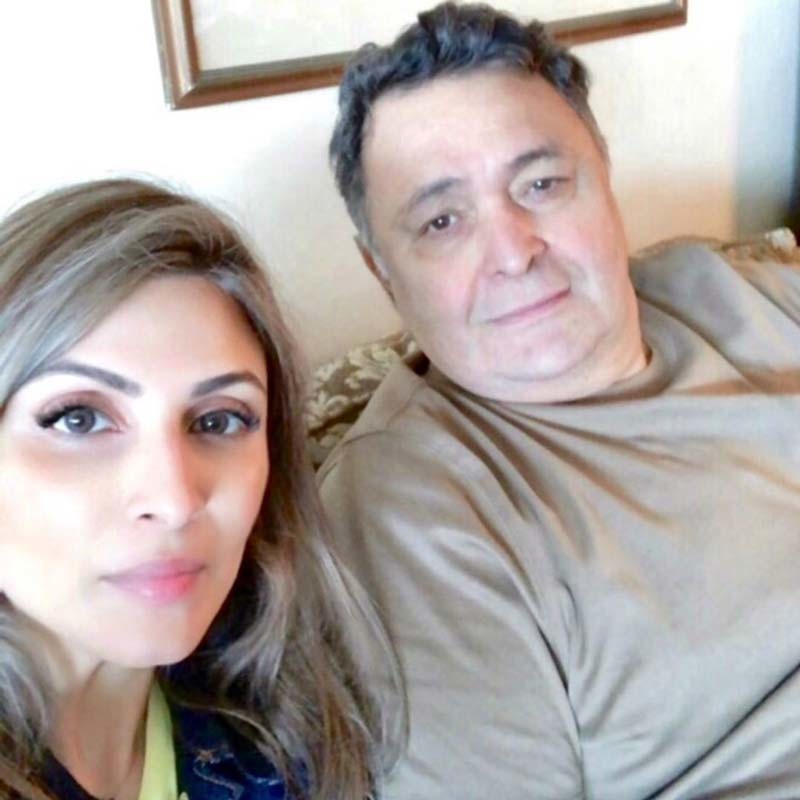 Rishi's relationship with his daughter Riddhima?
Very special. Spoke to her every morning. Loved his granddaughter, Samaira. Even if a simple card came from him, he would include all the six names- Neetu, Ranbir, Riddhima, Bharat, Samaira and himself.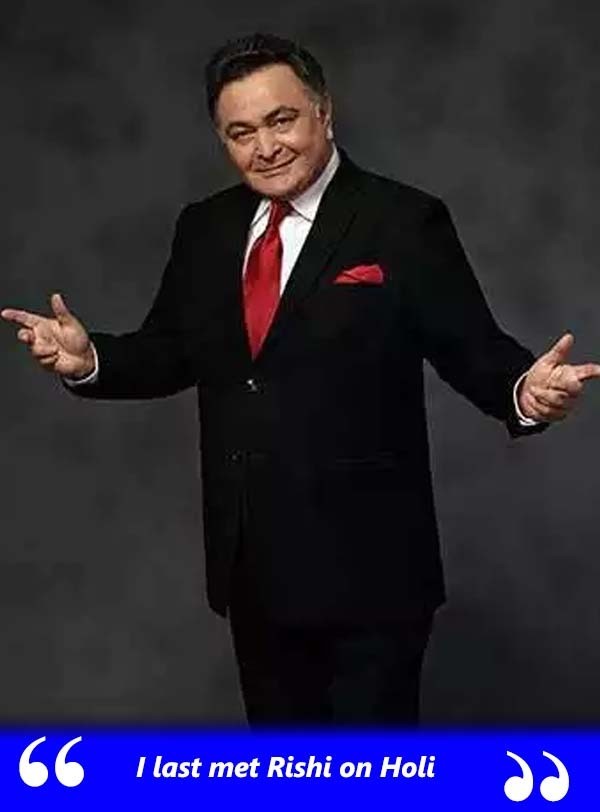 Parting shot...
I am grateful for the meeting Neetu and Rishi gave me on March 9. They had just finished with the Holi prayers and had a huge tilak on their foreheads. He said, 'Holi ki mithai khao'.
You must have connected with Rishi's family, recently...
I communicated with Neetu over a text. Honestly, I wanted to keep the March 9 memory as the last in my mind. I guess, we should leave them for some time. Their loss is much more than what you and I have lost as fans.


Image Source:- twitter/ritayanbasu, amazon, pinterest, instagram/rishi_kapoor_rk
They say the best things in life are free! India's favourite music channels 9XM, 9X Jalwa, 9X Jhakaas & 9X Tashan are available Free-To-Air. Make a request for these channels from your Cable, DTH or HITS operator.