Sanya Malhotra On Insider And Outsider Debate In Bollywood: 'There Were Times Of Depression But I Never Gave Up On My Dreams'-EXCLUSIVE
Shakuntala Devi star Sanya Malhotra opened up about the ongoing insider-outsider debate post-Sushant Singh Rajput's death. She confessed to being depressed but also never giving up on her dreams.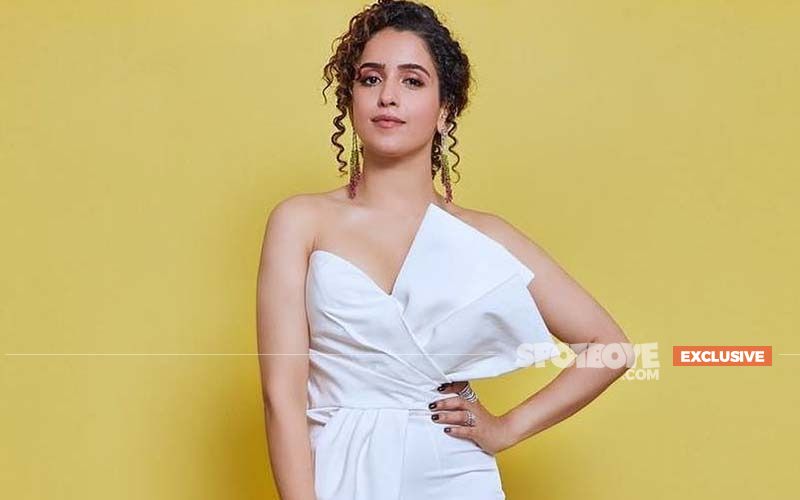 Bollywood actress Sanya Malhotra who managed to impress us with every performance in her films, Dangal, Photograph or Badhai Ho is all set to be seen sharing screen space with Vidya Balan in the film Shakuntala Devi. Sanya who will play Vidya's daughter had some really interesting moments to share with us. The actress reveals his fear for Maths in real life and what she feels about the whole insider/outsider debate in the industry after Sushant Singh Rajput's death. Watch the video;
How excited are you for the release of Shakuntala Devi?
I am extremely excited for the release which is tomorrow as right now I am with my family. So I will sit with them and watch it.
Vidya Balan is playing your mother and we hear you are her fan. So were you nervous to shoot with the actress?
When I heard the narration after that they told me Vidya Balan will play Shakuntala Devi. First of all, this role was like a tailor-made for her. She has done a brilliant job in the film. And as you rightly said I am actually a huge fan of her work. She has always inspired and motivated me as an aspiring actor and now as an actor as well. So when I got to know she is there in the movie I was like I can't even think of saying no to a script and film with Vidya Balan. She is an amazing co-actor to work with. I was obviously very nervous in the first two days. I remember we did a reading where I was inaudible, mujhse bola nahi jaa raha tha because I was sitting with Vidya Balan. And I was just looking at her when she was saying her dialogues and I was so awestruck, starstruck ki ye kitne acche se dialogue bol rahi hain. Ye kitna sundar bol rahi hain. But I think the ice broke after the third day of the shoot.
How did you two bond after that?
We really had intense scenes together. But with Vidya around anybody onsets cannot be in a serious mood. She has such a beautiful personality and such a good sense of humour. She keeps playing pranks on everyone. She makes sure that everybody feels special on the sets. And she gets the team together.

The film talks about Mathematics. How good Sanya was in the subject?
Till ninth Maths was my favourite and easy subject for me. But after that, it went downhill and I got petrified of it. There is a very weird relationship I share with Maths. And the fear of Maths was instilled by my sister. Because I have always seen her getting fainted. She used to get sick before her examination. So seeing her I used to get feeling agar ye behosh ho rahi hai to kuch to bhaut hi kharab hoga. I can't even tell you how I studied Maths after ninth till twelfth. Like I used to go for two tutions for this subject still I scored really bad marks. All the equations used to go above my head.
What about Vidya's Maths?
She is very good with numbers. There was one scene where she had to say a long number. And I was shocked to see how smoothly did that. I was like is there any telly prompter? How can she remember such a long number? But she is very good in numbers as I already said its Taylormade for her.
How do you see your journey in Bollywood as in very little time you have worked with the biggest stars in the industry?
It's just been 4 years and I feel very lucky with the kinds of roles and films I have got from day one. Dangal was such a perfect film for a newcomer like me. It penned out my career in a way that was so beautiful. I give my journey credit to Dangal. Agar maine vo film se shuruvat nahi ki hoti to journey aisi nahi hoti. In such less time, I have got an opportunity to work with stars like Vidya, Ayushmann which helped me to touch so many hearts, and people have liked it.
A debate is going on about being an insider and outsider in the industry these days. Being an outsider what adjustments you had to make?
Personally, I never came through a situation where I felt like an outsider. That was also because I started my career with a film like Dangal. It was such a perfect film for a newcomer due to which I never felt I will not get what I want. Even when I had no work and I was sitting ideal at home in Mumbai. Having no money in my bank accounts. At that time also I never felt ki mujhe kaam nahi milega. I was really positive and ambitious in life that the dream I have in my mind I will never going to give up on that. There were periods of depression and sadness where I used to feel that I am not getting work. Should I just pack my bags and go home. But I never gave up on my dreams and I am glad about it. But this is my personal experience but I also know many people who are still struggling. I cannot say that Nepotism is not there in the industry it is definitely there in the industry. But its not only restricted to our industry its all over. In this industry, there will be good work when we will not be so dependent on Nepotism.

Sushan't untimely death has shaken the industry especially the outsiders who used to feel inspired by him. What you have to say about it?
It was very unfortunate for all of us. Its been a very heavy year for the fraternity. And as an audience also I think they are all very touched. His loss feels very personal. I have still not come to terms. I keep saying this none of us may be from the industry or outside the industry will ever be able to forget him. And the void we are left with will never be filled by anyone or anytime soon. I can only wish strength to his family and loved ones.
image source: Instagram/ sanyamalhotra_