Shabana Azmi Who Turns A Year Older On September 18 Talks About Life, Cinema And More
Shabana Azmi in a candid chat talks about turning a year older, why she a stickler for giving or receiving gifts, and more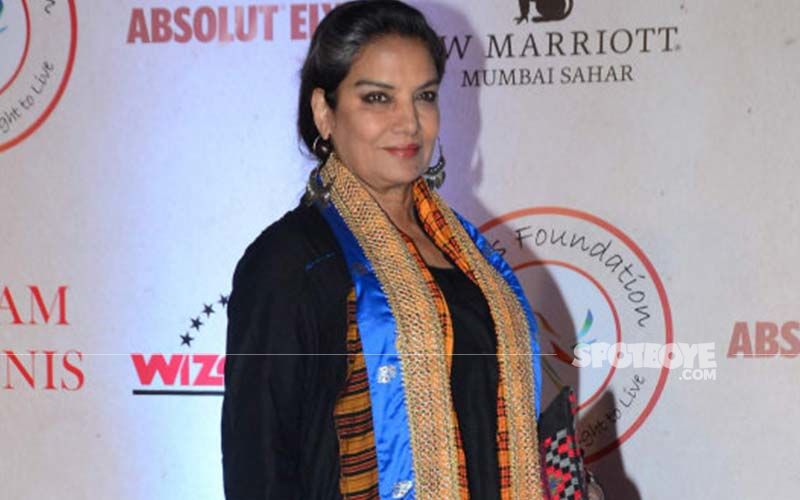 Do you enjoy the cake cutting and the gifts?
The cake-cutting is a practice I do not like. When did it start in India and why I do not know. In school, we were only allowed to give two sweets each to the entire class. It was a great leveller because it prevented the richer girls from being lavish and show the not so rich ones in poor light! I'm not a great stickler for giving or receiving presents on birthdays, anniversaries, etc as a 'must do'. I prefer giving a gift without occasion if I feel it's something a friend will like.
But surely you like something?
I must confess that flowers are my weakness and I love receiving them especially Indian fragrant flowers Mogra, Rajnigandha. Sontakka etc.
Ok. Which is the most memorable birthday you ever had?
My 50th birthday. All my friends came from various corners and Abba (father poet Kaifi Azmi) sat quietly through the noisy celebrations in a sherwani and topi looking like the birthday person himself!! Javed was wonderful too but its too personal to share the details.
As you look back what do you feel about your achievements so far?
I was lucky to be in the right place at the right time! But the best is yet to come. Of all the things I do acting is what I enjoy the most. I'm blessed to be in a profession I love.
If I ask you to name 5 incidents that were turning-points in your life what would they be?
1. When I joined FTII. 2 Ankur 3 Arth 4 watching Anand Patwardhan's documentary Bombay Our City 5. when I protested against the killing of theatre activist Safdar Hashmi at the International Film Festival in Delhi where my film John Schlesinger's Madame Sousatzka was premiering
Who are the people who have most influenced your thought processes and your overall personality?
My parents Kaifi and Shaukat, my husband Javed, Shyam Benegal, Shashi Kapoor and Jennifer Kapoor. Then there are all the women I work within the slums from whom I learned resilience.... imagine living under the threat of your home being demolished any day and yet being able to function! Also, the women in Mijwan.
How do you allocate so many varied roles to yourself in life?
For an actor life must be your resource-base because you can enrich the character you play by drawing upon all the depth of your own experience. In the process of becoming a star you get isolated from life because you are so surrounded by a concentric circle of people around you that you start living almost in a bubble,
How do you stay do grounded in spite of all the adulation?
Kevin Spacey told me it's a choice he has made to travel by tube, buy his groceries etc. Can you imagine what would happen in India if Shah Rukh Khan decided to do that?!! I wanted to travel by metro to my play while I'm in London. But I was advised against it.
64...is it just a number or does it really mean a coming of age?
I'm at peace with my age. I've embraced life at all stages. I remember people were horrified when I celebrated my 50th! 'Don't announce your age' I was advised! How stupid is that.
As an Indian actress, do you feel restricted by your age?
This is the best time to be an actor. There are many parts available for all age groups. It's no longer the stereotypical mother in a white sari and terrible wig sacrificing all for her family!
Any unfulfilled dreams?
I would have loved to play the piano! Alas! It's too late now..
If you had to change one thing in your life, what would that be?
Its too personal to answer
Generations of actors consider you a role model. What advice do you have for them?
Never become complacent, work hard. Embrace life!
You've achieved more than any actor that I know of. Any unfulfilled dreams?
Contrary to what some believe about me I have never planned my future. I've said this before. I think I've been lucky to be at the right place at the right time and so my life and career have taken a trajectory as the flow goes.
So nothing more to achieve?
I do hope that this is not the end of the road for me and that greater challenges await me. Barbra Streisand 's lines are my favourite " Ask what I want and I will sing I want more of everything, everything !"
There was a time when there were no meaty roles for actors beyond a certain age. Is that changing?
Yes, it has changed to a considerable degree. Weighty roles continue to come my way, touchwood. The ecosystem has changed. The heavy dependence on young stars to carry a film on their own shoulders has lessened. Inevitably these stories are padded up with senior actors in important roles.
Don't you think the OTT platforms have opened up a whole new vista for talented actors?
The OTT platforms have made us realize that content is king. Catering to the lowest common denominator is no longer the raison d'etre for making films. The film industry has finally realised that there is an audience for all kinds of content.
Do you think the star system is ending in Bollywood?
It's the marketing that needs to be pushed more for the film without stars. The opposite has been true. Films with big budgets have enormous marketing budgets. The smaller film finds little visibility and is handicapped because of it. But if we wish to push the bar and become relevant in the world we will have to remember that it is Chaitanya Tamhane's The Disciple that wins the best screenplay award at Venice!
Who among the contemporary actresses do you find interesting?
Tabu ,Vidya Balan , Alia Bhatt are very good actors. Vidya also has a beautifully modulated voice. I find today's generation invests their time in getting the perfect body which is as it should be but needs to pay greater attention to voice modulation.And please can someone teach them to place the nukhtas in the right places ?!!! Bevkoof is not bevaqoof , khoobsurat , khushboo , khayal have nukhtas, it is mizaaj not mijaaz, etc etc
Your brother recently turned director. What about you?
Jaane do na! Bahut mehnat hai usmein.. So much easier being an actor!!
Your message to the nation on your special day?
Kaifi Saab ka ek gaana that he wrote for IPTA (Indian People's Theatre Association):
"Todna apna kaam nahi hai
Hum hain dilon ko jodnewale
Kya Hindu aur kya Muslim
Kaise gore kaise Kaale
Ek hi mala ke sab daane."
Image Source: SpotboyE archives, Instagram/azmishabana18