Soundarya Sharma Opens Up On Trolls, Nepotism, Her Digital Debut- EXCLUSIVE
Soundarya Sharma who marked her Bollywood debut with Ranchi Diaries (2017) is all set to foray into the digital space with a web show. Now, in an exclusive chat, the actress spoke about her new show, shared her take on nepotism, trolling and more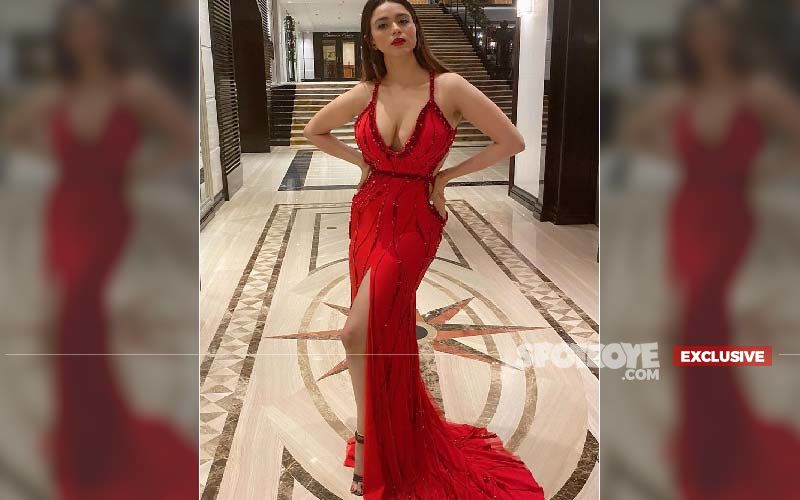 In 2017, Soundarya Sharma marked her Bollywood debut with Ranchi Diaries, an Anupam Kher production and was praised for her performance. Now, she is all set to explore the digital medium with a web show called Raktanchal which will stream on MX Player.
In an exclusive conversation with SpotboyE, the actress speaks about her debut Bollywood film, her take on nepotism, the advent of the OTT space and dealing with trolls.
How did acting happen to you?
Acting didn't happen to me, I happened to acting. I wouldn't say that it was my childhood dream and I always wanted to become an actor. I grew up as we all do with set rules and principles and completed my bachelors of Dental surgery, opened my own clinic during my internship! But there was something missing, I started to explore the missing element and realised that I needed to exhale my emotions, my feelings and this lead me to believe my passion for acting. Since I believe in education and results,

I trained at the ACT 1 theater group and National School of Drama, Delhi which lead me to Mumbai! Even today, I am working on my craft and undergoing methods from one of the best schools the "Lee Strasberg and New York Film Academy" in Los Angeles.
Getting into Bollywood without any Godfather is difficult. How did you manage?
It's difficult is an understatement but it is not impossible! In any industry or profession, you have to be focused and honest to your work. Sooner or later, you get recognised.

Even though there was no one around me who would say 'yes, you can do this', or to guide me, I had undying faith in myself! I feel that one needs to be very obsessed, passionate and dedicated if they want to achieve something in their life.
"I MANAGED IT AS I HAD GOD AS MY GODFATHER".
What's your take on nepotism?
It's a very debatable subject, it's like reservation; we can't say it's good or bad. But I can say that nepotism hasn't ever created a superstar.

💫
Kangana Ranaut had praised you in the past, so have you taken any help or tips from her? Also, have you spoken to her recently?
I was blessed to receive her encouragement and endorsement of me during the release of my debut movie (Ranchi Diaries). You don't have to take tips from her, she isn't a preacher or a teacher. She is an epitome of hard work and determination. She is a fire which burns stronger on the wind. You have to be inspired by her!

After Ranchi Diaries, you will be next seen in Raktanchal, tell us more about that...
Raktanchal is a period drama set in the 1980s in Uttar Pradesh. It explores the nexus of politics and the mafia which is based on true events and people in UP. Going back to the 80s era and to be able to live this powerful character is very exhilarating.

It's your OTT debut and in India and we have seen a sudden rise in digital content. What do you think about it?
The reason more artists are leaning towards web series is primarily due to the scarcity of work for them in mainstream projects. Mainstream cinema is still predominantly old school, and relies heavily on nepotism for new talent.

Do you think because of penetration of platforms like Netflix, actors get an equal chance of recognition as their filmy counterparts?
OTT's are creating some good content and our audience seems to appreciate it a lot more, than old fashioned concepts of filmmaking. It's like how often do you watch a movie in theatre versus Netflix or any other OTT. The recognition has changed to equal or more.

Do you think artistes today have more scope in showing their talent via web series rather than films?
Certainly and there is vast scope of different content and it's more creative driven than being commercial.

Lastly, how does Soundarya Sharma deal with trolls on the Internet?
Trolls are part of life, especially when in this profession, and it takes a lot for an actor to put yourself out there and to let people criticize you. Not many can do that. However, you need to understand and be able to differentiate between good and bad trolls.

I have learned to take good opinions as a learning opportunity and try my best to correct my mistakes. We are not perfect, and we don't have to be perfect, as I feel FLAWSOME IS AWESOME and that's our individuality. God has made us like that. We must embrace it and according to me, we need to be open to learning, only then can we evolve into a better artist or as a person!
image source:-instagram/iamsoundaryasharma