Sushant Singh Rajput's Closest Friend Sandip Ssingh Opens Up On The Big Loss, Ankita Lokhande's State, His Dream Project With The Late Actor- EXCLUSIVE INTERVIEW
We spoke to Sushant Singh Rajput's close friend, Sandip Ssingh about the big and irreplaceable loss they have suffered with Sushant's departing. Read the detailed interview as Sandip recalls the toughest day of his life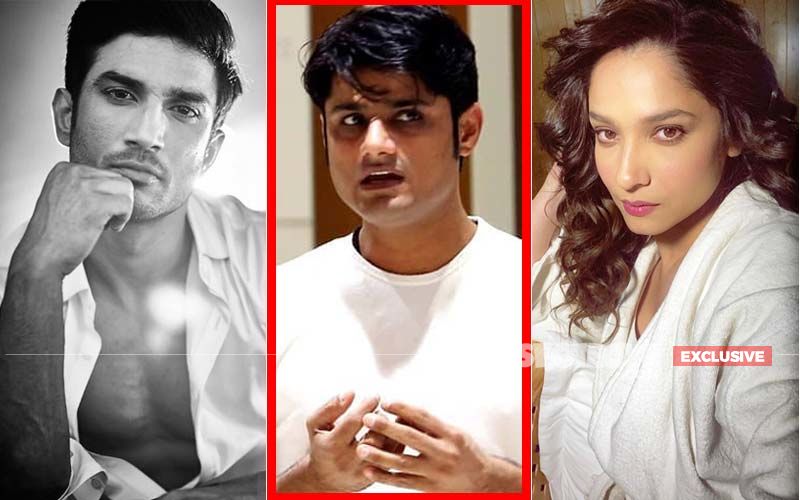 Below is our elaborate chat with Sushant Singh Rajput's best friend, Sandip Ssingh, who has spent some memorable moments with the late actor.
Read on as he recall the toughest day of his life. Excerpts from the conversation:
You stood like a rock with Sushant Singh Rajput's family, it must have been a tough situation...
I think the entire nation was broken. This was very sudden and shocking. Nobody knew how to express themselves. We all were already facing a low phase from the last three months and then such heartbreaking news came in the middle of that. Despite me being his closest friend, I cannot say that I felt any differently from others or they felt any differently from me. I am getting messages from lots of people and media across the world.
When I got the news, it took me ten minutes to understand whether it is real or not. I remember I pressed the lift button and by the time I reached the lobby, I broke down. But I had to gather myself. Mahesh Shetty came to pick me up and we rushed to his Bandra residence. And from Andheri to Bandra we were continuously getting calls. And I still had a hope in my mind that it's not true. I think it is something else. We reached, saw the media standing out me and Mahesh went to the sixth floor. It's then it hit us what actually has happened. There was no one from the family and we didn't know what to do? The moment I saw Mahesh completely falling, that was the time I felt this is the time where I have to control myself. And I know nobody will be able to come forward right now because they will take time to sync in. There were a lot of procedures that had to get completed. I don't know how to explain that but we had to get Sushant down, take him to the ambulance and then Cooper hospital for the postmortem. Go back to his home and get Nitu Didi back to the hospital. Seeing him on that stretcher and then signing all those papers. Then the media after us. The whole moment has hit my heart, my mind and eyes for forever. I was called back by the Police as there was a lot of paperwork to be done for which I had to get his pan card, aadhar card from his wallet and that was difficult at that moment. I had to also stay back in the hospital until the postmortem happened. It was a nightmare.
When was the last time you spoke to Sushant and did he sound disturbed?
We were always in touch over messages and calls. I don't think anybody speaks their mind when they want to do something like this. Moreover, there were a lot of people staying at his place. There was Nitu didi too but nobody has hinted about such thought being in his mind. Like what is running in my mind right now, I am not speaking that. I am talking to you all because you all were following me and as a human being I cannot reject and neglect things forever.
Are you in touch with the family? How are they coping with this loss?
Of course. And I think I will be very stupid if I won't be in touch. It's not like that he has gone and the responsibility is over. We are family and he was a close friend. I took the responsibility from the hospital to shamshan ghat. And even now, a lot of paperwork is needed to support police investigation. So, Maheh, his family and I are trying to support the investigation completely.
You said people called and messaged you saying that you didn't invite them for the funeral...
I was alone to receive Sushant's body after the postmortem. As the family landed in the afternoon, we had decided that they would come directly to the cemetery. And we had to do the ritual before it was too late. I had only one person Deepak throughout to help me arrange everything. I just called one friend of mine Anand Pandit and told him to guide me through the process as I had never done this before. To which he said, "Sandip please keep the phone and concentrate on what you are doing I will take care of things."
Go on....
It was raining heavily that day. Ambulance se Sushant ki body ko nikalna phir sara kriya karam karna, family ko sambhalna, there was too much going on and thankfully Sanjay Nirupam ji came and helped us out in all of this. Ekta Kapoor, Shraddha Kapoor, Varun Sharma, Randeep Hooda didn't even get the chance to come inside but still they prayed for him and left. As per Hindu rituals after cremation, we have to take bath. So, as soon as I reached home and rang the bell, my mother opened the door in tears. I just got a call at that moment and I had to take it as I didn't know what important matter it could be, and then I hear this person ask me why I didn't invite him for the funeral? I was shocked that it wasn't a wedding or a birthday party that an invitation was required for? I don't know but maybe that person was going through an emotional time that he didn't know how to express but that really shocked me more than anything else. How can somebody just say this being a friend? People are at home and a pandemic is at its peak, it's lockdown period and only 20-25 people were allowed. I am sure if things were normal, everybody would have stepped out of their house.
You wanted Sushant to be part of your directorial debut VandeBharatam unfortunately it couldn't happen so what are your plans now about it?
In 2011, I was the CEO of Bhansali productions. At that time, I had called Sushant for the show, Saraswatichandra. When I met him, I discovered that we both are Biharis and from Patna. I told him that time itself, 'Please don't do my serial, you do films.' And that's how our bonding started and eventually became so strong that after leaving from work, maximum time I used to land up at his house. He used to like Mutton curry and rice made by my mother, so I used to take that for him. We used to go for Ice creams down stairs in his building. It was during one of those times that he asked me what I actually want to do in my life. I told him I want to become a director but waiting for the right time. So, he advised me that why don't you launch yourself and I was like there has to be someone has the faith in me. Mukesh Chhabra wanted to debut as a director, Sushant ne unko debut kara diya. Dinesh Vijan became his good friend and he launched him as a director in Raabta. And one day Raaj Shaandliyaa, who made Dream Girl, suggested idea of a film, Vande Bharatam and I liked the concept so much that I immediately called Sushant and said I want to make this film with you. After which Mahesh Shetty, Sushant and I went to his Lonavala house and the whole night we were discussing about this film. Sushant told me that he has complete trust in me and he will do the film but the budget of the film is high so we have to make it on a time when we have proper funds. And we were gearing up for that. Raaj was writing it. The project was my dream and I had hardly shared it with anyone. But the dream is incomplete now.
How are you planning to take the project ahead?
I want to make the film but I need to look for an actor, who is good enough and believes in me.
Sushant's last film, Dil Bechara is set for an OTT release but many of them want it to get released on 70mm screen. What are your thoughts?
I am not a part of this film. It's been directed by Mukesh Chabbra and Disney+Hotstar has produced it. So, I think they are in a better position to decide. I understand the emotions of people but a lot of things have to be looked after. I am sure the decision taken by the makers has been taken sensibly. I think we should not debate on that. Everything is not a talking point.
We saw Sushant's father talking highly about his Ex Girlfriend, Ankita Lokhande. How closely did you know their bond?
Ankita was not his girlfriend. She has taken the place of his mother in his life. In twenty years of my journey in the industry, I have never seen a girl like her. She has taken care of him like nobody else. She could have been the only one who could have saved him. She is used to doing everything rightfully for him. If she is used to getting ready as per Sushant's choice. The food she used to cook was to be of his choice. The house interior used to be of what and how he likes. Books which used to be there in the house were what he likes to read. So everything used to be according to Sushant for his happiness. I really wish everyone gets a girl like Ankita. She is highly emotional and she was almost giving up her career at its peak for him. She was big on Television and getting films offers also. Even after their break-up jitni films Sushant ki release hoti thi vo har friday pray karti thi that his film should be successful, he should be happy. The day Sushant took this unfortunate step and when I saw him, my big worry was for Ankita. Throughout my journey from his house to ambulance to hospital that day, I was constantly calling up Ankita but she didn't take my call. And I knew what she was going through. And after finishing my postmortem work, I ran to her house. I have known her for 10 years and I don't think she had ever given me that hug which I got that day. She is my art and I will do anything for her in my capabilities.
How is she now?
I spoke to her today, finally. I was away from her for 3-4 days for a reason and today also when she called me, she started crying. And I can't take it anymore because I don't want to see her like that. But she is a strong girl and a God's child. Her talent is a blessing just like Sushant. I can't tell you what they meant to each other.
Sushant was supposed to get married to Rhea?
Main to aisi kisi shaadi mein invited nahi tha, so, I really don't know. What I know is at one point of time, Ankita and Sushant were supposed to get married. Mere liye vo hi uska aakhri relationship tha and main usi memory ke saath rehna chahta hoon.
His father had confirmed the news though?
Which father or mother doesn't want his child to get married? Every father wants his child to get settled and Sushant would have got married too if he would have found the right partner. So, I would request media to not conclude anything on the face.
How is his family planing to organise his collections including the telescope?
Its too early to think about that. Today also when I went to his place we were seeing all his collections and deciding on things. But we will wait for the investigation to get over. And then we will see what to do and what not to do. Abhi bhi hamko lag raha hai ye saaman uska hai aur usika rahega, kisi aur ka nahi hoga.


Image Source:- instagram /lokhandeankita/officialsandipssingh/sushantsinghrajput