Sushant Singh Rajput's Former Assistant Ankit Acharya's Tell All Interview; Reveals SSR Was Upset-Nervous With Karan Johar Releasing Drive On OTT- EXCLUSIVE
Sushant Singh Rajput's demise has shaken one and all. Out of his family and friends, his old staff too is visibly upset. Talking to us exclusively is his former assistant Ankit Acharya who reveals all to SpotboyE.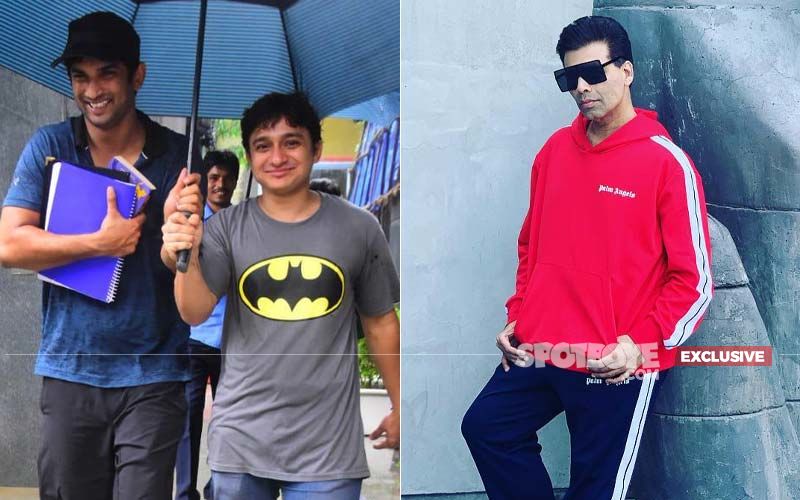 Sushant Singh Rajput's untimely death on June 14 has left a lot of questions unanswered. Now with CBI investigating the matter to find the real reason of his death a former personal assistant of Sushant, Ankit Acharaya shocked everyone when he said that actor did not commit suicide but he was allegedly murdered by his dog Fudge's belt. We spoke to Ankit at length and he not only clarified his statement that he just shared his observation but also revealed what sort of equation Sushant shared with his family and his other girlfriend at that point of time. Ankit also mentioned the actor was upset with Karan Johar's Drive being released on OTT platform instead of theatres and much more. Read this explosive revelation about Sushant life and Rhea's involvement ;
Why do you feel Sushant Singh Rajput didn't die by suicide but he was murdered?
I have a photo of his dead body which was viral and I closely observed that picture and that clearly shows that he hasn't committed suicide but he was killed. If he would have hung himself then the mark on his neck would have been in a U shape, but it is in O shape. Which seems somebody has choked his neck. And I feel that they have used his dog's belt Fudge who is with his father (KK Singh) now. I have also played with Fudge a lot and he had this red and black colour belt with iron rings and I can see that ring marks on his neck. So this is what I feel must have happened with him. Also, he used to never close the door while sleeping. In fact, I used to sleep with him in his room down near his bed because I had to wake him up at 4 in the morning.
For?
He used to get up and listen to Maha Mrityunjay Jaap and used to see planets through his telescope which he had. He was a true believer of Bholenath (Lord Shiva). He used to keep making his sketches also. So a person who is so positive and full of excitement I don't feel he can end his life on his own.
When did you come to know about Sushant's death?
I was in Mumbai only at my rented apartment in Andheri and coincidentally I was watching his film 'Sonchiraiya' only that day. And then one of my friends from Kolkata messaged me asking you are Sushant's assistant na? I said yeah I was earlier. So he was like open this news is it true? Has Sushant committed suicide? And I was completely shocked. I immediately switched to the news channel and saw them breaking this news. I immediately changed my clothes and rushed to his house near joggers park. But I didn't go inside the building. I sat for hours outside and kept looking at the building surrounded by people. I was in complete tears and so disturbed within the incident that I didn't even eat anything that day.
Did you try reaching out to people who were staying with him at that time to know what has exactly happened?
No, I didn't. I used to stay in touch with his cook (Ashok) initially but I lost touch with him also. Later when his dead body pictures got released and reached me I started investigating myself that this can't be a suicide. Because if you hang yourself then eyes and tongue come out. Saliva comes out of your mouth but I couldn't see anything of that sort in those viral pictures.
You have stayed two years with him so closely. Did you ever see him tensed on anything to an extent that he can end his life?
When me and Ashok (cook) used to stay with him. We never saw him disturbed. He used to treat us like younger brothers. And if he used to ever feel lonely he used to immediately call us. He was hungry for love. He used to not like staying alone at all. He used to keep us engaged in different activities which he used to do like playing virtual reality games, reading books. Most of the time he used to keep writing his diary.
What did he used to write in his diary?
He used to write down his schedule for the next day. Like what time he has to reach sets for shooting. What content do I have to see tomorrow? I have to post this on Instagram at this time. Other than that he used to write poems for his mother. He was extremely attached to her and sometimes used to post the poems on his Instagram also. If ever his pages used to lie down I used to pick it up and keep it safe and give it to him later. And he used to like this about me.
Have you ever met Rhea Chakraborty?
No, I have never met her.
When you came back to Mumbai after your leave why didn't you join back Sushant?
When I came back to the city I got to know he had gone on a trip. I don't know which trip that was. So when I came back his security guard of the building didn't let me in. And then one of his staff members came out. I didn't recognise him. I guess he was new and he said that now the whole staff is new here and all the old staff people have been fired. And I was surprised. I told him I want to talk to Sushant bhaiya so in reply that person said he has gone out when he will come back so you can talk to him. I tried calling Sushant bhaiya's number but it was switched off then I tried making a WhatsApp call considering that can be connected internationally also but that also didn't get connected. I guess the number was changed. I still have his two numbers saved but those have not worked since then.
So you didn't get a chance to meet him again?
I met him after a month when I went there again to take my two-month pending salary. Again that guard was not allowing me to get in so I was standing near the building gate and he had gone out for something. While coming back he saw me and waved his hand but he was not the same person as before. I went to him and touched his feet and he didn't even keep his hand on my head which he used to do earlier. He used to take so much care of me that whenever I felt sick he used to take care of me and keep asking about my family all the time. But that day he did not seem that Sushant to me. He asked me what happened so I told him that I have come to collect my remaining salary so he asked me to come up and then one of his accountants gave me a signed salary cheque with some extra amount. That time Rhea was not at home. Whatever time I was there I was constantly looking at Sushant and found him a complete changed person with no smile and warmness. He didn't speak to me at all in spite of being so close to me at one point in time. He was looking disturbed and was constantly on his phone. I felt like asking if everything was ok but his current staff's attitude stopped me. While leaving I spoke to him but he just showed his hand and didn't even smile. I felt really bad about it and since then I never turned back to him.
When you left from there did you try to find out the reason behind his behaviour change by talking to someone or had a discussion?
Yes, I had called Ashok but he told me even was thrown out of his job by then. He said that I went to my hometown and when I came back they had already hired somebody else. He had also felt that Sushant was a changed man. I simply told him whoever has come in my place requests that person to take good care of Sushant bhaiya. Give him medicines on time and maintain his schedule well and keep him happy.
Other than you guys anybody else was asked to leave?
I have no idea about this as when I was with him it was only me and Ashok in his house team.
When you were with Sushant was he dating Rhea?
No, that time he was not dating her.
Was he dating someone else at that time?
Yes, he was in a relationship with somebody else but I can't reveal her name.
During that time was he all ok?
Yes, everything was going really good that point of time. He was living his dreams as by now all know that he wanted to do farming. So the farmhouse which he had rented in Pawna we used to often visit there and play in the garden area. He used to love nature and that farmhouse had a view of mountains and river. One day he suddenly called me and showed me land there and said Ankit we will do organic farming here and I also excitedly said yes. He became extremely happy. Unfortunately, his dream farming remained unfulfilled.
As you said everything was fine so how was his terms with his family at that time. They used to visit him?
He used to stay in touch with them. I didn't see him talking to KK uncle but one of his sisters Priyanka who is a lawyer and her husband is a lawyer too used to often visit his Mumbai home. Sushant bahiya used to feel happy when they used to come down and stay with him for months considering his family is here. He used to spend all his time with them khana, peena, baatein karna sab saath hota tha.
When you were residing with him there were his Pro team members also staying with him?
No one except me and Ashok was there. I think these all must be new people. I stayed with him till August 2019 but these people were not staying in at that time with us.
You have said that Rhea Chakraborty used to perform pooja for him. How did you know all this when you were not staying in and had lost touch with everyone?
I had heard about this when I was there. We used to reside at Capri heights, Bandra. Before that, we used to live at Litte heights on the 12th floor. So in Capri heights, she used to tell Sushant that this place is haunted. Hawan should be done and then performed poojas. I have also heard about it but didn't see it from my own eyes. But Sushant used to not believe in Pooja Path. He used to believe in Karma though he was a believer of Mahadev.
When Rhea used to perform pooja did he participate then?
I have no clue on this. But I don't think he must have heard. As whatever time I was with him I never saw him doing Pooja path.
Was Sushant taking depression pills when you were with him?
I heard about this in the news only that Rhea was giving him depression medicines. But I don't think that would have been required as he was very normal and I don't think he needed a psychiatrist and depression pills. This must be done to disturb him more I guess. I am telling you again this is not a suicide its hundred percent murder. And I want him to get justice. Now when CBI has come I am sure the truth will come out.
While you were staying in with him did you see Sushant upset over not getting good films or him losing out any project? Also any disturbance from the family?
There was nothing from the family's side. Also, he used to be least bothered about films. He was getting good films at that point in time. But when his film Drive was released on OTT instead of theatres he got nervous. He used to love being seen on 70mm screen so when it got released on Netflix he was upset and told us it was such a good film don't know why they released it here. But other than that I didn't hear of any other film from him.
You used to travel with him on shoots?
Yes, I had gone with him for his Kedarnath shoot, also Jamshedpur for Dil Bechara. During Kedarnath he wanted me to learn acting and he used to keep telling me mujhe dekho aur seekho main kaise acting kar raha hoon. Kuch nahi samajh aayega to main samjhaunga baad mein. He used to tell me I will give you an acting opportunity.
Did you see Dil Bechara?
Yes, I did and really liked the film. I had seen him shooting that live so I could relate a lot. After shoots whenever he used to have the time he used to play cricket with us. He had so much of craze for that telescope that he carried it till Jamshedpur. He had a big projector at his house and he used to watch his film M S Dhoni eating popcorn most of the times.
How heartbreaking it is to lose a person like him?
I still don't believe that he has gone. I feel he is around me and I can sense him. He is touching my head.
Image source: instagram/karanjohar