Sushant Singh Rajput's Friend Mukesh Chhabra: 'Unfortunately He Wasn't Able To See The Final Product Of Dil Bechara'-EXCLUSIVE
Sushant Singh Rajput's Dil Bechara director and friend Mukesh Chhabra in an exclusive interview says that the actor's death has yet not sunk in and the film is a tribute to Sushant.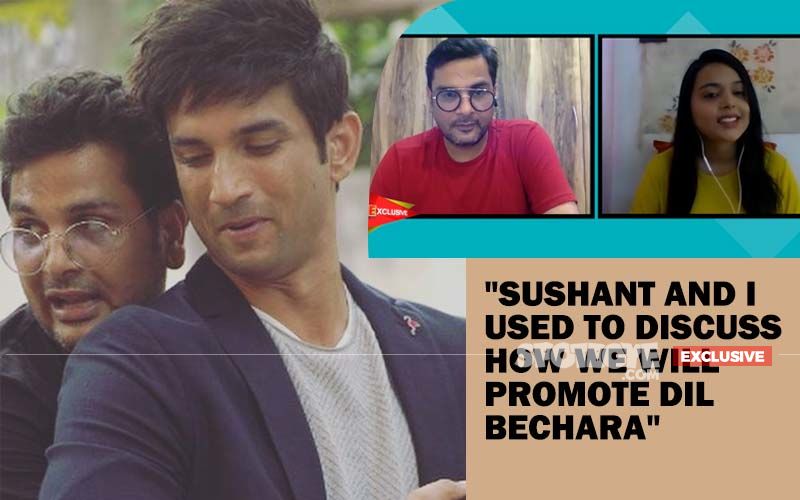 Sushant Singh Rajput's millions of fans and followers are attached to Dil Bechara now. What kind of feeling are you dealing with?
I am still sinking in. I still can't believe it. I didn't know that I would be releasing this film alone. I always thought that we would be promoting it together. And the love for Sushant and the trailer which I am getting to see is just a blessing of him. I could see the love which everyone is pouring on social media for Sushant is so overwhelming. It's a great feeling and I feel responsible. I hope that I make him proud and every fan of his proud with this last film.
The film is releasing on an OTT platform but there are people who wanted it to release in theatres as a tribute to the actor. What is your take on it?
When? How? Looking at the current pandemic nobody knows when the theatres are finally opening. For me releasing the film now is celebrating his last film. Sushant also had an idea about it. As all major films are releasing in OTT now. And I think OTT is a big revolutionary step for the industry. Film audience se banti hai phir chahe vo ghar baithkar dekhe ya theatre mein.
Sushant had seen the final product (film) what was his response?
He didn't see the final product. But during the voice over and dubbing, he saw the film and he really loved it. He loved the Dil Bechara song and was excited about it. But unfortunately, he couldn't see the final film.
You wanted a fresh face for the actress so you cast Sanjana Sanghi but you were always clear about Sushant playing the hero. Why?
I think the trust and respect he gave me. He always said whenever you will make a film I will be part of it. And he used to always keep craking the jokes 'Aap film banaoge to main karunga'. So in 2018 when I finally got an opportunity from FOX Star Studios and when I read the script I decided he will do it. When I told him about the film he was like 'Bhai main karunga' he didn't even read the script. In fact, he only read the script when we finally went for shooting in Jamshedpur.
Was he a complete director's actor on the set or he used to take some leniency as his friend himself was directing?
He was a very much a director's actor but at the same time, he was an intelligent actor. So he always knew kahan pe kitna inputs dena hain. So he used to always do things being in the frame. Also, because he respected me as a brother so he used to always tell me 'Bolo bhai kya karna hai'. And about the actress, I could only see Sanjana's face when I was going through the script because I remembered her face from Rockstar where I had cast her as Nargis Fakhri's younger sister when she was 14. She used to keep coming to my office and after that also and just after she completed her graduation I made her do this film. See casting a correct face for any film is really important and that's what I did by casting her. Sanjana and Sushant both were the first and only choice for the film.
You introduced Sushant to the film industry. Could you share the moment when you realised he is film material?
During Kai Po Che auditions I met him for the first time and after the auditions, we bumped into each other at a cafe in Versova. Then he again came back for the audition with three boys and he was charming enough. I still remember those moments clearly. In fact, recently I also posted his auditions from PK, Kai Po Che. His chemistry with Amit Sadh and Rajkumar Roa created that magic I couldn't stop myself from casting all three. Though there were a lot of other actors who auditioned for it.
What bonded you and Sushant so close that you became such good friends?
Sometimes describing a relationship is very difficult. I am very close to Rajkumar and Ayushmann Khurrana also but the bond I shared with Sushant was way different. The way we used to understand each other is something that we can't explain.
It's unfortunate that he is not with us to promote his film. How much do you miss him especially at these moments?
I am missing him a lot because we used to keep discussing bhai pehli picture ka premiere hoga on that we will do this and that. I never knew that I have to do this without him. Every day I sink during promotion, trailer cutting or any song is coming out, I sink in the fact that he is not with me. Discussing him in the past tense itself is very difficult.
We have read the novel and seen the Hollywood version of 'The Fault In Our Stars'. As a director what new you have added to it?
I think you have to see the film and tell me what do you think? The credit goes to Suprotim Sengupta and Shashank Khaitan the way they have depicted the story. The way dialogues are written. It sets in Jamshedpur and its a very different story. So you have to watch and tell me how good we did!
Are you feeling nervous about the reviews as it is for the first time you have directed a film?
You always feel nervous when it's your first time whether you are casting, acting, or directing a film. But with this film, the direction is very different now I have become more subgoal. After the kind of responses, I have received for the trailer. And hoping the love and blessings I am getting for the trailer, I also get for the film. I feel responsible that every fan should see and celebrate Sushant.
Sushant had some really good films to his credit. Would he come to you for guidance whenever he was offered a new film?
Initially when he was offered PK, then Shudh Desi Romance he did consult me. But after that, any person grows in the circle and the business then you understand on your own. So I feel that people should also decide on their own. And that's why he could do Dibkar Banerjee's (Detective Byomkesh Bakshy) film and then Neeraj Pandey's (MS Dhoni: The Untold Story) film. At the start whenever he came to me I guided him the best way I could.
One film you suggested to him to do and it actually turned out to be a big success for him?
I think Pk and then Shudh Desi Romance. Because when PK came to him Kai Po Che had not even released by that time. So he used to always keep me in the loop at that time with whatever used to come his way.
Now when you have finally debuted as a director what you want to focus more or? Casting, acting, or directing?
Right now I also don't know. I am waiting for people to watch the film and react. After that, I will take some time to stick everything inside. I am still trying to sink in what all has happened. So after some time, I will decide on all that. But yes my company is already working on the casting of few projects so I may immediately join them as I also want to come out and divert my mind. But as a director, I can't tell you anything now.
While making this film lot of hurdles came. In the last 2-3 years, you have gone through major ups and downs. How do you reflect on that and what has been your biggest life lesson?
Whenever you start something there are hurdles that come your way. I think in the process of every film, some or the other thing happens. But real testing is when you stick to your decision no matter what.
After Sushant any other actor you want to direct?
There are so many actors right from Rajkumar Rao, Manoj Bajpayee to Ayushmann Khurrana I want to work with.


Image Source:- instagram /castingchhabra