Toofaan Actor Farhan Akhtar: 'If People Come To Me With Incredible Scripts That Revolve Around Sports, I Am Happy To Be Confined In That Space'- EXCLUSIVE VIDEO
After the success of Rakeysh Omprakash Mehra's Toofaan, film's leading actor Farhan Akhtar talks about the mental challenges he faced for his physical transformation in the film, his return to playback singing and direction, fear of being stereotyped and more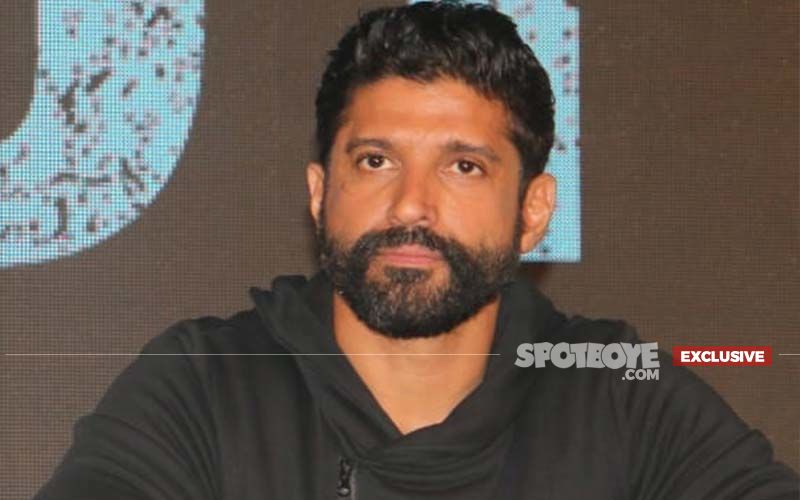 Farhan Akhtar recently boxed his way into the audience's heart with his amazing portrayal of a former boxer, Aziz Ali, who decides to get back to the game, in Rakeysh Omprakash Mehra's Toofaan on Amazon Prime Video. The film, also featuring Mrunal Thakur and Paresh Rawal, marked the reunion of the successful Bhaag Milkha Bhaag duo of Farhan and Rakeysh.
In an exclusive conversation with Spotboye.com, Farhan talks about the success of Toofaan, the mental challenges of his physical transformation for the film, his return to playback singing and direction, fear of being stereotyped and more. Read excerpts from the interview:
Farhan, you must have received some amazing responses for your portrayal in Toofaan, but has there been any special response that kind of struck a chord with you?
Every response is special. You make a film for the people and when you get this kind of love from them for the film and your performance, each and every one of them is special. To say one is more than the other, is not right or fair. Everyone who took time to watch this film, I thank them for that and the incredible love they have showered on us. It means a lot.

Your journey of the physical transformation that you underwent for the film is for the world to see, but going through that process must have taken a lot of mental courage too. To wake up every day and convince yourself to go through with it must have been a challenge…
I don't know how to explain it better than saying that there is a certain degree of madness that is needed to do what we do. That's basically what it is. You just have to make sure that when you are allowing yourself to go mad, you are surrounded by enough sane people who will channelise that madness in the right way. The challenge lies in the mind and not in lifting the weights. The challenge lies in waking up everyday and going through the process that you have to do.

The goal of course is very clear and what motivates you and that is that when the film is made, how are you going to feel about your performance and how the people whose opinion matters to you will feel about it and then eventually how the audience at large would perceive it. For that, honesty is very important. If you won't be honest with your character and give it the respect it needs, you can't expect it from anyone else. You have to immerse yourself in it.
You had to undergo rigorous training for Bhaag Milkha Bhaag too. From then to Toofaan, what changes have you observed in your approach towards the process?
Bhaag Milkha Bhaag introduced me and got me to be a part of Milkha ji's family, and that was the best thing to happen through the making of that film in my personal life. On a professional level, it made me truly understand what is possible. If you apply yourself as an actor then anything is possible to do. If you let your mind go there and follow it in an honest and sincere way, it is incredible what all you can achieve. That learning happened for me on Milkha.

That helped me when I got into Toofaan. I wasn't worried if I would be able to achieve it. Obviously, there are days when you wake up feeling you are not achieving it as quickly as you like. These things do happen, but I think that Milkha experience had prepared me for the commitment that was needed in this film.
Of course, Boxing was a completely different sport from running. It was something that I had to learn from scratch and it was a challenge but that also motivated me. How often in life do you get opportunities to learn something new, and when you get that with a film as nice as Toofaan, you should absolutely celebrate the fact that you are getting to do it.
One admirable quality about your career is that you have been methodical in your choice of work to show your versatility. Even in roles that can be considered in a similar space, like being a sportsperson in Bhaag Milkha Bhaag and now in Toofaan, you have taken a considerable amount of time in between so as not to limit the audience's perception. But, with the success of Toofaan, do you fear that with two great athletic performances behind, people would confine you to that space?
To be honest, if people come to me with incredible scripts that revolve around sports, I am happy to be confined in that space. I think we have to let our hearts and minds go to places where we feel inspired. That's basically it. Whatever has been seen in my career, has come out of the place where I have read it or heard it and have absolutely felt the need to say yes. All my decisions have been based on that. So, if people feel like I am the go-to person for sports films now, and they bring me an incredible film with sports at its heart, I'll say yes immediately, without thinking twice just because I have done two sports films and I might get typecast. That won't trouble me in the least.
People say that life and sports go in sync. So, did you learn anything valuable about life from the game of boxing?
It's difficult to say because there are so many things about boxing that are used in our daily lives. Phrases like keep punching, when life knocks you down find a way back on your feet, and the terminology like knock-out, counter punch, being used as a punching bag, runs so inherently in our conversations in any case, that we don't even realise that how similar life and boxing are on some level. Like how life tests you, you are tested in every round in those three minutes in the boxing ring. You get a little breather in between and then you are tested again, and that's how life is. It is a great metaphor for life.

If anything, it teaches you how to be the best version of yourself because you have to be and when you are committed to something, you have to commit to it with every single molecule of your body. The fact that you may get knocked down now, but you have to find a way to get back up and start all over again, are some of those things that are great lessons to learn from sports.
From Bhaag Milha Bhaag to Toofaan, did you notice any change or evolution in Rakeysh sir's approach towards his work?
With Bhaag Milkha Bhaag, I was not involved in the film before he came to me with the script. This time, I got to see the 'before the shooting' side of him. I got to see how he personally prepares himself for getting into a film, his understanding and how he makes a story his own. When he is telling a story, he is one hundred percent telling it from his soul and his vision. To experience that side of him was something new for me. I enjoyed Bhaag Milkha Bhaag so much as he gives all actors so much freedom to express themselves in a scene. I am just really glad to get to work with him again.

We haven't heard you sing for a while on screen. When can we expect to hear you sing next?
Currently there is no such plan but I am really looking forward to some kind of live performance space to open up again, so that we can go out and do those concerts that we did. I really miss that. That to me is such a beautiful expression and in terms of engagement with the fans and the crowd, is so magical.

Your co-star Mrunal told me that she wants to explore your directorial side. Will you make her wish come true?
The thing is never say never. Mrunal is very gifted and talented and hopefully something in life will come along that I would like to take to her and work on together again. Would I like to direct her? Absolutely, there is no two ways about it as she is an incredible talent. Let's just keep our fingers crossed.

Meanwhile, any plans of returning to direction in the near future?
Well, I have many plans to be honest, but right now the pandemic has put everything on hold. We'll have to wait and see. Nobody knows when they are going to start things again and there is so much backlog of films right now, so there is no idea when the schedules will align again. To have any plan right now feels pointless. Right now, our focus is to finish what we already have lying half complete. As producers, there are two films that we need to finish and a few shows that we need to get done. All our focus is on that for now.

And what about your upcoming projects as an actor? There is a tease of an international project (Ms Marvel) and a sequel to Zindagi Na Milegi Dobara in there…
There is a film that I am going to do with Ashutosh Gowariker. So, that is definitely going to happen but when and how are some questions that still remain to be answered due to the times we are in. But that will absolutely happen as soon as we can start.

Image Source: Instagram/faroutakhtar, spotboye archives