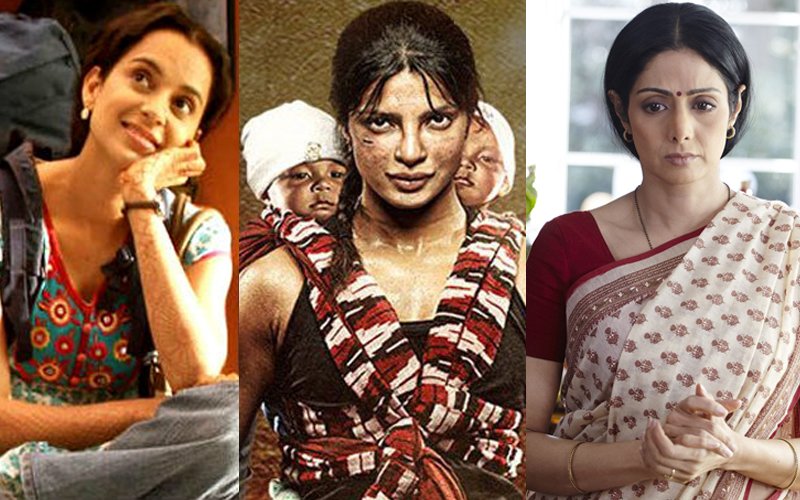 Over the last few days, social media has witnessed a lot of heated discussions on Feminism. It all started after Lisa Haydon invited Twitteratis' wrath over her comments on the issue (Lisa Haydon trolled for her comments on feminism, May 23).



Image Source: instagram/lisahaydonofficial

While debates on Feminism may never end, there's no arguing over the fact that apna Bollywood is as male-dominated as it can get. There have been heroine-centric films, but their numbers are dismal.

As 'F' word takes the social media by storm, SpotboyE takes a look at some of the most memorable women-centric films in Bollywood in recent times.

Ki & Ka (2016)


R Balki's Ki & Ka challenges the stereotyping of gender roles in Indian marriages. While Kabir (Arjun Kapoor) decides to be a stay-at-home husband, his wife Kia (Kareena Kapoor) is the career-minded, ambitious corporate-climber. The film questions the traditional definition of 'husband' and 'wife' in India.

Dil Dhadakne Do (2015)


This Zoya Akhtar film has two powerful female characters -- Ayesha (Priyanka Chopra) and Farah (Anushka Sharma). Caught in a loveless marriage and discriminated against by her own parents, Ayesha represents the plight of many Indian wives and daughters. However, when the going gets tough, she gets tougher and finally emerges a winner. Farah, on the other hand, is a woman who believes in living her life on her terms. The film is a true reflection of our society and the way we treat our women, regardless of class or status.

Queen (2014)


Vikas Bahl's Queen tells every girl and woman that the end of a relationship/marriage is not the end of life. It could mark the beginning of a beautiful journey of self-discovery and independence. Rani's (Kangana Ranaut) metamorphosis from a meek and timid Dilli ki kudi to a confident woman of today is definitely inspiring.

Gulaab Gang (2014)


Soumik Sen's Gulaab Gang has been inspired by Sampat Pal Devi, a social activist from Bundelkhand (Uttar Pradesh).



Image Source: vagabond

Sampat and her army of women crusaders, armed with bamboo sticks, fight for women's rights. In the film, Madhuri Dixit played Rajjo, a filmy version of Sampat, who is an advocate of woman empowerment.

Mary Kom (2014)


Omung Kumar's biopic celebrates the true spirit of womanhood. A hair-raising tale of a woman's endurance and courage, the film had Priyanka Chopra in the title role. The story shows how Mary, an ordinary woman from Manipur, goes on to become five-time World Amateur Boxing champion.

English Vinglish (2012)



Gauri Shinde's directorial debut is about a woman yearning -- and eventually fighting -- for respect from her own family members. Sasi (Sridevi) is mocked at and looked down upon by her husband children for her inability to be a modern, English-speaking woman. The film sends a strong message -- that a homemaker's role is not just to make laddoos. And, as a woman, it's never too late to seek and establish your identity.

Chak De India! (2007)



The Shah Rukh Khan-starrer, directed by Shimit Amin and Rob Miller, shows the state of women's sports in our country -- always neglected, almost never entitled to the privileges that their male counterparts enjoy. When Kabir's (SRK) women's hockey team lifts the world cup finally, it becomes a personal victory for every Indian woman.


Thumnail Image Source: folomojo, somoyerproyash & youtube/erosnow