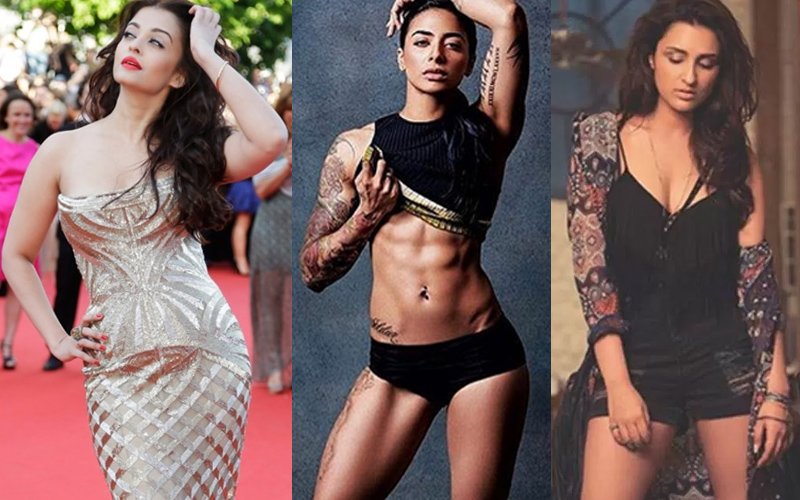 VJ Bani is a gym freak, and it is her immense dedication towards it, which makes her body look nothing less than that of a Greek Goddess. She has been posting videos of her workout sessions, along with pics of her well toned body. However, going by the Indian lower middle class mentality, she started getting rebuked on social media.
Not one to take it lightly, Bani lambasted her body shamers.


This happens on a day to day basis with actresses these days. While most of them prefer to sit back silently and not let such body shaming affect them, there are a only a handful who prefer to raise their voices against the detractors. Let's check them out:

Aishwarya Rai Bachchan


Aishwarya gained a lot of weight during her pregnancy and that didn't go off for almost a year or so. Even though she was still looking like a million bucks, there were lots of bullies on social media poking fun at the ex-Miss World. Ash didn't talk about it at all, but being the doting husband, Abhishek Bachchan stood up for his wife. At an event where he was asked about the same, he said, "Yes, she's a public figure, but people forget she's also a woman and now a mother and there's a line that's not to be crossed. I don't talk that way about any woman ever and it's obviously not graceful for anyone to talk about her like that either." Clearly Ash knew before hand that he will speak up for her, or maybe had even told him to do so.

Huma Qureshi



Huma Qureshi may be getting a lot of critical acclaim for her performances, but she has constantly been criticized for being overweight. She vented out her anger towards the body shamers by posing for a magazine cover, with the tag line 'My Body My Rules.' At the launch of the magazine issue she gave it back to the bullies. She said, "There are a lot of people out there who are just bullies. They constantly keep telling you that you are too fat, too thin, your teeth are not fine, you can't speak English really well, and you are too short etc. Bullies will be bullies and I think body shaming is something that people all over the world are condoning and condemning because it's not cool. We need to set better role models for young women. I would like to say this for the record that I am not trying to lose weight or gain weight. I am just trying to be the best version of myself and that's really important."


Parineeti Chopra


Parineeti became famous for her bubbly personality when she joined Bollywood. She was always curvaceous, and that quite nicely complimented her persona. Unable to take the numerous remarks on her slight over weight, she decided to hit the gym rigorously, and after a year came out with a photoshoot which shut all the haters. At the launch of the photoshoot Pari said, "This (body shaming) will soon become a thing of the past. Everything comes in phases. If you are not comfortable about your body, do something about it. If you are comfortable, let it be. Other people have no right to comment anyway."

Richa Chadda


Richa has been one of the most outspoken actress in B-Town. Recently she opened up about the various pressures involved in an actress' life. She said she suffered from a disease called Bulimia. At a recent event, when asked about the same, she said, "I was told I should gain weight, then lose weight, fix my nose and inflate my lips, get a b**b job, lose the puppy fat, grow my hair out, or cut it, get highlights, or fake eyelash extensions, squat for a bigger b**ty, get fake gel nails, run in heels, wear spanx, pout will talking, focus on dilating the pupils, and listen attentively. Eating disorders are the best-kept secret of Bollywood."


Ritika Singh


Ritika is just a single film old (Saala Khadoos) and has already won a National Film Award. When she saw one of her favourite actors, Wentworth Miller, faced body shaming after gaining weight, Ritika couldn't take it anymore. While speaking to a leading daily she said, "No one is safe from body shaming and it needs to stop, because we all come in different sizes and we all are beautiful! We can't change our bodies drastically, all we can do is to make sure that we keep fit by working out, eating the right foods, and becoming fitter and stronger."

Sonakshi Sinha


Sonakshi's big debut opposite Salman Khan made everyone stand back and take notice of her, but pretty soon, people started bullying her by saying that she looked like an 'Aunty'. Giving it back to the bullies she once said, "Today if anybody has been targeted for being a certain way, it's me. But I don't let it get to me. I know what is more important is that I project a healthy body image for girls who look up to me.
Tomorrow
if I become skinny, what's the point? I won't be able to work well. I'll fall sick all the time. I know that's not my body structure, not my body type. I have never believed that you have to be a certain size to feel good about yourself, you just need to feel confident, to feel good about yourself. It's important to be healthy. I urge the youth to look after themselves only from a health perspective. Everything should be done for the right reasons."

Sonam Kapoor



Sonam didn't become a fashionista overnight. She was overweight way before she joined films, and used to get bullied day in and day out. However, she kept working hard at it, and gave it back to the haters when she started working in films. Slowly and steadily she has become one of the most fashionable actress in Bollywood, and that itself was more than enough to shut her detractors. However, now those haters started shamming her for being too skinny. At an even talking about body shamming she said, "Fat shaming or skinny shaming.. It's still body shaming!." And my word, she looked very angry. Words not too strong, but her body language said it all.


Taapsee Pannu



Taapsee is quite a popular name down South, and with films like Baby (2015) and Pink (2016) under her belt, she is making inroads into Bollywood. Down South she was quite privy to body shaming. Talking about the same to a leading daily she said, "How can you let others decide whether you are thin or fat, pretty or ugly? These are subjective terms and hardly important. I am a Sardarni with a broad body structure. Hoping for a model-like waistline is silly. I amp up my fitness instead. Staying happy is most important, it helps reflect health from inside out."

Zareen Khan



Zareen rose to instant fame when she starred opposite Salman Khan in Veer (2010). Apart from her similar looks to Katrina Kaif, it was her being overweight that was discussed a lot on social media. After Veer didn't do well at the box office, Zareen was dealing with bullies who kept on body shaming her. At the trailer launch of one of her movies, she gave it back to the detractors. She said, "I never let people's comments or ideas about me bother me. Because it's my life and my body and only I have the right to decide what I'm gonna do with it."

We love people who don't take sh** from others!


Image Source:

instagram/banij/

sonamkapoor/taapsee/ritika_off, Indiblog & Pvrl