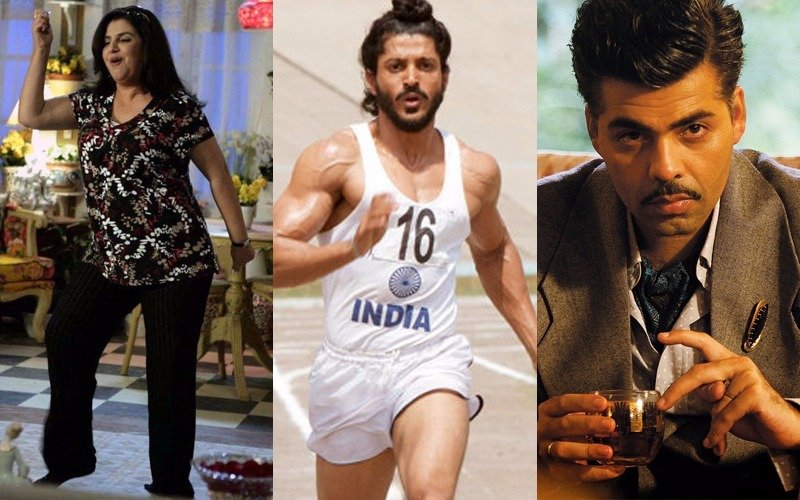 Actors turning directors is not a rarity in Indian film industry -- Raj Kapoor, Guru Dutt, Aamir Khan, Kamal Haasan… the examples are many. Come to think of it, there are many filmmakers who have tried their luck in front of the camera as well.
The latest example is Nishikant Kamat, who plays the main villain in John Abraham's latest release, Rocky Handsome. His portrayal of Goan drug lord and organ racket kingpin Kevin Pereira has been garnering a lot of praise.
Image Source: celebsandcinema
Here are some more examples of directors who decided to face the camera.
Prakash Jha
Image Source: postpickle
Prakash Jha made his acting debut with recent release, Jai Gangaajal. Along with Priyanka Chopra, who garnered a lot of praise for playing SP Abha Mathur, Jha's portrayal of Circle Inspector B.N. Singh was also hugely appreciated by fans.
Karan Johar
Image Source: healthyceleb
He may have had a blink-and-miss appearance in Dilwale Dulhania Le Jayenge (1995), but Karan Johar did a full-fledged role only last year, in Anurag Kashyap's Bombay Velvet. While he prefers directing family dramas and romances, KJo's acting debut saw him playing the villainous Kaizad Khambatta.
Farhan Akhtar
Image Source: healthyceleb
Farhan Akhtar is the most successful director-turned-actor among the lot. His directorial debut Dil Chahta Hai (2001) is considered to be a cult film. As an actor too, the same can be said about his first film Rock On!! (2008). Both movies went on to win National Awards. Akhtar's portrayal of Milkha Singh in the athlete's biopic Bhaag Milkha Bhaag (2013) established him as an actor of substance. His next, Rock On!! 2 is among the most anticipated movies this year.
Tigmanshu Dhulia
Image Source: quora
His hardly-there presence in Dil Se is a bit hard to remember, but no movie buff can ever forget Tigmanshu Dhulia's outing as the villainous Ramadhir Singh in Anurag Kashyap's Gangs Of Wasseypur (2012). The movie became a massive hit at the box office, and Dhulia's dialogues have slowly attained cult status over the years.
Anurag Kashyap
Image Source: Sify
Anurag Kashyap has been making cameo appearances in various films right from the start of his career. But it was only when Tigmanshu Dhulia offered him the main villain's role in Shagird (2011) that he was noticed as an actor. The film may have tanked at the box office, but Anurag's Bunty Bhaiyya avatar is still remembered.
Sudhir Mishra
Image Source: moviereviewpreview
He has always been counted among Bollywood's best directors, but did you know that Sudhir Mishra has tried his hand at acting as well? Yes; not many would remember his class act as Haji Bhaijaan in Madhur Bhandarkar's Traffic Signal (2007). The film didn't do well at the box office, but it was a big hit with the critics. Mishra is still appreciated for his negative role in the film.
Imtiaz Ali
Image Source: wesharepics
Getting someone to play Yakub Memon in Black Friday (2007) was a tough task for Anurag Kashyap, but he finally entrusted the role to his long-time friend, Imtiaz Ali. Ali was already a known face by then, thanks to his directorials Socha Na Tha (2005) and Jab We Met (2007). However, the filmmaker is yet to face the camera after that.
Farah Khan
Image Source: raftaar
Farah Khan has made many appearances in films, mainly as a stage dancer in the 1980s. Post that, she turned choreographer and even directed blockbusters like Main Hoon Na (2004) and Om Shanti Om (2007).
That's when Bela Sehgal offered her the lead role in Shirin Farhad Ki Toh Nikal Padi (2012). The romantic comedy saw an impressive performance by Farah (as Shirin Fuggawala), and that too, opposite a stellar actor like Boman Irani. Made on a minimal budget, the film turned out to be a decent hit at the ticket windows, especially with the Parsi community, on whom the story was based.
Kunal Kohli
Image Source: urbanasian
Having directed stars like Hrithik Roshan, Saif Ali Khan, Aamir Khan and Shahid Kapoor, Kunal Kohli finally decided to take the plunge as an actor with Phir Se. The film faced plagiarism row and couldn't be released in 2015. The Supreme Court asked Kohli to settle the matter with Jyoti Kapoor, who claimed that the movie was based on her script. The filmmaker agreed and the film is all set for release later this year.
Thumbnail Image Source: raftaar, healthyceleb & chavannichap