20 Years Of Film 'Bas Itna Sa Khwab Hai': Here Are 7 Unknown Facts About The Abhishek Bachchan Starrer, It's Cast And The Crew
Filmmaker Goldie Behl's directorial debut 'Bas Itna Sa Khwab Hai' starring Abhishek Bachchan completed 20 years of its release today. On that occasion, read some unknown facts about the film, its cast and the crew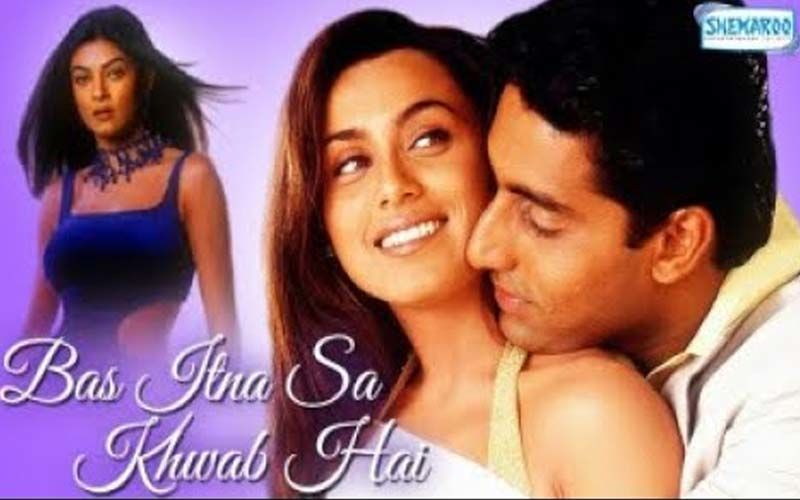 Filmmaker Goldie Behl's directorial debut 'Bas Itna Sa Khwab Hai' starring Abhishek Bachchan completed 20 years of its release today. On that occasion, read some unknown facts about the film, its cast and the crew. SpotboyE.com gets you all the scoop surrounding the film, its makers and others.
1. Director Goldie Behl and Abhishek Bachchan were family friends in the true sense of the term. The Bachchan patriarch was close to Goldie's father filmmaker Ramesh Behl. Behl Sr and Bachchan Sr together made movies like 'Kasme Vade' and 'Pukar'. Ramesh Behl also produced the superhit 'Jawani Diwani' with Jaya Bachchan in the lead. So it was natural that Abhishek plays the lead in Ramesh Behl's son Goldie's directorial debut.
2. Bas Itna Sa Khwab Hai (BISKH) though not without merit, it flopped. I warned Abhishek against doing films with friends. Here's what he had said: "It's okay. These , Goldie, Rohan Sippy (son of Ramesh Sippy), Gurudev Bhalla are guys I grew up with. Goldie and I working together is natural. I will work with him as long as he wants." Abhishek rationalized his personal choices overlapping with his professionalism. Abhishek did another film the super-hero saga Drona with Goldie Behl, 7 years later. It was an even bigger disaster than BISKH.
3. BISKH was the story a boy from Varanasi named Suraj and his corruption in and by the city. It was the first of many films that Rani Mukherjee and Abhishek did together. Rani played Pooja who epitomized innocence and unconditional love.
4. It was the other heroine in BISKH, the gorgeous Sushmita Sen, playing the worldly-wise Lara, who grabbed all the headlines without even trying to .At that time I was a very close friend of both Abhishek and Sushmita and hoped they would become a real-life couple. Instead Abhishek made Sushmita his 'Didi' and she was fine with it. When he married Aishwarya, 'Didi' was thrilled. "I'm so, so happy for my brother Abhishek, and Ash who has been a colleague and a friend for many years. We've virtually grown up together in the industry. Today, when she's finally taking the plunge, I feel she deserves to be happy. She's a wonderful person.It was while we were shooting Goldie Behl's Bas Itna Sa Khwab Hai that Abhishek adopted me as his sister... Or shall I say, I adopted him as my brother. He was very awkward about shooting with me in any other capacity, so I quickly suggested he make me his sister. Since then, he has called me Didi. And I love that. Today, when my brother is engaged and ready to take the plunge, I feel six feet tall. He's a lovely guy and deserves happiness." This was Sushmita's reaction when her "brother" was engaged to Aishwarya.
5. Jackie Shroff played the arch villain in BISKH . His character Naved Ali- a media baron who dreams of becoming the Prime Minister pre-empted a certain television journalist of this millennium whose power and arrogance spread fast. Says Abhishek, "I had to hero-worship Jackie Uncle. That was easy to do. He is intrinsically magnetic."
6. BISKH was not a bad film. It was way too ambitious for its own good. Recalls Abhishek, "When I look back on it I feel proud of it, and my association with Goldie and his sister Sristi. They are family. BISKH may not have worked. But that didn't deter us from teaming up again for Drona where Ma (Jaya Bachchan) played my mom. Flop or not, I am proud of BISKH and Drona."
7. During the shooting of BISKH Abhishek got into a spat with a press photographer. The Delhi police arrested two members of the film's team. Recalling the incident Abhishek had said, "In my heart, I knew I had done nothing wrong, so why was I dragged into the ugly incident? Ironically, when we went back to Delhi two months later, the same gentleman from the press who accused me of roughing him up, was our PRO for 'Bas Itna Sa Khwab Hai'. He even apologized for the incident."Calm and non-judgmental, Abhishek says he's in the film industry to act, not react to controversies and rumours. To anyone who asks me which side of the bed I sleep on, my answer is: none of your business!"


Image source: youtube/galaydhyare