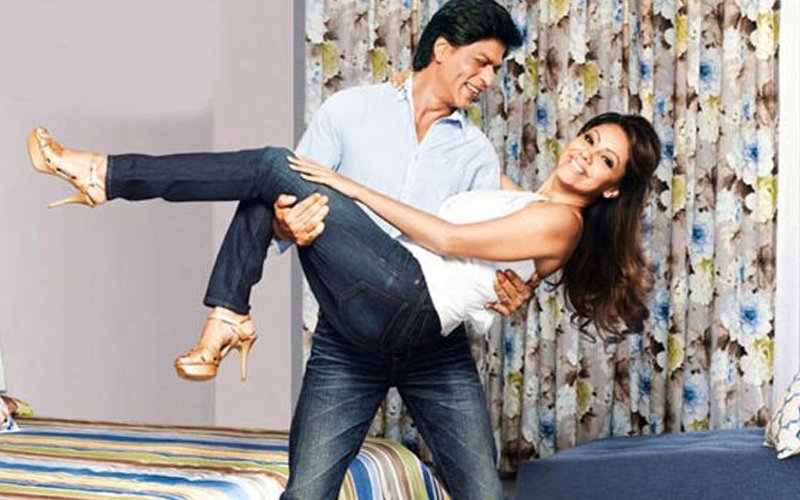 Gauri and Shah Rukh Khan are one of the few Bollywood couples whose marriage has stood the test of time and is nothing short of an inspiration. The couple who got married on October 25, 1991 completes 25 years of blissful married life today. On the occasion, we take you down memory lane and revisit some of the most memorable quotes that Shah Rukh shared about his wife:

1. Gauri and I have one thing in common. I like me and she likes me.



Image Source: mayapurionline

2. The children look like Gauri, but thank God they have my brains!



Image Source: srkgalaxy

3. I could lie and say my wife cooks for me, but she doesn't. My wife has never learnt cooking but she has great cooks at home.



Image Source: nettv4u

4. Whenever I fail as a father or husband... a toy and a diamond always works.



Image Source: nettv4u

5. I am obsessed with my wife, I love her body. She has me by my b**ls.



Image Source: planetsrk

6. We've known each other since 1984. That makes it what, almost 30 years? It cannot be defined. Gauri tells me that because of work, I've spent such little time with her that our relationship still seems fresh.



Image Source: newsdog

7. We are just flying with everything that life is taking us through... I have no idea how to be without this relationship. It's been so long. More than half my life. So it's indescribable.



Image Source: starsunfolded

8. Gauri and my relationship have been geared entirely towards raising our children. They've been our focal point and have literally kept our world intact.



Image Source: nyoozflix

9. To be a partner to a movie star means that you don't own them. And to continue to be like that without feeling belittled, smaller or unimportant takes a lot.



Image Source: proomipool

10. Basically, I love people. I love men and women, but it's not the kind of love that I have for Gauri. I think friendship, love and affection all mean to let everyone be! Gauri lets me be.



Image Source: wonderwoman

Shah Rukh Khan and his ways, we tell you.



Thumbnail Image Source: itims