Ajay Devgn-Vivek Oberoi Starrer Company And Tabu's Chandani Bar? Award-Winning Films That Are Instant Mood-Lifters - PART 50
Ajay Devgn-Vivek Oberoi starrer Company won many popular awards in 2002 while Tabu's Chandani bar won National Awards in 2003 including the Best Actress Award.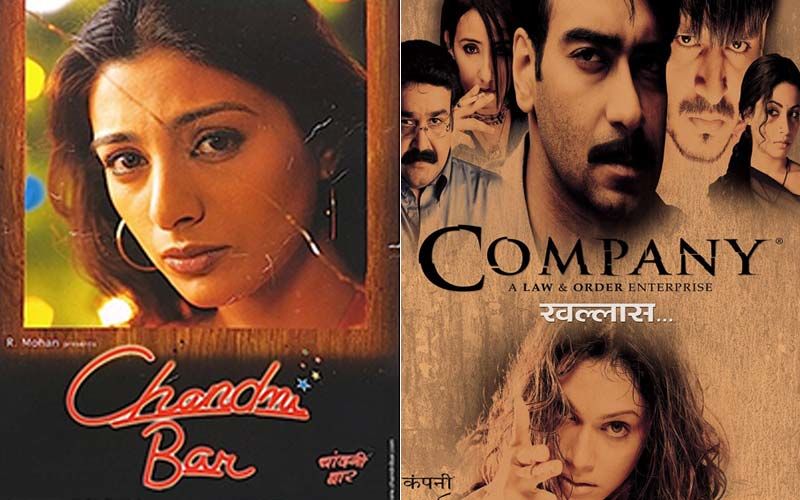 Company(2002): Ram Gopal Varma should have stopped making films after this. Company is an impossible act to follow. Never before has a Hindi film on crime and punishment achieved such an extraordinary synthesis of violence and poetry. Never again will we get to see an underworld film of such exceptional resonances that take us deep into the heart and mind of organized crime. Company is not just a film. And yet it is a complete film. Cinema as it was always meant to be: a visual medium of conveying psycho-spiritual reality. To that extent, Ram Gopal Varma's latest film achieves a sense of completeness of no other film by him. The characters, each portrayed with momentous authenticity and yet pitched at a level of almost sublime articulation, convey the rich depths of lives lived on the brink, gone in a blink. And yet they're tranquil lives, looking at their own doomed existence with detached wistfulness. Varma doesn't waste words or visuals. Straightaway, after a darkened subverted version of the James Bond credit titles with Urmila Matondkar doing what can only be described as an ominous dance of death, Company introduces the characters in feverish furtive flashes. Malik(Ajay Devgan) is the silently seething gangster who immediately takes on the volatile street hoodlum Chandu (Vivek Oberoi) under his wings. As the whole canvas of gangsterism unrolls with striking zest and an incredibly achieved vividness of images, the characters' history grows out of their body language and dialogue. Credit must go to the awesome cast that Varma has assembled. Every actor big or small instinctively grasps the aggressive-yet-poetic sur of the narrative to project a richly textured canvas of immense power and passion.
But before the actors, the technicians. First, the master-conductor Ram Gopal Varma has constantly forged new cinematic ground in all his films. With Company he achieves a level of narrative excellence that seems impossible to equal or beat. The sound design, the lighting of faces and frames, the exotic locations(which are used not as tantalizing visuals but authentic characters), Sandeep Chowta's extraordinarily expressive and assertive background music and above all, debutant cinematographer Hemant Chaturvedi's skills behind the camera come together to lend a luminous epic quality to the main text and subtle subtexts which run across this tactile tale of terrible tensions. The characters move in a strangely exciting circle of internecine violence. The director captures the bonding and the inevitable rupture in the friendship between the gangster Malik and his favourite protégé and right-hand man Chandu through a series of superbly crafted episodes all illustrative and yet fluently dramatic. Once Varma establishes the motivations of the characters, he moves on with telescoped urgency. The telling of the story is razor-sharp. We are never allowed to get bogged down by the complex synthesis of real-life theme and lyrical treatment. Varma moves with a splendid surety of purpose. And we get sucked into his deceptively energized world of organized crime.
Some sequences such as the one at the outset where Malik shoots a traitor and his brother in a car as the more emotional and compassionate protégé watches in mute horror, or the Khallas song (where Varma weaves a whole narrative design into the titillating framework) or Chandu's rooftop shootout in Mombasa (evidently inspired by Chota Rajan's ambush in Bangkok two years ago) are so skilfully cinematic that we miss the sheer "cinema" of the situations to focus on the characters' inner thoughts and conflicts. Undeniably Varma's film takes both the underworld genre and mainstream Hindi cinema far beyond conventions and formulas. To a large extent, he relies on his actors to communicate the flow and glow of a sanguinary lifestyle where anything can happen in a flash. Ajay Devgan's all-pervasive silences are so potent they make us forget everything he has done in the past. With a twitch of an eyebrow, a faint smile at the corner of his lip, or a subtle swing of his wrist he provides exact insights into the impregnable enigma of his character, as well as the character and profile of international crime. Manisha Koirala in the minimal yet critical role of Malik's mistress evokes great tenderness and curiosity. We want to know more about her. But it isn't this film's nature to go into tangential lives. Antara Mali who plays Chandu's wife surprises us in a couple of key sequences with an intuitive grasp of her character. The same is true of almost every player who gets under the skin of his or her character without scratching the sublime layer in the narrative. Mohanlal as the Keralite cop who treats crime as a disease is , as usual, incredibly credible. His philosophical look at crime could have easily lapsed into pulpit preaching. Mohanlal makes the cop seem so compassionately real! The only hitch is with Mohanlal's thick South Indian accent which often obstructs the flow of his profound thoughts on the politics of crime.
But it's Vivek Oberoi's debut that stands out the most in the gallery of brilliant performers. To portray the journey from brashness and bullying bravado to fierce loyalty and bitter betrayal and finally arresting atonement, isn't easy for the most seasoned of actors. Vivek brings to his author-backed character a zest and thirst that nurture and nourish the part of Chandu beyond anything by a debutant. It would be no exaggeration to say Vivek has achieved a rare blend of star quality and acting skills in his layered and complex roles. The look of tenderness that envelopes his face when he's with his screen wife merges effortlessly with the glint of ire that burns his soul at any sign of betrayal and treachery. Vivek's debut is indeed an event. The same goes for almost every frame of this nearly flawless crime drama that takes us deep into the hearts and minds of the tortured lacerated characters who live their lives on the edge. Ram Gopal Varma takes the plunge into the dark abyss without faltering for a second. The company will be recognized among the finest cinematic achievements of Indian cinema.
Chandni Bar (2001): In one of this heartwrenchingly earthy film's very real and traumatic episodes, the protagonist Mumtaz(played with such extraordinary brilliance by Tabu) who has lost her husband and self-confidence sits with her only friend a pimp(Rajpal Yadav) looking up and calling old clients to make some fast and hefty money for her son's release from jail. The abject humiliation and self-debasement of that ageing woman as she hears her friend whining over the phone with potbellied lechers on her behalf for a night of pleasure are so intense, we flinch as though we've been slapped in the face. Madhur Bhandarkar an ex-associate of Ram Gopal Varma earlier made a crude compromised commercial film called Trishakti. In Chandni Bar, he finds his metier, and in doing so gives Hindi mainstream cinema another original and absorbing raconteur in this, the most exciting year for Hindi cinema in the last 50 years. Bhandarkar's sharply moving and extraordinarily wry film delineates the journey through life's slush and potholes of a smalltown UP girl Mumtaz who's brought to Mumbai by her uncle and given employment as a beer-bar dancer. The director with his keen eye for visual details creates the titillating claustrophobia of a beer bar with its casually cavorting girls. In doing so he makes canny use of film songs over the decades. From 1985 when Mumtaz arrives in Mumbai to wriggle to Lata Mangeshkar's sensuous melodies to 2000 when Mumtaz is 'promoted' to the waitress while Alka Yagnik blares Dilbar Dilbar for the swinging bar girls, Chandni Bar features one of the most amazing Hindi film soundtracks ever.
But this isn't a provocative film about half-clad dancers simmering in discontent. Bhandarkar's looming narrative takes his memorable protagonist from innocent abandon to unexpected hope and faith and finally plunges her into tragic and irredeemable despair when, in one of the most brutally stark visual images seen in Hindi cinema, Mumtaz innocent teenage son is sexually abused in jail. One longs for patches of sunshine in this dark tale of dignity and hope in times of abject despair and abuse. Life for the migrant in Mumbai is shown to be so wretched, you begin to wonder if the good guys have abandoned the world that Bhandarkar builds. The script(written by Mohan Azaad) piles one savage injustice after another on Mumtaz's life, so that when the gangster Pothiya(National award winner Atul Kulkarni) comes along to first ravage her, and then marry her, we heave a sigh of relief. Thanks to Tabu's indescribably sensitive portrayal of lost innocence, we are completely sucked into his seamy semen-stained world of disgraceful exploitation. Astonishingly the beer bar which is at first a symbol of female degeneration and exploitation gradually begins to see a sanctuary for Mumtaz and the other dancers –a jiver's Jurassic Park where these girls(bonding with graceful giggles in a guttural environment) come together to share the pain caused by the brutish men in their lives.
There's always the danger that a film about female exploitation would end up being guilty of the very social disease that it sets out to castigate. Bhandar can avoid that danger to an admirable degree, thanks to the presence of Tabu. After her superlative-defining performance in Astitwa last year in Chandni Bar she once again proves herself to be the finest actress of the post-Shabana Azmi generation. One twitch of her lip, a slight movement of her eyebrow conveys a wealth of pent-up emotions and inexpressible anguish. There are no words in the dictionary to praise this international-quality actress. It's hard to say whether Chandni Bar would have worked without Tabu's script-defining presence. She gets very powerful support from Atul Kulkarni. Though his role of the volatile gangster echoes the unforgettable Bhiku Mhatre Kulkarni fleshes out the character with subtle humour and grim menace. The bar girls are played by an authentic-looking actress with compelling conviction. though a couple of them could have toned down their boisterous mannerisms. In a film that goes against stereotypes, we could have done without characters who are true to type. Minor flaws apart from Bhandarkar's film rip you with its brutal and unflinching honesty.
Sex which has been a primary source of sleazy titillation in mainstream Hindi cinema forever is depicted in Chandni Bar as a weapon of brutal barter. We can never forget Tabu's expressions of desperate self-loathing as she tries to use sex to get her son out of wrongful imprisonment. We can never forget Chandni Bar for portraying the sleazy life in Mumbai with such fluency and grace. True, the men in Mumtaz's life from her treacherous uncle(Suhas Palsikar) to her husband's vulgarly self-serving friends could have been portrayed a little less bluntly. But then we haven't really prepared a pretty and positive world for our children. Chandni Bar reminds us of this with savage grace.



Image source: IMDb, Youtube/Tseries/Tube/worldmovietrailerchannel