Amitabh Bachchan-Taapsee Pannu Starrer Pink And Radhika Apte Starrer Parched: Watch The Two For Some Power-Packed Performances- PART 53
Amitabh Bachchan-Taapsee Pannu Starrer Pink And Radhika Apte Starrer Parched, here are two films that will make you sit up and take note of the brilliant actors that the film industry has.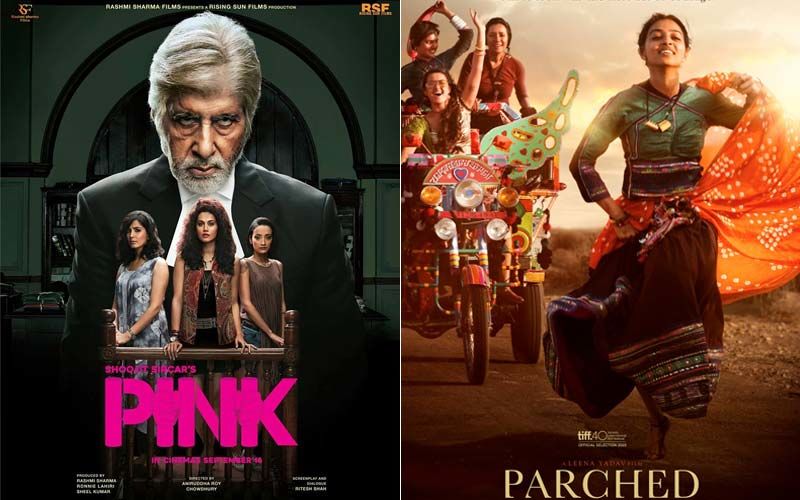 Pink (2016): How many films have you seen where you forget you are watching a film, where the line dividing the audience from the characters get so blurred as to make the distinction almost redundant? Pink sucks us so deep into its characters' lives that we come away breathless and anxious. For almost ten minutes after the end-titles, I couldn't move from my seat. I had just seen what three Delhi girls had gone through because they decided to have a fun night out after a rock concert with some boys. In Meenal (Tapsee Pannu), Falak (Kirti Kilhari) and Andrea(Andrea Tariang) I saw all our daughters, grappling with the befuddled notions of What Men Can Do, What Women Can't Do and what happens when women do what men say, women can't do. Pink is a very important film, and not only because it addresses gender issues with such caustic elan, biting away at patriarchal prejudices with such skill and efficiency that we don't even realize how much of the indictment the narrative presents against patriarchal bullying. It all comes out in a tumble in a rousing courtroom finale where the ageing but still sharp lawyer Deepak Sahgal (Amitabh Bachchan) with a dying wife (Mamata Shankar) in the hospital, provokes the spoilt rich politician's scion (Angad Bedi, sufficiently credible) to say why it is ok to force yourself on a certain type of "loose" women even if they say no to your advances. But then here's where the narrative plays out the greatest lesson without glee or glory: when a woman says no to sex, it is no. Period. So stop right there. Just because that girl you've been staring at for much more than 14 seconds is wearing a short skirt and laughing loudly and drinking and cracking a dirty joke at a party where "nice" girls are not allowed, it doesn't mean she can be forced to have sex with you. It would have been the easiest thing in the world to draw sharply polarized moral sides in the battle between the victims and the predators, the three hapless Delhi girls and their lecherous uncivil hedonistic attackers…that would have been the film which director Aniruddha Roy Choudhuri could have made if he wanted his film and the audience to remain in the comfort zone. Pink takes us beyond, far beyond, black and white. Into an area of exposition on gender discrimination where it is hard to deify the victims and demonize the aggressors. This is where this film scores much higher than other remarkable treatises on Sex & The Single Girl. The three protagonists in Pink are no lip-biting sympathy-seeking urban cowgirls. They've their weaknesses, their blind spots. They like their fun. But must they pay for it? They stand up to that one truth which the Big B's legal rhetorics help us ingest: a girl can be any way she wants to be. She could have sex with as many partners as she likes. She still has full authority over her body. So next time a guy thinks a woman is of "that sort" he should think again.
Pink grabs our collective biases and age-old notions about permissible boundaries for feminine behaviour by the shoulder and shakes them hard. This a film that can change gender equations in our society. The first half creates an atmosphere of terror through little scenes that convey so much of the truth about gender inequality and sexual politics without sweating over the drama generated in the cinema of this sort. The background score is minimal and mellow, almost scoffing at our perception of High Drama associated with cinema on male oppression. Aveek Mukhopadhyay's camerawork is so majestically unobtrusive it takes us into the heart of Delhi without getting emotionally drenched in the journey. The narrative is constantly in a hurry to get on with the story. Yet there are poignant pauses in the plot…like the time when Mr Bachchan and Tapsee are jogging she covers her face with her jacket's hood after a passerby makes a comment, and he uncovers it. Ritesh Shah's dialogues question flagrantly patriarchal values with cool authority. Mr Bachchan's sardonic arguments in the courtroom are especially edgy and devastating. This brings us to the performances. Each actor big or small brings such vast amounts of credibility to his or her part that you are left with a feeling of having witnessed a surge of unostentatious excellence. The neglected Kirti Kulhari comes into her own as Falak with a lot to conceal in her life. Kulhari plays the character with such moral equity she leaves us no room to judge her blemishes. Her break down in the courtroom will shake every member of the audience, man woman or child. In contrast, Tapsee Pannu who plays the main target of gender assault sheds no tears. She conveys her character's textured torment with the austerity of expression that is remarkable. Andrea as the girl from Meghalaya who gets caught in the vortex of a murky scandal is the portrait of vulnerability. But it is finally the mighty Bachchan who holds the key to this remarkable film's incontestable power and efficacy. He is the voice of reason and the conscience of a morality tale where right and wrong are not easily identifiable. Yet when he sets forth reasons as to why a no from a woman means no, we are looking not at a rousing courtroom performance but a voice that ricochets through generations of patriarchal smugness. Pink offers us no easy comforting solutions to the issue of women's safety. Should a city girl feel safe with a guy who is well-dressed and from a well-to-do family? Is it okay to be friendly with a man a girl hardly knows? Pink poses questions and leaves the answers hovering in the sphere of intangibility. Gripping from the word go Pink possesses an emotional velocity regarding the theme of violating a woman's private space that we last saw in Tapan Sinha's Adalat O Ekti Meye. That was 30 years ago. As we can see in Pink things haven't changed much over the years for women in this country. Gosh, is Pink the best film we'll see this year? It probably is. So don't even think about giving it a miss. Don't walk out during the end-titles you will miss out on two vital experience. Of knowing what really happened "that night" and of hearing the Bachchan baritone recite Tanveer Qausi's powerful poetry on feminine awakening.
Parched (2016): Long after Parched played out its poignant plot, I kept thinking about the four women at the forefront of Leena Yadav's sparkling saga of patriarchal tyranny. The enduring grief and the brief bouts of buoyancy that Rani (Tannishtha Chatterjee), Lajjo (Radhika), Bijlee (Surveen) and Janaki (Lehar) carry with themselves, lingers in our hearts and minds long after the last frame of Leena's luminous work dies down. The film is shot with such inescapable beauty by Russell Carpenter(who moves with fluent fecundity from the soggy sappiness of Titanic to the parched desert-scape of this walloping work on women's empowerment) that you fear for the inner lives of the characters. Would their emotional existence be able to withstand the sheer extraneous splendour of the storytelling? The answer, my friend, is blowing passionately in the winds. The winds of change, if you will. Parched is shot on location in the hearts of a glorious gallery of women who seem to have emerged from generations of oppression and longing into a tremulous, dim yet restorative and nourishing light to claim a place in the blue open skies. Parched is a melancholic yet sunny meditation on feudal mindsets where women are treated as objects of recreation and contempt, to be used and discarded world. It's a brutal life for the childless Lajjo who gets thrashed by her sodden husband regularly, for Bijlee the nautanki sex worker who satisfies masculine lustful urges at the drop of a ghagra, Rani a mother at 14 a widow at 17 and now a discarded hag at 35-plus, and tender little child-bride Janaki who is yanked from her parental home and raped by her randy drunken teenage husband(Riddhi Sen, outstandingly loutish) who visits prostitutes, discusses his wife's breasts with his friends and brags, 'I am fulfilling my husbandly duties even when I don't like my wife.'
Significantly, writer-director Leena Das creates two parallel universes for her women heroes. They are crestfallen shrivelled dying flowers in their stifling domain of domesticity, but they blossom like summer flowers once together on joyrides in the outdoors, navigated into surreptitious excursions into ecstasy by the feisty Bijlee(whose heartbreaking love story, a Teesri Kasam gone terribly wrong, could have constituted the entire film). The bustling cosmos that Parched creates comes dangerously close to over-reaching itself. Leena Yadav exercises enormous control and a profound empathy over the narrative. In this endeavour she is vastly aided by editor Kevin Tent who displays remarkable ruthlessness over the cluttered material, leaving room for not a single superfluous moment. Parched flows like a child's tears, unmotivated, unalloyed, unhampered, often without a reason and yet so heartbreaking. It mirrors harsh home truths and dares to delve into areas of rural oppression and gender brutality that are normally not seen to be "relevant", or seen to be too relevant to the matter. In a sense, Parched mirrors the other side of the truth about sexism and the single girl from what we saw last week in Pink. The women in Leena's film are not sophisticated or urbane enough to fully fathom let alone deal with their horrendous plight. Their sexual oppression goes hand in hand with their sexual innocence. The way these women discuss their bodies and the sex act or reach out for tenderness to countermand male brutality (I am sure they don't know the word 'lesbian') has never been seen in any Indian film, at least not the ones I've seen. There is also a curious reversal of societal ground rules where women are often seen to be the worst enemies of their own gender. In Parched all the women share a terrific kinship including Tannishtha's character with her bed-ridden dying mother-in-law. Moving and counter-enforcing gender stereotypes, there is a stirring stimulating energetic and erotic energy flowing out of Parched, as though the storyteller decides to pull out all stops to let her women characters speak their minds and act out their innermost fantasies, including one of the female heroes strange visit to a 'Mystic Baba'(Adil Hussain, suitably magnetic) who impregnates her. The sequence, a highpoint in the hoary history of female eroticism in Hindi cinema, is shot with spiritual grace.
Curiously the film's physical look reminded me of Kalpana Lajmi's Rudali while its spiritual personality echoes Shyama Benegal's Ankur especially the preamble where Sayani Gupta in a heartrending cameo, is forced by her parents to return to her sadistic Sasural. A lot of Leena Yadav's tradition-scoffing narrative works because of her actors. The ever-dependable Tannishtha and Radhika are magnificent. Their empathetic erotic sisterhood is heartbreaking in its desperation. Radhika's comfort level with her physicality is stunningly refreshing for an Indian actress. When was the last time you saw an Indian actress slip out of her blouse facing the camera? Pain and pleasure are often seen sharing a confounding marriage in Apte's performance. She jolts us with her honest performance. But the real surprise and the firecracker performer is Surveen Chawla. She furnishes her character of the devil-may-care prostitute with quality of sublime seductiveness and unbridled sassiness. The brilliant screenplay provides Chawla with enough meat and she chews on the scenes hungrily. Watch her when she barges into her friend Rani's son's wedding and is greeted with snickering contempt, or that sequence was slighted by a younger woman's entry into her seductive domain, she taunts her besotted admirer Rajesh(an excellent Chandan Anand)….Surveen Chawla plays the best whore I've seen since Kareena Kapoor in Chameli. I am not too happy with the way some of the male characters are painted in red, hastily relegated to a brutal zone just to play up the heroines' stunning sisterhood, which per se is enchanting. In one sequence Tannishtha and Apte egged on by Chawla question all the maa-bahen gaalis and loudly and defiantly shout out their masculine versions. Yes, the censor board was listening. But there is a difference between Anurag Kashyap's brand of punctuated profanities and the free-flowing rhythms of mischievous stolen furtive kinship shared among women who have never seen better days, and never will. Parched celebrates the joie de vivre of shared grief among women who live their wretched lives on the edge and are only too happy to topple over when pushed and provoked. Sometimes, feminism doesn't need a full-blown messianic clarion call. A little tug, a firm push will do. Parched hits us where it hurts the most. And I don't mean below the waist.
Image Source: Imdb, youtube/ajaydevgnfilms/timesmusic