Anurag Kashyap Directed Gulaal And Vijay Varma Starrer Bumfaad: Two Neglected Mofussil Dramas To Watch During The Weekend Lockdown-PART 73
In our 73rd edition of lockdown blues chasers, we have two neglected mofussil dramas that you watch during the weekend. Read about Anurag Kashyap directed Gulaal and Vijay Varma starrer Bumfaad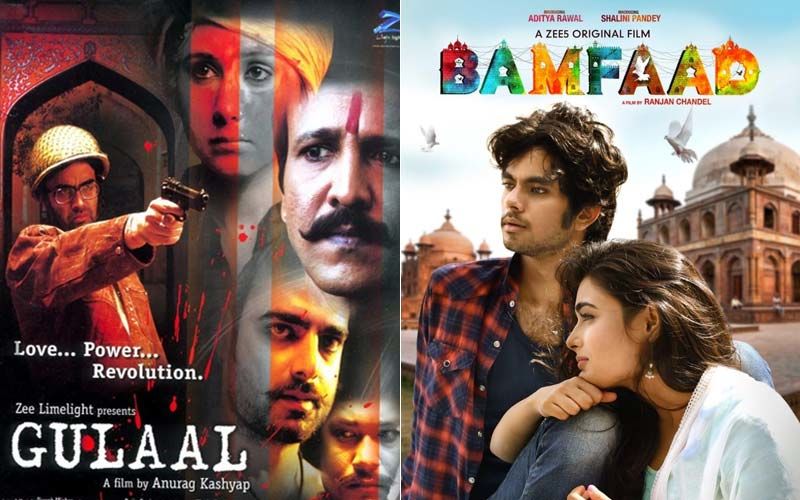 Gulaal (2009): "Gulaal", which is about student unrest and intense politicking emblazons itself across the screen as a deft and brutal film, on the culture of decadence in a typical north Indian setting. And it spares no room for niceties as it is a powerful portrait of a culture that thrives on bullying tactics. The homage to the cinema of Vishal Bhardwaj is rampant in "Gulaal". Somewhere in the brilliantly cohesive soundtrack we even hear strains of Lata Mangeshkar's "Pani pani re" from Bhardwaj's "Maachis" in the film where life is lived by the gun and the mantra for survival is deception. The world of "Gulaal" is crowded, claustrophobic and potent. The writer-director spares us none of the details in bringing to life a world where unlicensed guns and unchecked lawlessness rule. This is the kingdom of anarchy. Enter at your own risk. In many ways, Anurag Kashyap's portrait of a world on the skids is borrowed from the mafia films of Martin Scorcese. The same disregard for human life defines Kashyap's collage of queerly egocentric characters in "Gulaal".
In "Gulaal" human lives get snuffed out with anarchic disdain. The location and mood are perfectly pitched to deliver an ambience of uncouth vigilantism. Men who are mean because it's their only trick of self-preservation and women who scheme against unsuspecting men by using their sexuality tumble out of the crowded canvas. Kashyap's narrative provides us with no full stops. The editing by Aarti Bajaj is so relentless in its pursuit of variable moods and situations that the audience is often left behind in efforts to keep track of the goings-on. The soundtrack too perpetually races ahead of the visuals. Shakespeare meets Quentin Tarantino in "Gulaal". With "Dev D" and now "Gulaal", Kashyap has proved himself a master of basic storytelling. He pulls the plug on cinematic pleasantries and takes us straight to the core of the characters, often rotting and evil.
The royal politics of separatism rubs shoulders with the politics of sex and power in a heady brew that the Shakespearean tragedies had patented a century ago. And yet, Kashyap's stimulating cinematic language embraces its literary antecedents without losing focus on ugly facets of contemporary Indian life. Kashyap begins with college ragging when we are introduced to the callow hero Dilip Singh (Raj Singh Choudhary) who's locked up by a bunch of bullies with a naked woman (Jesse Randhawa). The two strikes an empathetic cord that takes them on a nightmarish journey through the scummy world of north Indian politics where brother kills brother and love gladly betrays love. Gulaal" is many things at the same time. As a portrait of small-town politics, it bludgeons you with its lethal mix of grimy morals, slimy characters and perverted politics. The stench of corruption is conveyed with the same intensity as the odour of sweaty bodies running through dirty gullies in pursuit of the next victim.

Bamfaad (2020): The comfort of the familiar is not what makes Bamfaad watchable. It is that recycled yet raw energy of the small-town passion-play that gives this feral romance a cutting edge. When we first meet the young hero Nasir (debutant Aditya Rawal), he is an aimless and brawl-friendly lout, a problem child for his worried parents who, for a change, are no walkover. In fact, Nasir's dad (played with marvellous restrain by Vijay Kumar) is a powerful town-member so that when Nasir flips for the don's girl, the tussle that ensues is not one between the have and the have-not. Nor do we get into a Hindi-Muslim tangle here, though a creepy cop , after a sequence where the fugitive lovers are humiliated in hotel room a la that brilliant Haryanvi film G Kutta Se. There is a more delicately drawn power-play at work in this drama than we generally see in films about star-crossed lovers. This is a story that wants to be told. And it gives its truckload of characters ample breathing space to grow into a substantial drama. I wish director Ranjan Chandel had avoided the songs which don't only break the metre of the sanguinary tale but also remind us that at the end of the day a film is film is a film…

The two youngsters do well for themselves. It won't be right to declare the lanky Aditya Rawal a chip of the old (Paresh Rawal) block yet. But he conveys a certain sincerity in his anguish and an anguish in his moments of sincerity. Shalini Pandey who got slapped around by Vijay Deverakonda in Arjun Reddy gets gets roughed up by Vijay Varma who makes the criminal's character just sympathetic enough to not wish him a horrible death. The best performances in this stealthy saga of love and betrayal come from Verma and Jatin Sarin, the latter as a chameleon-like fence-sitter who changes sides according to convenience. There are lots of small-town clichés floating around here. Lots of bare feet facing the camera, uncouth types spitting , etc. And yet for a film that seeks inspiration from Sairat and Arjun Reddy, Bamfaad has some surprises in store including an unforeseen ending and a subplot about a lovestruck local Majnu who misreads the writing on the wall. Literally. With calamitous results.



Image source: IMDb