Anushka Sharma's NH10 And Sushant Singh Rajput's Detective Byomkesh Bakshy; 2 Gripping Thrillers To Keep You Hooked During The Lockdown-PART 40
Anushka Sharma's NH10 And Sushant Singh Rajput's Detective Byomkesh Bakshy are two films that you must add to your must-watch list. Stellar performances and a gripping storyline will keep you glued to your screens.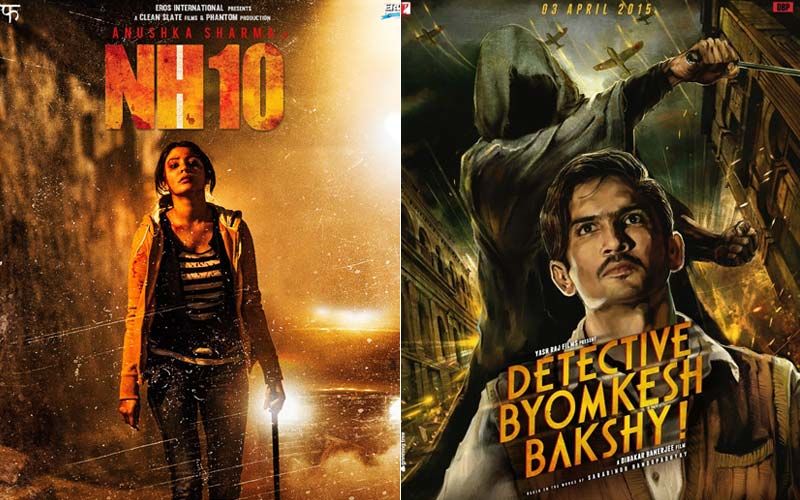 NH10 (2015): In a sequence laden with off-screen irony Anushka's character Meera lights up a cigarette while battering her adversaries to a pulp. The ticker on the screen informs, 'Smoking Kills'.And you smile at the sheer mundaneness of the declaration amid such devastating life-taking havoc. There is so much in life that kills especially when you pitch the haves against the havocs. When was the last time you were scared, really scared while watching a film? Forget the creaky gates, flapping windows and banshee wails of the so-called horror movies which are manufactured with assembly-line monotony. The real horror resides on the roads and highways where marauders and prowlers lurk with all the evil force of modern-day servants of satan in search of prey. As a road thriller about a couple waylaid by criminals on a bleak stretch of highway outside Gurgaon, NH10 holds a great amount of riveting resonance. As a thriller that tears into the monstrous gender inequalities that engender gruesome crimes such as 'honour killing', NH10 puts forward an even stronger case. This is the beauty of this dark and passionate film. It works on multiple levels without evoking a self-conscious attitude of moral altitude. At the outset, we see the well-to-do couple Meera (Anushka Sharma) and Arjun (Neil Bhoopalam) take off on a celebratory weekend. It is Meera's birthday and boy, what a birthday it's going to be for her! By the time her car-wreck of a holiday stutters to a heaving sadistic halt Meera has lost her husband and has mowed down a slew of bigoted sociopaths.
The night ironically ends when Meera's revenge is complete. By the time you get even with your enemies, the act of vendetta loses its relevance. That's the way life is. That's the way life teaches us to exercise self-control. Turning a blind eye is one option of survival that Bhoopalam's character refuses to exercise. He looks for trouble. He can't turn away. The film triumphs on every level, beginning with the script by Sudip Sharma which portrays both the gleaming glory and the gory side of Gurgaon in one deft and lucid range of vision. The film is so authentically shot by cinematographer Arvind Kannabiran that oftentimes we forget the locations, the people and situations are trapped in the frames of a film. The narrative has a sense of jump-out vigour and ruggedness that enthrals you and rivets you to the goings-on. The dialogues range from the brilliantly ironic to the unmistakable authentic. When at the beginning Meera's car is attacked by two motorbike-riding adventurers the cop sighs and says, 'Gurgaon is like a growing infant. It's bound to jump around.' Just how the rapid growth of the industrial jungle affects the lifestyle of the suddenly-affluent classes is one of the serious sub-texts of the film. You can look for a deeper relevance to nearly every sequence and come away richer.
NH10 is a relentlessly thoughtful constantly edgy and dramatic telling of an urban fable, so real and yet so cinematic that you feast on the ferocious twists and turns wondering how Meera will ever wriggle out of her night-long nightmare. During the film's stunning playing time when she desperately seeks help from cops and civilians and finally the slippery hard-of-hearing sarpanch of a village (Deepti Naval, in a refreshing change of image) Anushka Sharma has a 'wail' of time sinking her teeth into a part that gives her a chance to play the hero without losing her femininity. She is in walloping good shape here especially in her outburst scenes when she climbs a rocky mountain to escape her tormentors or her scream of bloodcurdling protest after her husband's death. Darshan Kumaar as the blood-thirsty 'honour' killer will freeze your blood. This very talented actor has too little playing time on screen. Neil Bhoopalam, usually such a fine actor, here behaves more like Anushka Sharma's fan-boy than Meera's husband. It's the only false note in a film rooted in chilling realism.
A meanness of spirit pervades the arteries of this remarkably clenched film. A word of praise for the censor board for not tampering with the scenes of brutal violence, some of which involve gruesome violence against women. You can't have a film on the theme of 'honour killing' without showing the sheer brutality of a patriarchal system of a lawless existence. Director Navdeep Singh whose last and only other feature film was Manorama 6 Feet Under, here creates a heroine who is…well, Meera 6 Feet Tall. Chilling, nerve-wracking, NH10 re-defines the thriller-horror genre. The scenes of violence with or without Anushka and Darshan Kumaar's combustive violence, display the kind of unalloyed starkness that Govind Nihalani or Dibakar Bannerjee (remember that episode on honour killing in Love Sex & Dhokha?) would approve of. There is much to commend in this dark tale of a woman's night out with psychotic killers. Most of all, it coils its serpentine narrative around its character with such sinewy charm that you come away from the experience shaken, stirred and sobered down. In one compassionate little scene, an impoverished couple saves Meera from sure death. Such moments of kindness are rare. In the film as in real life. Hold on to them.
Detective Byomkesh Bakshy (2015): As layer after layer of intrigue and mystery are peeled off this Chinese puzzle of a movie, you are finally left staring wide-eyed and open-mouthed at a work of wondrous art. Exquisite in form, compelling and at times deeply impenetrable in content Detective Byomkesh Bakshy(DBB) is what a whodunit was meant to be all along. Somehow Hindi cinema never got down to doing a real murder mystery before this. Maybe the genre waited to be cracked by the deftly disingenuous Dibakar Bannerjee. To get to the bottom of that mystery—of why the murder mystery never came to fruition before this—we must wait for the film on the desecration of the whodunit in Bollywood. But for now. Here it is. Ladies and gentleman, unveiling the smartest smoothest and slickest and the most slippery whodunit in Hindi cinema's living memory. DBB is a stubbornly placid tale of an iconic detective who seems to know more about Kolkata and its underworld than any authority of or on the metropolis in the 1940s. The film's writers and I do mean Urmi Juvekar and Dibakar Bannerjee and not Sharadindu Badhopadhyay who penned the original detective novels, lend a gripping flow to the narrative by bending the plot into shapes that are not recognizable or definable by the rules of the genre….at least, not the way we've so far perceived the murder mystery in Bollywood. Smells, sights and especially sounds emerge from the storytelling with a casual flair for making the obvious look subtle and the innocuous, dangerous. Wickedly misleading and yet resolutely clear-headed even as the detective-hero and his reluctant assistant Ajit Banerjee (Anand Tiwari) gambol from one suspect to another to piece together a mystery that has no reference point and certainly no history, this is a film that requires us to abandon all attempts to be one-up on the narrative. We have no choice but to go with the writer's whimsical flow.
From the seeming ebbing and swelling of the narrative tide, Dibakar seems to derive a huge amount of unprecedented narrative power. The film moves across a luscious labyrinth of sensuous experiences. Kolkata's grime and sweat are captured in crumbling guest houses and rickety warehouses where crime is a desirable reality only because the other option is ennui. The narrative creates a feverish aura of frisson and power- play in the way the characters appear to respond to the socio-political and economic reality of Kolkata in the 1940s. It would be an insult to the film to say the period is created with unhampered pitch-perfection. Because not for even one shot do we feel the hand of the art director in shaping the Kolkata of the era gone by? Dibakar's old Calcutta of trams and self-important bustle emerges not from cinematic pulls and pressures but from its own volition to create a world where the characters do not seem to pose in the clothes and mannerisms of the time. They just seem to be there from long before the Dibakar Bannerjee school of filmmaking came into being.
Providentially Sushant Singh Rajput seems to intuitively comprehend what the director and his brilliantly articulate cinematographer Nikos. Andritsakis have set out to do. Sushant doesn't simply get into the detective's skin. He inhabits every nook and corner of the character. With due respects to the vivid portrayal of Byomkesh by Rajit Kapoor in the Doordarshan serial of the 1980s, Sushant is officially the face of Byomkesh. He owns the part as much as Kinglsey owns Gandhi. A pity he didn't live to play the detective again. Particularly riveting are Sushant's scenes with the extraordinarily brilliant Neeraj Kabi. When they are together on screen we are looking at neither actor as they both take us to a distance far away from their spoken words. Swastika Bannerjee's movie-star impersonation is filled with coquettish grace. The performance comes dangerously close to a caricature but is miraculously taken into the zone of nostalgic seduction. And yes, Anand Tiwari as Byomkesh's sidekick looks flustered and tired enough to convince us that the only thing the young in the country can do to avoid catastrophe is watching films while the country burns. A scintillating synthesis of the cerebral and the sensual DBB is an enigmatic whodunit cooked on the slow burner at a tantalizing temperature. Dibakar Banerjee's Kolkata pulsates with a heart, soul, body and nerves of steel. It's a difficult world to inhabit. But once you are in, you are in it for good.





Image source: IMDb, Youtube/ErosNowMusic/YRF
They say the best things in life are free! India's favourite music channels 9XM, 9X Jalwa, 9X Jhakaas & 9X Tashan are available Free-To-Air. Make a request for these channels from your Cable, DTH or HITS operator.