Ayushmann Khurrana Starrer Andhadhun And Tumbbad: Two Intriguing Stories To Keep You Entertained Ahead Of The Weekend-PART 70
Check out our 70th edition of Lockdown blues chasers. We have Ayushmann Khurrana starrer Andhadhun and the film Tumbbad; two interesting stories to chase away your lockdown blues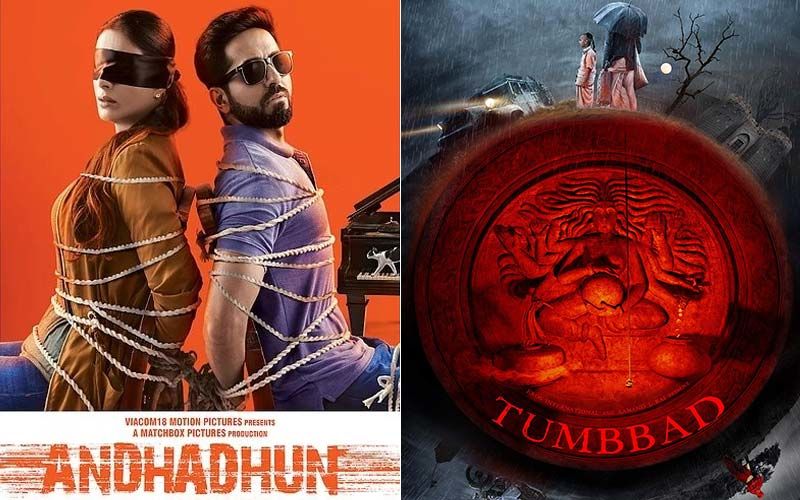 Andhadhun (2018): Take a deep breath. Now, brace yourself for an experience that simultaneously defies and defines all the rules of the suspense genre. The last time director Sriram Raghavan took us on a similarly clenched suspenseful rollercoaster ride in 'Ek Haseena Thi' the moral compass was far less askew. Here in Andhadhun every character barring Radhika Apte's, is prone to bouts of shrill moral discrepancy that leaves us stunned. Now where did that come from! I found myself asking this question at least a dozen times as I sat frozen in my seat resigned to the frenzied flurry of fate and serendipity that guides this utterly unpredictable tale of unhampered hankerings and unstoppable calamities. But hang on. How do I review this film without giving away the plot? Andhadhun is a spoiler's paradise. There are so many twists in the plot that a more apt title according to me, would be Aao Twist Karen (for the record, the directors confirms this was a title seriously considered). And none of these twists and turns in this sharply curved thriller is a red herring.
Everything and nothing makes sense in the morally unhinged world of Sriram Raghavan. People kill maim hoodwink and betray the unsuspecting at the drop of a hat. The film's hero is a blind pianist, played with eclectic aplomb by Ayushmann Khurrana. We soon get to know the blind pianist is not blind after all. Though mercifully he remains a pianist right until the bitter battered finale when nemesis is no longer willing to stay huddled in a corner. Raghavan's talented team of co-writers (Arijit Biswas, Pooja Ladha Surti, Yogesh Chanderkar) take the kinetic plot all over the pace without losing its bearings. Just when we are getting to know the blind pianist, the narrative introduces a smouldering femme fatale, played by the resplendent Tabu, and her aging superstar-husband whom she may not want around for too long. You know how these femme fatales are?
Before I move on—as this film constantly forces you to do—I must take a break to say that casting the 1970s' star Anil Dhawan as the fading suprerstar Pramod Kumar is a masterstroke. Dhawan has the hits and his character is as emptied of heft as an artiste as Dhawan was in his heydays. Raghava loves to adorn his thrillers with retro embellishments. In Johnny Gaddar, he some used the 1970s' hits with telling impact. This time in Andhadhun, Raghav pulls out all the stops to envelope Anil Dhawan's character with a swirling retro-heat. Songs, scenes from Anil Dhawan's starrers swish by in tantalizing glimpses. And to hear Ayushmann sing and play 'Ghuzar jaye din' from the Anil Dhawan starrer Annadata, is a joy that the grey-black characters cannot thwart. This cannibalization of cinema history with fiction is in keeping with the narrative's mood of yoking personal details from the characters' lives with flights of fictional fantasy. We know the pianist-hero is not what he seems. But just how far his deception goes comes a shocker. No one except the surprisingly insipid Ms Apte is to be trusted. There is a game-plan behind the seeming placidity that every character demonstrates. The remarkable fusion of colours and moods lends a blended brilliance to the frames. In one sequence, the blind pianist plays on as a dead body appears in the frame. Red wine and blood mingle on the floor. Elsewhere, an old woman is hurled to her death from a skyscraper. As investigations go on, an abandoned schoolbag lies on the floor. Probably, some kid who was hastily bundled back home after the crime. Death is never far away from the characters. They live with the fear of losing their lives. But they do not allow that fear to overrule their avarice and ambitions. This feeling of un-trapped trepidation runs deep into the script. Even when the second-half becomes less elegantly chaotic than the first the narrative never fails to keep us on our toes. We never know what may happen next in this saga of the raga and retribution, told with a verve and velocity that the suspense genre has never experienced before in Hindi cinema. So if you've been wondering why suspense films in Indian cinema seem so amateurish think no more. Andhadhun is everything that a murder mystery should be. Filled with morally reprehensible characters including an absolutely debauched cop (Manav Vij, dazzlingly slimy) it doesn't try to impress us with the right moral values. God is on leave. And goodness is on a hunger strike in this film about greed passion and nemesis.
Tumbbad (2018): What on earth is this? This….this….magnificent creature masquerading as a movie haunts your senses for long after the closing images of raging destruction in the stunning finale. Little wonder that the incredible Anand Gandhi who created—no, I won't use the mundane word 'made'—the astonishing The Ship Of Theseus, is closely associated with Tumbbad. The visual imagery of this film is incomparable. Perhaps, Sanjay Leela Bhansali on a particularly anxious night, would think up the visual language of Tumbbad. Raging and divine, Tumbbad looks like a universe that God created and forgot to put on the human map. Feverish and fertile, this is a work of luminous lunacy. A parable on greed, lust and lustful greed, this magical mystical film weaves layer after layer of drama based on illusion, subterfuge and self-delusion. The vortex of the violently intense drama are two anti-heroes: greed and a man called Vinayak who fornicates (in a manner of speaking) with an evil God. And if that strikes you as an oxymoron , then be prepared for more of the same. Tumbbad offers a tumble of overweening contradictions . It captures of chaos of a world governed by greed and the rapid fall of a man who knows no other God larger than greed.
Based on a folklore about a banished blacklisted God and a man who thinks gold coins are all one needs to be happy, the plot creates a blinding blur at the borderline between Good and Evil. This is a world ruled by the craziness of a rudderless God. Repeatedly we see Vinayak spiralling down a dark sinister well, the most frightening descent into a man-made hell I've seen in cinema. Co-directors Anand Gandhi and Rahi Anil Barve have dared to enter a world that on paper seems impossible to render visually. Yet, they've done it! A large share of the credit for the film's visual resplendence must go to cinematographer Pankaj Kumar (who also shot The Ship Of Theseus). To translate into visual terms the devastating images of satanic hankering seems like an impossible feat. Just how he film's visual magnificence is achieved is a thing to behold, beyond any attempt to define or explain.
Tumbbad is shot in rain-infested ruins that manifest the dismantling depravity of a civilization on the brink of a moral breakdown. Standing at the centre of this universe of damnation is Vinayak performed with such brutal brilliance by Sohum Shah. Is he not among the finest contemporary actors of India? To handle with such ferocious fluency the diabolic complexities of a character so steeped in greed … and then there is little Mohd Samad as Vinayak's son. The young actor is required to express an overweening desire to grow into negative adult emotions without losing his character's innate innocence. Shah and Samad are jointly exceptional. But the film has many other heroes. The bleak landscape bleeds a monsoonal tragedy suggesting ruin and diobolism, Ajay-Atul's background score is so evocative and articulate, easily the best I've heard in a recent Indian film. But above all this film is a writing triumph. It wrenches the supernatural genre from its roots and transports it into a land so eerie and enchanting, I felt I was suspended between a startled sigh and a satisfied swoon. If you think cinema is predominantly a visual medium then don't missTumbbad. It creates images of darkness and despair with the ripe immediacy of tree laden with fruits .Fruits that you may perhaps never taste again.



Image source: IMDb, Amazon