Deepika Padukone's Padmaavat And Akshay Kumar Starrer Pad Man; Two Interesting 2018 Releases To Keep You Entertained During The Weekend-PART 62
Our 62nd edition of Lockdown blues chasers is out! Deepika Padukone, Ranveer Singh and Shahid Kapoor starrer Padmaavat and Akshay Kumar's Pad Man; Read about the two interesting 2018 releases you can watch during the weekend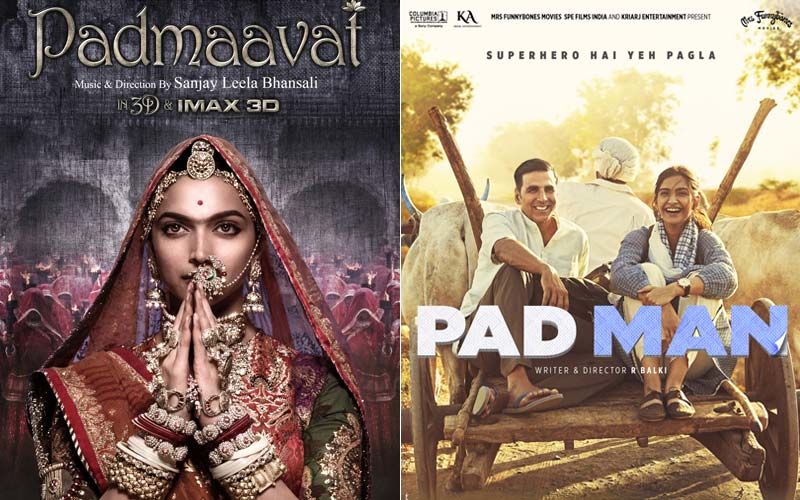 Padmaavat (2018): For my money, there is no contemporary filmmaker with the vision and velocity of Sanjay Leela Bhansali. The man makes every frame in his cinema seem like a wondrous timeless work of art. As in all his films there are visuals in Padmaavat that will be remembered for all times to come. And this is as opportune a time as any to salute Bhansali's cinematographer Sudeep Chatterjee who is a magician, a visionary par excellence who can put on screen images that poets and painters put into their creations when at the acme of inspiration. Almost every moment in the story that Bhansali tells of the royal Queen Padmavati and the Islamic invader who lusts after her, is pure magic. The mesmerizing mise-en-scene hooks you from the word go when in a spellbinding introduction, the Queen on a hunting trip manages to wound Raja Ratan Singh, in more than one. Love–struck and besotted Shahid Kapoor's Ratan Singh makes it very clear that he would do anything in his power to protect the beauty and sanctity of the woman he falls in love with and marries. Palace intrigue is always a high-point in Bhansali's operatic dramas. In Bajirao Mastani, we saw Deepika Padukone as the royal queen who ends up being the second wife of a neighbouring empire. A similar fate awaits Deepika in Padmaavat. While the conflict between the two wives in Bajirao Mastani was conspicuously contoured, in Padmaavat, Deepika's Padmaavati barely manages to interact with her husband's first wife (played by Anupriya Goenka).
It is Padmaavati's conflict with her invader and intended violator Allauddin Khilji which occupies centre stage in this rigorous drama of resonant historicity. On many occasions, the historical facts are tampered with for the sake of edifying the essential conflict between the Queen and her invader. Deepika Padukone and Ranveer Singh bring an exquisite operatic duet-like feeling to their parts. Though they sing the same song from different scales, they are like the earth and sky never destined to meet. In spite of a fractured illogical plot (why on earth would Khilji lust after a woman he has never seen? Why would Padmavati's benign husband accept a lunch invitation from Khilji knowing fully well of the evil desigsn?) Bhansali imparts a portentous potency to their conflict. Without coming face-to-face the two actors convey an almost-unbearable dramatic tension. The climax with all of the Rani's female entourage fighting off the advances of Khilji by hurling hot coal bricks on him ,is a reverberant homage to Ketan Mehta's Mirch Masala. Remember Naseruddin Shah's moustache-twirling subedaar in Mehta's film lusting after the feisty Sonbai (Smita Patil)? Bhansali's Padmavati echoes Sonbai with heartening whoops of joy. Indeed, this is a film that pays a homage to the greatest filmmakers of the country Raj Kapoor and K Asif and succeeds in going beyond the vision of these two filmmakers. The sequences at the end of the film featuring Deepika Padukone and a bevy of women all wearing flaming-red , will stay with you for a very long time. I am afraid Shahid Kapoor as Padmavati's husband seems a little shaky in his attempts to counter Ranveer's psychotic Khilji with regal restraint. Shahid internalizes his character's struggles to an extent where he looks bored at times. But there is no dearth of bravura acting in Padmaavat. While Ranveer and Deepika as antagonists rip the screen part, two other actors Jim Sarbh and Aditi Rao Hydari shine in smaller roles bringing to their part as Khilji's manipulative toy-boy and idealistic wife, a strong sense of a back-history that belies the length of their roles.
Padmaavat is a work of illimitable splendor. This is a film so inured in irradiance and so steeped in splendor you will come away from the experience exhilarated and satiated.
Pad Man(2018): There is the period film. And then there is the film about the periods. Excellence comes in many packages. But rarely in a small secret package wrapped a newspaper. Sometimes these packages cost Rs 55 and are completely out of reach for the non-urban women of India. One man in Tamil Nadu, who is miraculously a convincingly-transformed North Indian in Pad Man, decided to do something about making sanitary pads affordable to poor women. The thought was not just unmentionable, but also outrageous. It still is. The pain humiliation, strife and final victory of Laxmikant Chauhan is narrated in a series of quickly-cut quirky bitterly humorous episodes (editor Chandan Arora can take a bow) that could easily have become caricatural preachy and propagandist. Pad Man is none of the above. It celebrates the spirit of enterprise with enrapturing integrity and tempered gusto , rendering the saga of Laxmikant Chauhan's journey from familial humiliation and spouse-deseration to a PadmaShri addressing the United Nations. One of India's finest cinematographers P C Sreeram makes Laxmikant's audacious odyssey a visual manifestation of a life that defies logical definition.
PadMan has two heroes- Akshay Kumar and P C Sreeram. But before we get there, a word on the cinema of noble intentions that seems to have run out of steam in these times of perverse dreams. Nobility in these cynical twisted times when little girls get raped and big boys sell state secrets for big bucks,is not a quality we value in art. Given the premium we place on self interest the sheer generosity of spirit that R Balki displays in his fifth feature film—and by far his finest work—should be reason to stand up and applaud Pad Man. But wait! Hold on to your seats. There is much more to celebrate in this wonderfully motivated film, a tidalwave of menstrual liberation that sweeps us into its charming folds like an old grandmother in whose arms we would cuddle and forget the worries of the world. Pad Man possesses a rare innocence and charm. The proclivity to live a life of utter selflessness that seeps out of every pore in its protagonist's heart, comes pouring out of every frame, wrapping us in a feeling of bonhomie that captures life's most cherishable emotions. It is very hard , almost impossible , to forget the protagonist, a true hero of our times, Laxmikant Chauhan. And not only because of the luminous way the character is written by Balki and his co-writer Swanand Kirkire. It's the way Akshay Kumar plays Laxmikant, a man driven to insane bouts of audacity by the passion to diminish the pain that women experience for 5 days (disparagingly referred to as 'test match' by the boys of the mohallah) every month.
Balki adopts a simple straightforward linear narrative mode, leaving behind the swag and swagger of Chini Kam, Ki & Ka to focus on the man and his mission with a singularity of vision shared in equal measures by the protagonist and the filmmaker. There are passages of keen satire rubbing shoulders with fleeting images of deep contemplation in the supple sturdy and rugged storytelling, all merging in a marriage of Pure Cinema and Social Statement. The narrative does tend to overstate its case. And there are sequences such as the one between Sonam Kapoor and her screen father in a car at the end, which smack of over-explanation. But most of the time Balki knows where to hold back and where to let go. The pauses in Laxmikant's saga are rarely filled with irrelevance. Balki and his leading man won't allow a life so rarefied to be inured in nonsense. The performances are uniformly appealing. I love Balki's unusual casting tricks in all his films. Here in Pad Man watch out exciting underexposed acting talent, for instance veteran actress Jyoti Subhash as Akshay Kumar's mother. And Sunil Sinha(remember him in Gulzar's Maachis?) as Sonam Kapoor's Sardarji father.Sinha has some of the best father-daughter scenes with Sonam and the film's finest line: "To be a complete father, try playing the mother .To be a complete man try feeling a woman's pain." While Radhika Apte as Akshay's wife is uncharacteristically over-the-top in conveying a woman's menstrual anxieties(at times she behaves as though the wife Gayatri has her time of the month for the entire month) Sonam's Pari is a delight. The actress plays a table player and an incorrigible do-gooder and Laxmikant's biggest support, all without toppling over into excessive sweetness. The kiss she shares with her co-star is a little…ummmm…out of place. But that's okay. No one and nothing is perfect.
The film belongs to Akshay Kumar. Make no mistake about that. Playing Laxmikant with a mixture of inbuilt ingenuity and curiosity, he makes the man believable and endearing, so compassionate and inspiring. As Laxmikant Chauhan/‎Arunachalam Muruganantham, Akshay Kumar's rousing speech at the UN is the show reel that will be shown when he gets his first lifetime achievement award. In the meanwhile, do reserve every single acting honour of 2018 for this performance.



Image Source: Imdb, youtube/viacom18studios/madanmohan