Dil Chahta Hai, Rehna Hai Terre Dil Mein, Na Tum Jaano Na Hum; 3 Feel-Good Films To Watch During Lockdown - PART 2
Continuing with our series of light-hearted films that are blues chaser, here is out part 2. Dil Chahta Hai, Rehna Hai Terre Dil Mein and Na Tum Jaano Na Hum will definitely ease out your stress in this lockdown.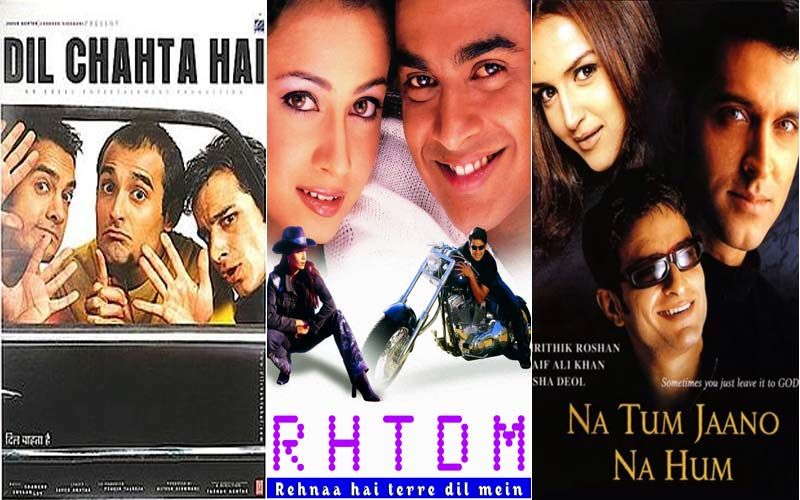 While India is reeling under the COVID-19 pandemic, many heroes are being born daily. No, we are not talking about the filmy heroes, but our common man who has stood up to help each other as this calamity plays its course in front of our eyes. While this lockdown can take a toll on your mind, there are many ways to ease out your stress. Thanks to Netflix, Amazon, Dinsey+ and many such OTT platforms, people have had creative content as a source of relief for the past 1 year. Continuing our series of feel-good films, here is our part 2 that can chase away your blues.
Dil Chahta Hai(2002):
At the end of this intriguingly endearing film about youthful synergy, Aamir Khan, playing the arrogant sometimes insufferably cocky Akash, drawls, You can't improve on perfection anyway." You can. Barely two months after Lagaan, Mumbai's most adventurous actor Aamir Khan got together with an outstanding debutant director to put together a film that's flawless in almost every detail. Dil Chahta Hai is the kind of film that makes us sing hosannas for that much-maligned genre of popular entertainment known as mainstream Hindi cinema. It's a brilliantly written story of three friends who grow into maturity together, losing some intrinsic values and extrinsic vanity on the way to maturation. If Dil Chahta Hai can be enjoyed on one level as a perfect souffle entertainment with outstanding performances, and perky pert and pertinent songs (by Shankar, Ehsaan Loy) on another level, the film's sub-linear contexts regarding the choices one makes in life are so weightlessly profound, we get blown away with debutant Farhan Akhtar's narration. The editing (A Sreekar Prasad) is austere but never over-tight. The characters, each memorable real vivid and obtainable, get enough breathing space to grow along with the story. Cinematographer Ravi K Chandran's visual poetry adds an extra dimension to the restlessly articulate narration.
ALSO READ: Hrishikesh Mukherjee Directed Gol Maal, 1995 Film Rangeela And Pyaar Ka Punchnama 2; 3 Feelgood Films To Watch During Lockdown - PART 1
Farhan Akhtar's insightfully young screenplay details the pangs and bangs in the lives of three college friends. There's Siddharth (Akshaye Khanna) a painter and an artist, whose sensitivities seek an anchor in the company of a middle-aged alcoholic divorcee Tara Jaiswal (Dimple Kapadia). The relationship with the older woman is handled with unostentatious delicacy. We never feel we are being persuaded to believe in the characters' motivations. They are who they are. And we love them for it.
Rehna Hai Terre Dil Mein( 2001): Unconsciously, unconditionally and completely, Hindi-film debutant Madhavan steals the show from all his co-stars in Gautam Menon's remake of the Tamil blockbuster Minnale. Though a film about young love, it isn't callow or gawky in its pre-occupation. Credit for this must go to debutant director Gautam Menon who has eliminated the flaws from his original Tamil film in Hindi to come up with a tale that simply bowls you over with its swaggering elan. The narrative, always a step ahead of the audience, starts as a routine campus caper where we're introduced to 'Maddy'
Madhav (Madhavan) the college scumbag, the enfant-terrible forever in the bad books of the authorities, the rebel without a course…locked in combat with the campus' blue-eyed boy Sam (Saif Ali Khan). Whether it's the comic courtship between Maddy and Reena (the lovely Dia Mirza) in the first –half of the rather sombre second-half when Maddy refuses to take a no from Reena and hounds her with his obsessive love and determined dementia, director Gautam Menon conceives his scenes with affection pride and a bouncy fluency. Voluptuously mounted, sequences such as the one where Maddy and his best friend (Vrijesh Hirjee, who played the same role in Hrithik Roshan's debut film Kaho Na…Pyar Hai) accost Reena's best friend (Tenaaz Currim, again playing her role from Kaho Na…Pyar Hai) in a supermarket, are smart and sexy. Maddy's courtship of Reena for five days as he poses as her mysterious fiance from the US is smoothly tongue-in-cheek, intelligently delineated and charged with an anxious energy that is sourced to the protagonist. In sequences such as the one where Madhavan (Maddy is his nickname in real life) jumps into an autorickshaw and babbles non-stop to win Reena's attention, or when he chews on chicken dishes with her at a restaurant though he's a vegetarian, Madhvan simply takes over the show, rendering the romance in the riches comic-book colours obtainable to modern cinema.
Na Tum Jaano Na Hum (2002): The biggest mistake you'll make is to ignore this film. Na Tum Jaano Na Hum is a very special film. Every frame, gesture, nuance and twitch conveys a rich array of romantic emotions. Every shot has a reason and every pause in the narrative takes us to a new plateau of elation. For 2 hours and 40 minutes, we are transported into a realm of tremulous feelings and emotions woven with the finest threads of human sentiments obtainable in the movie-making market. A perennial problem with ad filmmakers who turn their vision to the cinema is, they're consumed by the process of prettifying the picture. Sablok avoids that 'pretty fall. His aesthetic sensitivities go way beyond the surface level. If his film LOOKS like a dream, then it FEELS like one too! And for this marvellous merger of body and soul, Sablok must share the credit with cinematographer Manoj Soni and art director Omang Kumar. As a dreamer waiting for true love Hrithik Roshan delivers what is arguably the best performance of his career.
Both the technicians titivate Sablok's wispy romance with a richness of texture that reminds us of that other great romantic epic of recent times Sanjay Bhansali's Hum Dil De Chuke Sanam. Of course, Bhansali had an Aishwarya Rai to enhance his vision of beauty. Sablok works wonders with an Esha Deol. In the opening montages taken from the leading lady's actual home-video collection, the female protagonist Esha is shown as an infant and toddler to the accompaniment of the late Anand Bakshi's lyric "Yeh Betiyan To Maaon Ki Raniyan Hain" as the women of a large joint family dance in a rhapsodic celebration of womanhood. Here itself Arjun Sablok reveals a fabulous flair for fragile shot compositions. His frames are like delicate dewdrops perched on a windowpane. His capacity for translucence is infinite. Sablok makes his characters' faces and body language the window to their souls. Happily, he focuses only on the three angles of the triangles. The rest of the large congregation of supporting actors provide a blur of ravishing relative values. Beautiful vivid glimpses of rustling silk and whispering affections align the film's narrative structure. At the centre of Sablok's uniquely tender universe is a rather wispy triangle comprising two dreamers who belong to each other by the truest classical definition of love and a realist who unknowingly comes between them. Esha (Esha Deol) is the incurable romantic who like Madhuri Dixit in Yash Chopra's Dil To Pagal Hai believes there's someone somewhere meant for her. In the film's unforgettable opening, Esha tells us, "All our relations in life are pre-destined, except one. There's only one special person in our life whom we know nothing about until we meet him." So why go for compromise companionship? Esha would rather wait. Sablok invests her wait in gold

Image Source: IMDb, wikipedia, amazon, youtube/t-series/shalovesbolly/ntjnhatrahidtv
They say the best things in life are free! India's favourite music channels 9XM, 9X Jalwa, 9X Jhakaas & 9X Tashan are available Free-To-Air. Make a request for these channels from your Cable, DTH or HITS operator.