DIWALI SPECIAL: Golmaal Vs Secret Superstar...& Here Are 10 More Big Box-Office Clashes
Aamir Khan's Secret Superstar and Ajay Devgn's Golmaal Again have clashed at the big box-office this Diwali. However, there have been similar big budget clashes in the recent past as well. Let's have a look...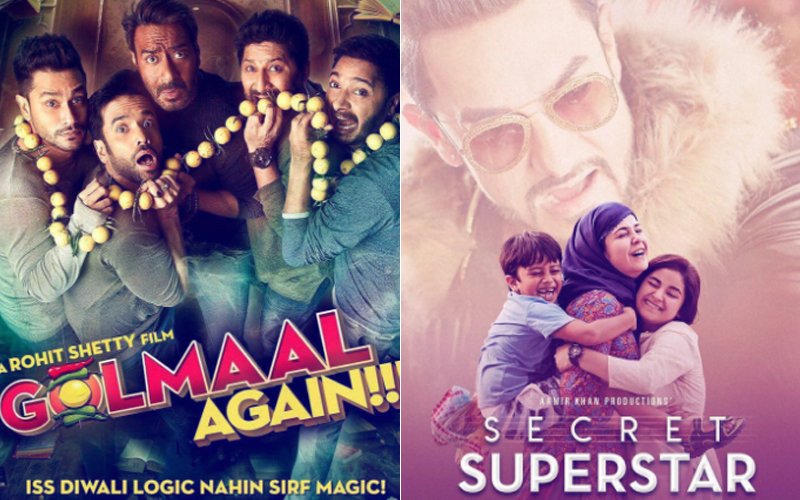 Box-office clashes have become quite the norm over the last two decades. With nearly 200 films releasing in just 52 weeks, films are bound to overlap with each other.

This year we have Aamir Khan's Secret Superstar and Ajay Devgn's Golmaal Again, who are fighting it out at the ticket windows. Ajay and Aamir recently sent out the signal to their fans suggesting all's well between them by posting a selfie together but whose film will win at the ticket window

However, this is not the first time when two big films have clashed with each other. Here are ten more such big Bollywood clashes which made life difficult for cinegoers as they had to choose which one to watch first between the two.

Mohabbatein - Mission Kashmir (2000)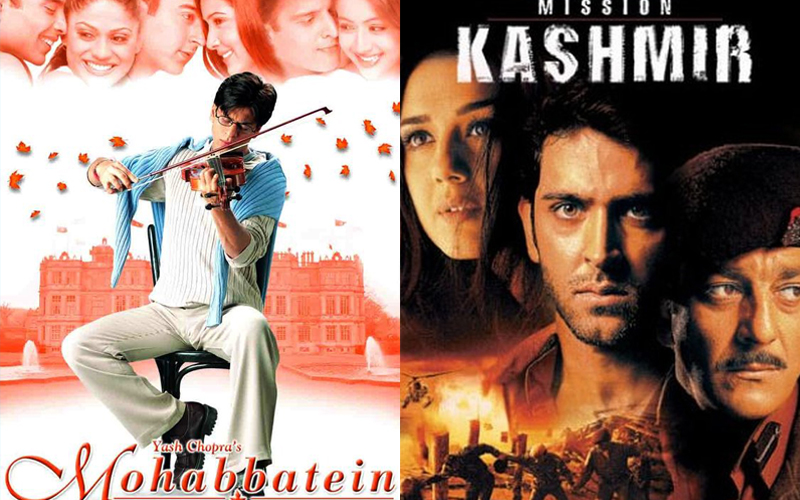 Poster Of Mohabbatein And Mission Kashmir

Shah Rukh Khan and Amitabh Bachchan collided with Hrithik Roshan and Sanjay Dutt at the box-office. While Mohabbatein went on to set the cash registers ringing, Mission Kashmir went down the drain.

Veer Zaara - Aitraaz - Mughal E Azam - Naach (2004)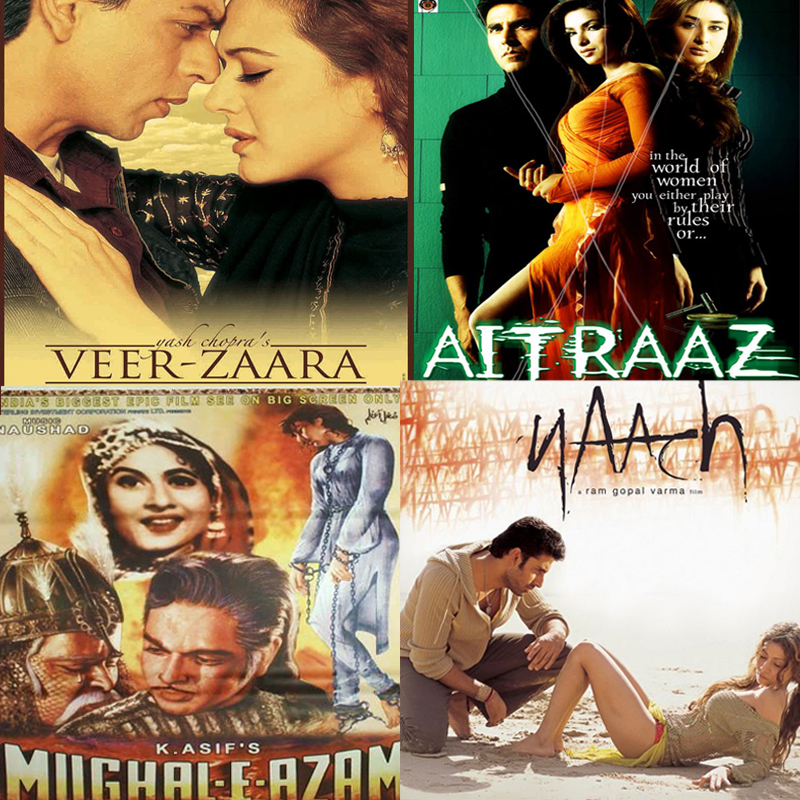 Posters Of Veer Zaara, Aitraaz, Mughal-e-Azam And Naach

Shah Rukh Khan was back with another Diwali release, Veer Zaara, just to clash with his idol Dilip Kumar (Mughal E Azam), arch nemesis Akshay Kumar (Aitraaz) and Abhishek Bachchan (Naach). Mughal E Azam was re-releasing in colour and thus didn't have a lot of money at stake. Hence, it turned out to be profitable. Veer Zaara rocked at the ticket windows as fans poured in from every nook and corner to watch it. Aitraaz came out as a sleeper hit over the next few weeks whereas, Naach ended up being one of the biggest flops of the year.

Garam Masala - Kyon Ki - Shaadi No. 1 (2005)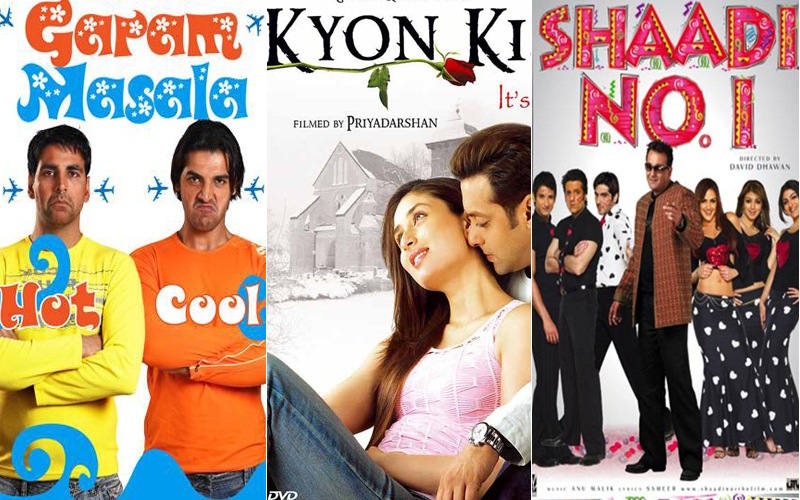 Posters Of Garam Masala, Kyon Ki And Shaddi No 1

Akshay Kumar and John Abraham had to fight it out with Salman Khan and David Dhawan. Even after having big names to boast, Shaadi No. 1 failed to live up to expectations. Kyon Ki, although loved by the critics, didn't manage to draw the audiences to theatres. With superb comic timing, Akki and John came out as clear winners with Garam Masala.

Jaanemann - Don (2006)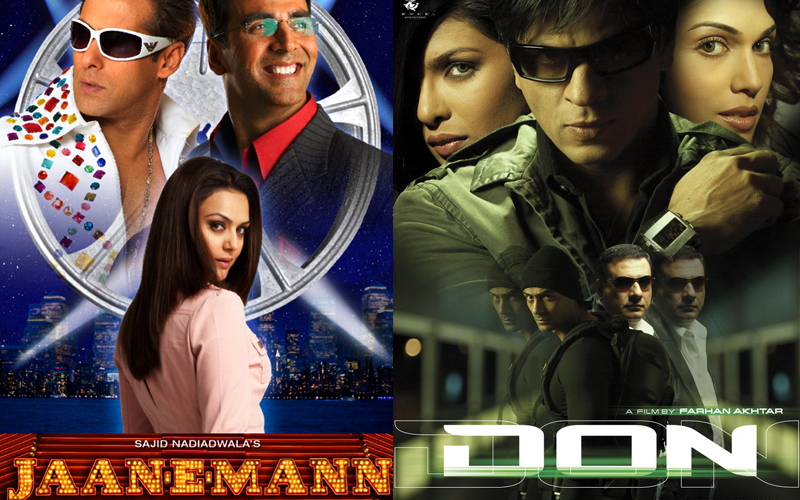 Posters Of Jaan-E-Mann And Don

Shah Rukh Khan clinched Diwali this year too only to be confronted by the Salman Khan-Akshay Kumar starrer, Jaaneman. While the Don remake was loved by the audiences, Jaanemann didn't quite create magic.

Om Shanti Om - Saawariya (2007)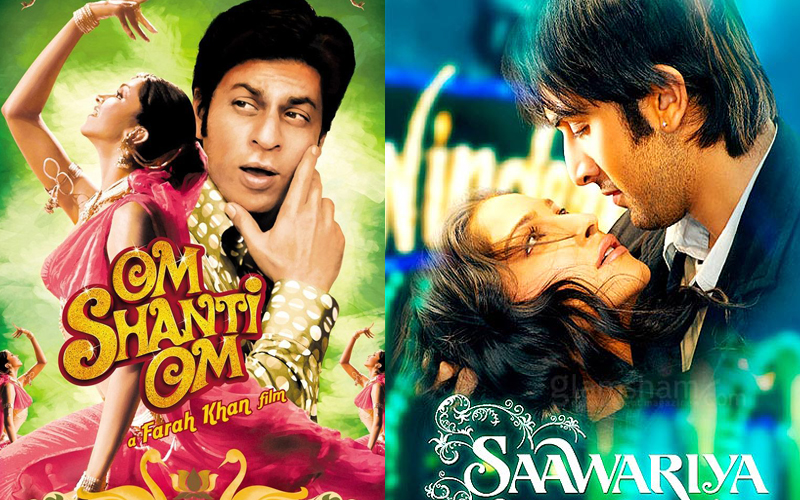 Posters Of Om Shanti Om And Saawariya

Shah Rukh Khan collaborated with good friend Farah Khan for Om Shanti Om -- which marked Deepika Padukone's debut – and the film went on to become a blockbuster. Audience was all praise for the film's music and performances. On the other hand, Saawariya which introduced Ranbir Kapoor and Sonam Kapoor proved to be a box-office dud.

Golmaal Returns - Fashion (2008)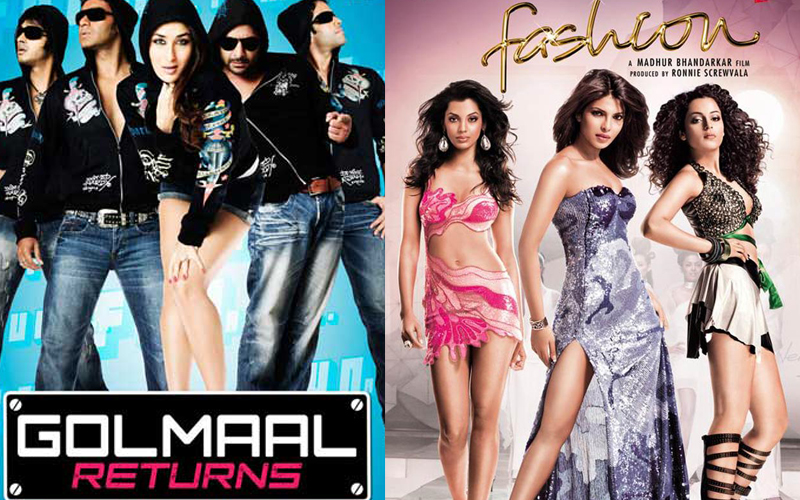 Posters Of Golmaal Returns And Fashion

Rohit Shetty came back with the sequel to his super hit movie Golmaal (2006) in this year. The Ajay Devgn starrer just about managed to get noticed, and the prime reason for it was the stupendous performances by Priyanka Chopra and Kangana Ranaut in Fashion. The Madhur Bhandarkar film was a box-office hit and the two actresses even won National Film Awards for the same.

All The Best - Blue - Main Aur Mrs Khanna (2009)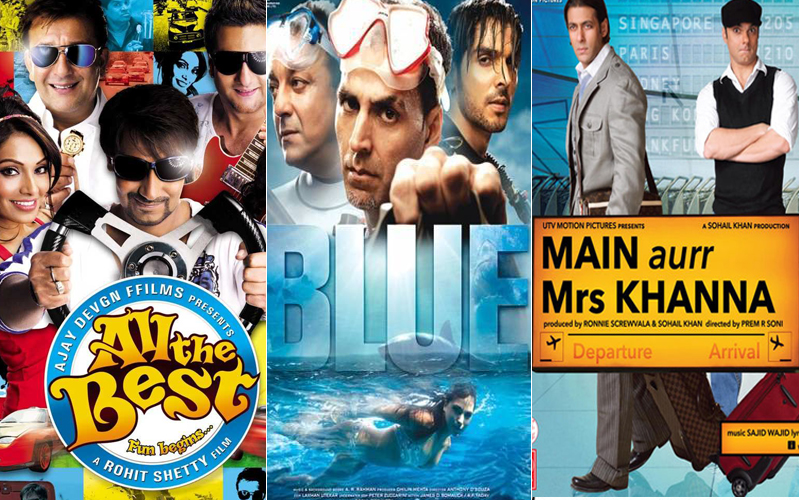 Posters Of All The Best, Blue And Main Aur Mrs Khanna

Ajay Devgn and Rohit Shetty returned with another Diwali release, All The Best. However, they faced tough competition from Akshay Kumar's Blue and Salman Khan's Main Aur Mrs Khanna. While neither of the films became blockbusters, All The Best managed to perform averagely at the ticket windows.

Golmaal 3 - Action Replayy (2010)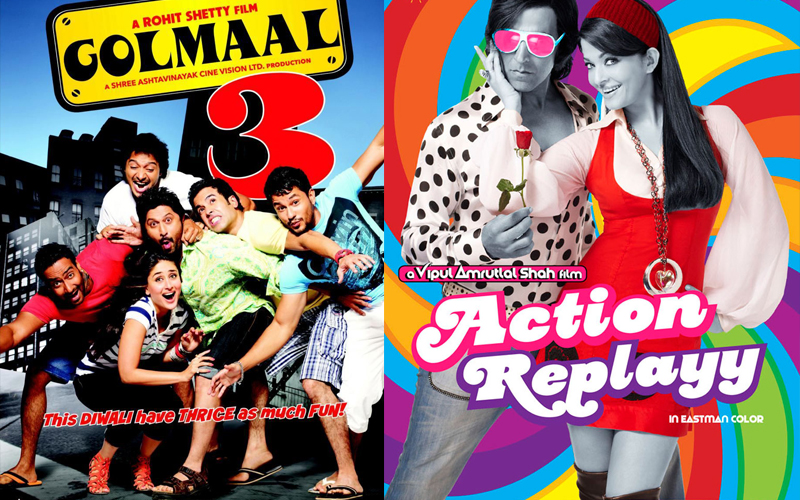 Posters Of Golmaal 3 And Action Replay

Another Golmaal movie was ready for release, but it had to clash with Akshay Kumar's time travel drama. Action Replayy. Interestingly, Action Replayy ended up being one of the biggest flops of Akshay's career, while Golmaal 3 ended up being one of the biggest hits for Ajay Devgn.

Son Of Sardaar - Jab Tak Hai Jaan (2012)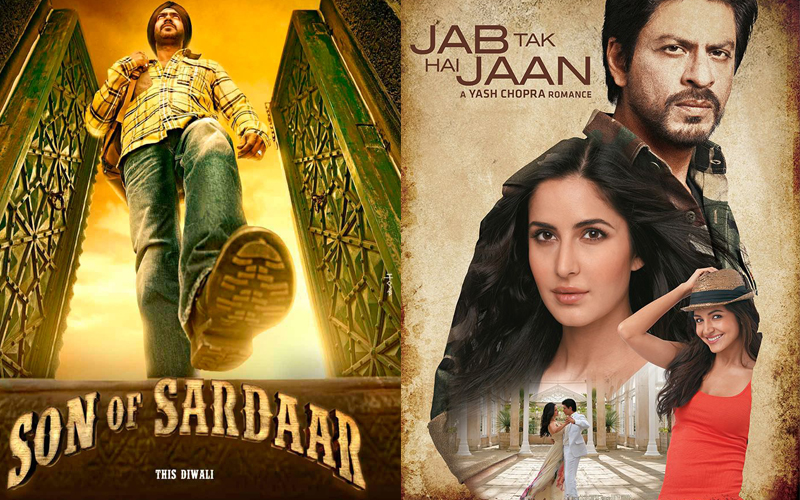 Poster Of Son Of Sardar And Jak Tak Hai Jaan

Shah Rukh Khan and Ajay Devgn clashed at the box-office on Diwali this year. And to the makers' delight, both Jab Tak Hai Jaan and Son Of Sardaar, managed to do exceptionally well at the ticket windows, crossing the Rs 100 crore mark.
Ae Dil Hai Mushkil - Shivaay (2016)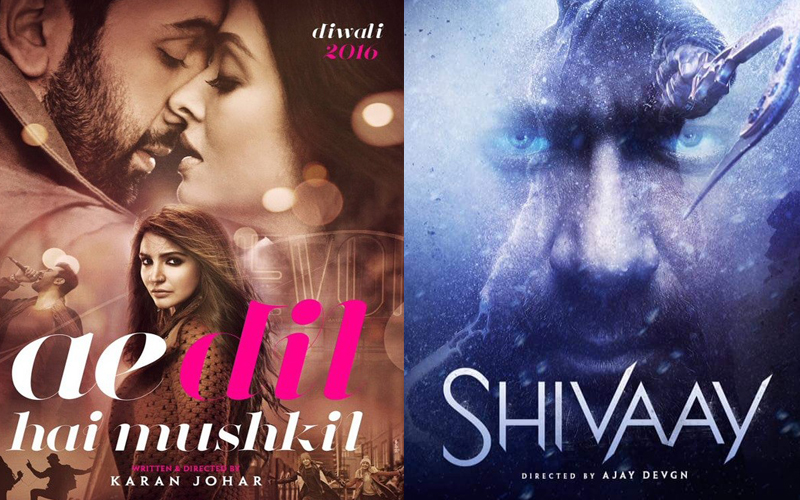 Posters Of Ae Dil Hai Mushkil And Shivaay

Karan Johar's Ranbir Kapoor-Anushka Sharma starrer coming-of-age drama created a huge furore just before the release thanks to Fawad Khan's presence. However, giving the film tough competition was Ajay Devgn's directorial venture Shivaay. While Ae Dil Hai Mushkil went on to be a blockbuster crossing the Rs 100 crore mark, Shivaay was just a normal hit. But both films got many awards at the award ceremonies especially with Ae Dil Hai Mushkil's fantastic music and Shivaay's superb visual effects.

So, let's wait and watch this year as to which among Golmaal Again and Secret Superstar comes out as a winner.


Image Source: topsy, famousfix, b44u, thepicta,dramastyle, uzfilm, wittyfeed, in, gaana, ravepad, last, jjwires, lockerdome, playmovie &bargad